City of Austin
FOR IMMEDIATE RELEASE
Release Date:

---
Austin, Texas -- Prior to the COVID-19 pandemic, Travis County faced a vaccination opt-out rate of more than 3% for school-aged children, with rates close to 50% for some area school districts, according to 2019-2020 data from the Texas Department of State Health Services (DSHS).
Additional recent national data from the American Academy of Pediatrics shows that infant rates of immunization are down 30% as COVID-19 has caused parents to avoid the pediatrician's office for well-child visits.
As the upcoming school year approaches, now is the time to schedule an appointment with your child's health provider for a well-child visit and ensure they are up-to-date on required vaccinations.
"We want to ensure the proactive health of our community and screen for and prevent illness and other health issues before they happen," said Cassandra DeLeon, Austin Public Health (APH) Interim Assistant Director for Disease Prevention and Health Promotion. "Everyone in our community should establish care with a provider and receive annual checkups, including well-child checks for children to ensure proper growth and vaccinations."
Only six months ago, Austin Public Health (APH) reported the first case of rubella in Travis County since 1999, just one month after also confirming the first case of measles for the area since 1999. While Austin-Travis County has a relatively high vaccination rate, there are pockets of communities where vaccination opt-outs bring herd immunity to an unstable status.
APH wants to ensure everyone is receiving the proper vaccinations on-time, now more than ever, to avoid potential vaccine-preventable outbreaks as we continue to respond to the COVID-19 pandemic.
"While we do not yet have a vaccine to protect us against COVID-19, many scientific advances made in past decades have provided us with proven ways to protect us against diseases such as measles, polio, varicella, and many more," said Dr. Mark Escott, Interim Austin-Travis County Health Authority. "Ensure your family is up-to-date on necessary vaccinations so we can avoid the comeback of previously eliminated diseases in our community."
Many local health providers are facing changes to regular services and requiring scheduled appointments for well-child checks and vaccinations. Don't delay, call today to ensure your child is ready to head back to school in the fall.
APH has reopened one Shots for Tots clinic with limited operations and is already booked through the end of June as we work through a waitlist of appointments. As operations expand, APH will prioritize patients.
Those who do not already have an established health provider for their child are encouraged to establish patient care for regular well-child checks and vaccinations. Families may also utilize VaccineFinder.org to find locations providing vaccinations near you.
APH's Immunization program works to prevent communicable diseases. Many illnesses, if not protected against through proper immunizations, can lead to the development of life-threatening medical conditions.
For more information, visit AustinTexas.gov/Immunizations.
Vaccination Requirements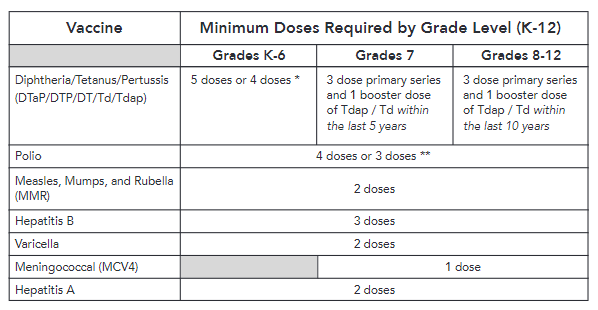 Please note that for grades K-6, five doses of the diphtheria-tetanus-pertussis vaccine are required. Four doses meet the requirement if the fourth dose was received on or after the child's fourth birthday. For children at least 7 years old, three doses meet the requirement if one dose was received on or after the child's fourth birthday. Additionally, four doses of the polio vaccine are required for grades K-12, but three doses meet the requirement if the third dose was received on or after the child's fourth birthday.
For full details on Texas vaccination requirements for school-aged children, visit www.dshs.texas.gov/immunize/school/default.shtm.
The Centers for Disease Control and Prevention (CDC) also recommends two doses of the HPV vaccine for children aged 11-12, and the Meningitis B vaccine between ages 16-18. Everyone of all ages should receive an annual flu vaccine.
For more information on CDC recommended vaccines, visit www.cdc.gov/vaccines/vpd/vaccines-age.html.