You are here
City of Austin
---
FOR IMMEDIATE RELEASE
Release Date:
Jul. 30, 2018
Original Gate Numbers at ABIA Will Change Night of July 31.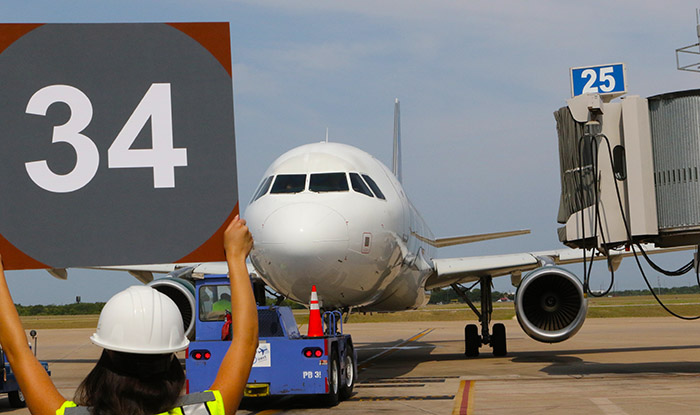 AUSTIN, Texas – Gate 25 will soon be Gate 34. The original gate numbers of Austin-Bergstrom International Airport will start to change the night of July 31, 2018. The gate renumbering was necessitated by the addition of nine new gates as part of the terminal expansion currently underway.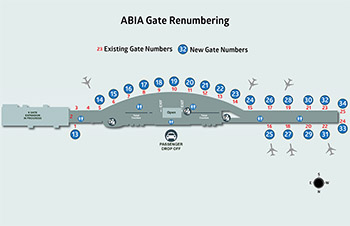 The renumbering will start with Gate 25, which will become Gate 34, and work its way east down through the numeric system to where the new expanded concourse area meets the original concourse. The renumbering is scheduled to occur in multiple phases until October 2018. The process will change all gate numbers – on concourse, jet bridges, jet parking, directional/wayfinding signs etc. This is planned to change five gates at a time with changes occurring approximately every two weeks.
Gate renumbering maps: Red numbers indicate existing gate numbers. Blue circles with white numbers indicate new number for gates. The phase one map shows gate number changes to occur July 31- August 1, 2018.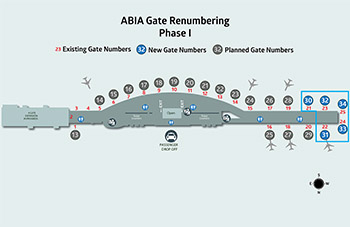 We're changing our numbers! Gate number changes are underway at Austin-Bergstrom International Airport (AUS), the airport of choice for Central Texas. The gate renumbering was needed as part of adding nine new gates to the terminal. This terminal expansion will better serve growing passenger traffic and airlines. New nonstop international flights include London Gatwick, United Kingdom (LGW) on Norwegian Air, www.norwegian.com/us, Punta Cana (PUJ), Dominican Republic on Vacation Express, www.vacationexpress.com,  Guadalajara, Mexico (GDL) on Volaris, www.volaris.com, and Mexico City, Mexico (MEX) on AeroMexico, www.aeromexico.com. Find all nonstop routes with the free interactive flight guide on www.abia.org. Connect with us on Twitter, @AUStinAirport, Facebook, www.facebook.com/abia and on Instagram, @AUSairport.
---