Austin assists with U.S. DOT testing, joins national "SPaT" Challenge
The City of Austin is the first city in Texas to enter the U.S. Department of Transportation's SPaT (Signal Phasing and Timing) Challenge through the National Operations Center of Excellence (NOCoE).
The City has completed one deployment of dedicated short-range communication (DSRC) technology at five City of Austin intersections, with two more projects planned for completion in 2019.  This technology would allow connected cars to communicate in real time with the traffic signal controller, increasing pedestrian and vehicle safety as part of the operations of the signalized intersection.
From the NOCoE website, the SPaT Challenge is:
"A challenge to state and local public sector transportation infrastructure owners and operators to cooperate together to achieve deployment of DSRC infrastructure with SPaT broadcasts in at least one corridor or network (approximately 20 signalized intersections) in each of the 50 states by January 2020. SPaT broadcasts are expected to be accompanied by MAP and (Radio Technical Commission for Maritime Services) broadcasts."
The map display below illustrates the active and planned deployments in the City of Austin as part of the SPaT Challenge.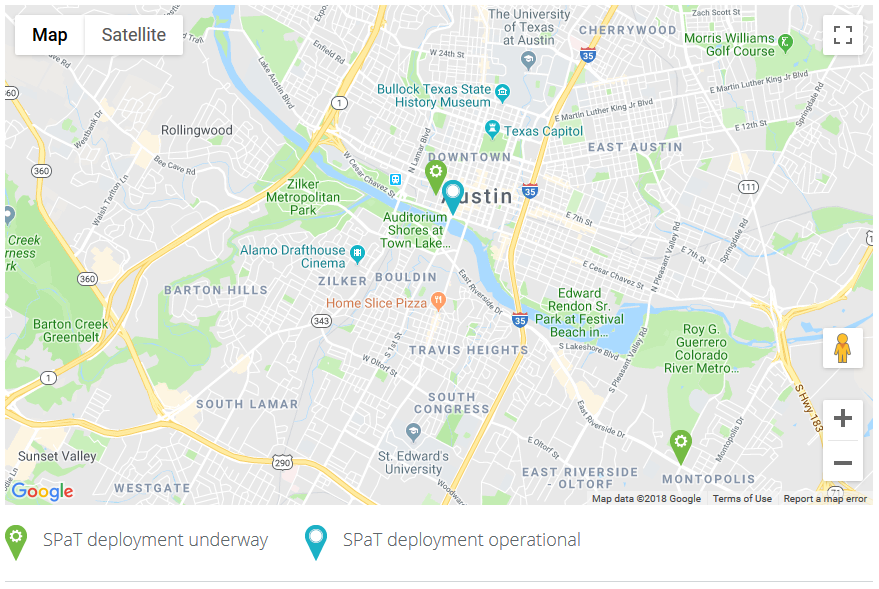 Click the map for a full-size image.
The SPaT Challenge is an initiative of the V2I (Vehicle to Infrastructure) Deployment Coalition, led by the American Association of State Highway Transportation Officials, the Institute of Transportation Engineers, and ITS (Intelligent Transportation Systems) America.
The City of Austin was chosen by the U.S. Department of Transportation as the deployment site for the V2I portion of the federal Connected Vehicle Reference Implementation Architecture, commonly known as the V2I Hub. Successful implementation of this guiding architecture was the chief enabler to getting Austin and Texas on the SPaT map.
More information about the SPaT Challenge can be found here.
 
The small test devices, as shown below, can broadcast industry standard Basic Safety Messages in the immediate vicinity of the intersection to surrounding vehicles equipped with on-board units. The Basic Safety Messages indicate vehicle position, motion, brake system status and size, and provide vehicles with SPaT information as well as MAP data, which is used to illustrate intersection geometry using high-resolution formatting. This type of information will help future connected traffic signals and equipped vehicles communicate about pedestrian or bicyclist presence in the intersection, improve vehicle performance, and provide engineers with traffic data that can be used to improve safety and operations.