Mayor Steve Adler and Austin City Manager Spencer Cronk recognized 28 entrepreneurs and aspiring business owners following proclamations at the February 21 City Council meeting. The 28 Austinites successfully completed the Business Skills Certification program, an initiative of the City of Austin Economic Development Department's Small Business Program in partnership with The University of Texas Center at Austin for Professional Education (UT CPE).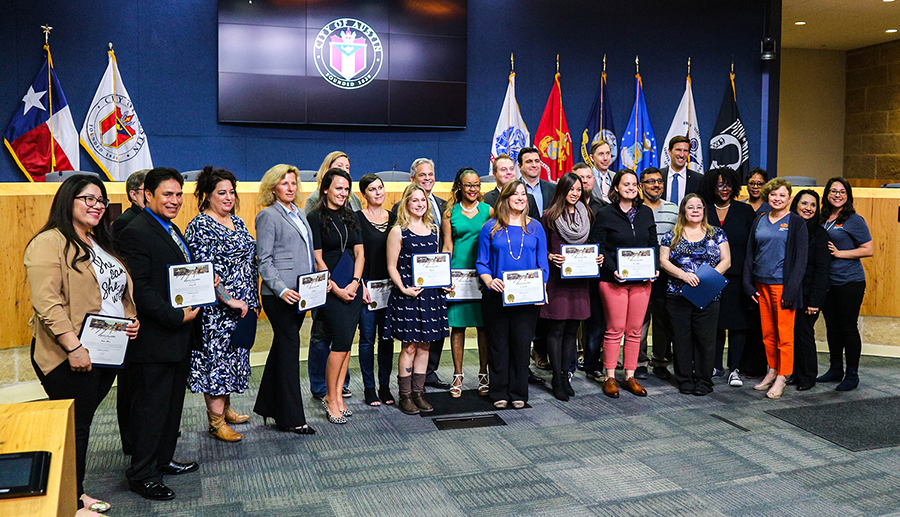 The Business Skills Certification program offers a multitude of small business classes designed to empower business owners to grow or expand their businesses. It demonstrates a dedication to build up knowledge and skills necessary to elevate business performance.
"Congratulations to our graduates," said Vicky Valdez, Division Manager for the Small Business Program.  "The City of Austin is pleased to honor these entrepreneurs. We're proud to have reached over 8,300 Austinites through the Business Skills Certification training over the last ten years, supplying them with implementable skills to start and strengthen their small businesses and its employees."
Participants are required to complete six eligible classes in order to receive the certification which cover critical business training topics on everything from social media and human resources to accounting and business plan writing.
Based on needs identified in the last needs assessment study, completed in 2018, the Small Business Program is working to further enhance the Business Skills Certificate program by adding courses on industry-specific and leadership-related topics, as well as courses available online. In addition to classes, the Small Business Program offers no-cost, individualized coaching and other resources to sharpen business acumen.
For a schedule of upcoming classes and registration information, visit www.SmallBizAustin.org.
About the City of Austin Small Business Program
The Small Business Program, a division of the City of Austin's Economic Development Department, offers one-on-one business coaching plus entrepreneur training and resources to help small businesses prosper in a competitive business environment. For more information, visit www.SmallBizAustin.org  and connect on Facebook, Twitter, and YouTube.