The City of Austin and Austin-Pune Sister City Initiative (APSCI) celebrated the signing of a formal Friendship City agreement between the two municipalities yesterday at City Hall in Council Chambers.
 
The agreement was over a year in the making and signed during a recent visit by an Austin delegation between Council Member Alison Alter on behalf of the City of Austin and Pune Mayor, Mukta Tilak, with the aim of becoming Sister Cities. The work is an on-going initiative which started in 2017 by the Asian American Quality of Life Commission to promote equity, cultural and life-long learning for the fastest growing ethnic demographic in Austin: the Indian-American population. Simultaneously, the City of Austin Business & International Affairs Focus Group and the Greater Austin Asian Chamber of Commerce also identified India as a priority to build business relationships in order to support expansion opportunities for Austin-based companies. The agreement encompasses collaboration and sharing across a range of strengths in each city from health, education, business, sustainability, and culture.
 
"It is wonderful to see collaboration between the business and volunteer communities in both cities. Joint ventures like sister cities enhance Austin's competitiveness and innovative qualities through the welcomed exchange of diversity, creativity, and zeal," said David Colligan, Acting Assistant Director of Economic Development Department.
 
Pune (pronounced Poo-nay), a city in India about 3 hours southeast of Mumbai and just over a green mountain range with five million residents, bears many similarities with Austin.  Pune is home to India's most educated population, a music and cultural hub, designated Smart City, and high tech center with active citizenry. As a rapidly expanding city it faces many challenges Austin is experiencing such as transportation, environment, water, housing, and workforce development.
 
Several delegations of Austinites and Puneites have visited each other's cities. Most recently, in September, the business delegation led by Council Member Alison Alter and co-organized by the Greater Austin Asian Chamber of Commerce and the Economic Development Department of the City of Austin confirmed the two cities have much to learn from each other and contribute to mutual enrichment.
 
"I am grateful I had the opportunity to be there at the start of what I think will be a long relationship. Pune shares Austin's creativity, amazing energy, tech savvy, entrepreneurial spirit and concern for our environment. The potential connections span many industries, including health, film, fashion, gaming, and many more," said City Council Member Alison Alter, District 10.
The most recent delegation was composed of local Austin businesses and entities: Kuware, Charles Schwab, Tellofy, Aspire to Age, University of Texas Dana Center, and APSCI committee members with the aim of exploring several business opportunities along with community development collaborations. Already there are positive business and academic outcomes from the visit including: invitation for Austin based smart-cities technology companies to engage in proposals with Pune Smart City Corporation (an economic development organization); University of Texas Dana Center engagement in a joint research project with Pune University on gender equity in STEM education; over fifty high level expert contacts across business, cultural, and educational entities for Austin businesses to access; and joint partnerships between Austin business delegates and Pune businesses; and commitment from TIE Pune chapter to bring the first Indian delegation to attend SXSW in 2019.
Mayor Adler has already invited Mayor Tilak of Pune to visit Austin at which time a Sister City agreement will be signed in perpetuity to continue to deepen our relationship to enhance creative industry activity, learning opportunities, engage in business expansion in both directions, and increase mutual appreciation of unique cultures.
AUSTIN-PUNE SISTER CITY INITIATIVE
APSCI formed - under the umbrella of Indian American Coalition of Texas (IACT) a citizen group dedicated to civic and political engagement of Indian American community aiming to contribute to the betterment of Austin Community at-large. APSCI is an active full-fledged Austin Sister City International member.
CITY OF AUSTIN ECONOMIC DEVELOPMENT DEPARTMENT– INTERNATIONAL PROGRAM
The City of Austin Economic Development Department (EDD) develops and leads the innovative programs that increase the prosperity of Austin's citizens, our businesses, and our diverse neighborhoods. The International Program of the Economic Development Department exists in order to 1) enhance global opportunities for locals in business, trade, education, and cultural activities, and 2) bring international attention to Austin-area investments, resources, and events. Ultimately, the International Program is dedicated to scaling Austin's position in the global marketplace through opportunities in emerging, established, and industry-specific markets to create a sustainable, vibrant economy that protects and enhances the environment, culture, and livability of the Austin area. For more information, visit www.atxbound.us.  @econvitalityATX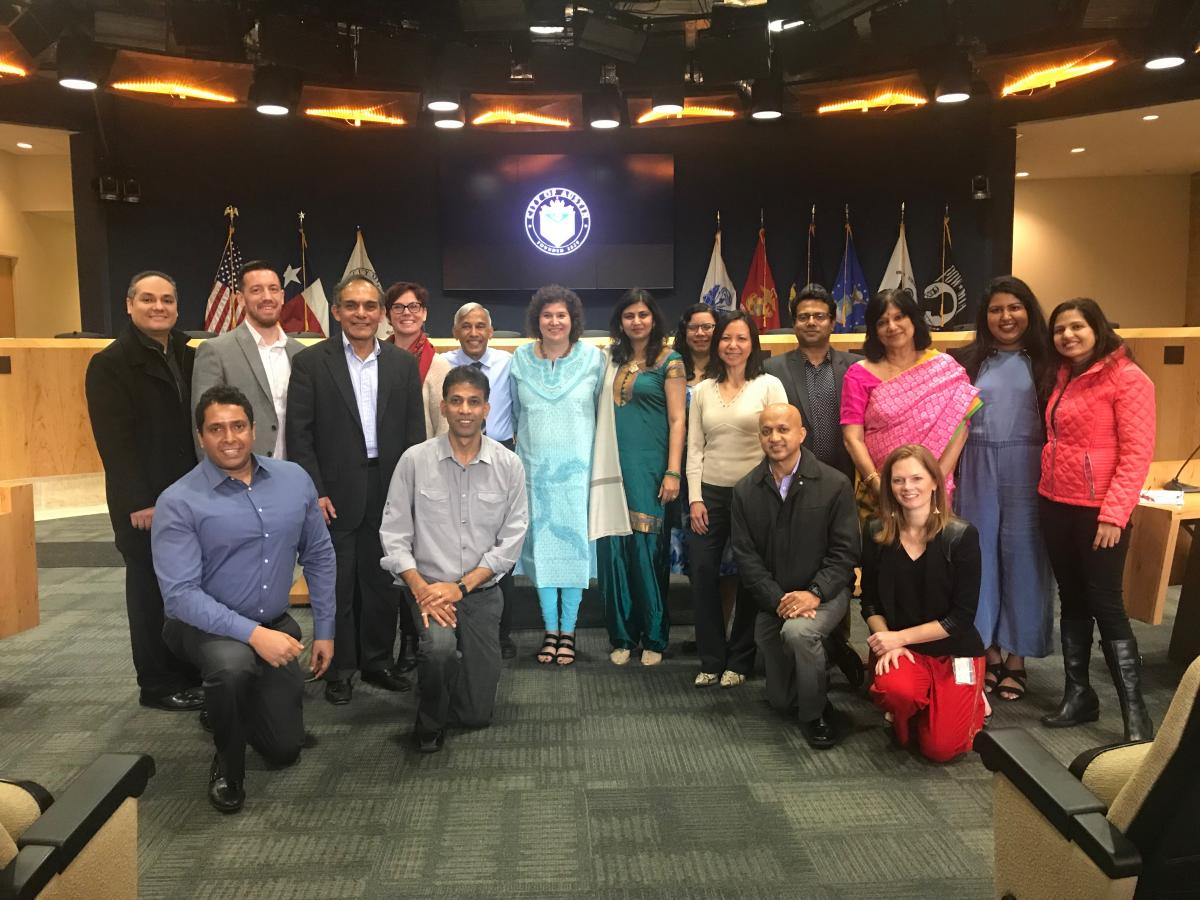 Photo includes representatives from World Affairs Council of Austin, University of Texas, Charles A. Dana Center, Austin Pune Sister Cities Initiative; Greater Austin Asian Chamber of Commerce, Tellofy Inc., and the City of Austin
Standing from left to right: Ben Ramirez; David Kurtenbach; Sumit DasGupta; Carolyn Landel; Ashwin Ghatalia; City of Austin Council Member Alison Alter; Shubhada Saxena; Aashi Morales; Marina Bhargava ; Rama Tiru; Megha Uppal; Supriya Kini; Roshan Manjunath; Premod Patil; Unmesh Mayekar; Meghan Uppal; Supriya Kini
Kneeling from left to right: Roshan Manjunath, Pramod Patil; Unmesh Mayekar; Casey Smith