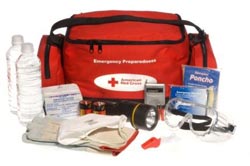 Emergency preparedness supplies will be tax free this weekend to help Texans prepare for emergencies.
From 12:01 a.m. on Sat., April 24 through Midnight Monday, April 26 anyone in the state of Texas can purchase certain emergency preparedness supplies tax free.
"We want all residents to have items at home to help them in a disaster," said Juan Ortiz, Director for the City of Austin Office of Homeland Security and Emergency Management. "Residents should take this opportunity to get critical items that may help them, and their family be safe the next time there is an emergency in the community."
Residents can purchase certain emergency preparation supplies tax free during the sales tax holiday. There is no limit to the number of emergency supplies that may be purchased. Supplies purchased online, by mail or over the telephone will also be tax-free if paid for during the exemption period.
Most personal protective equipment, like masks and hand sanitizer is not included in the tax-free weekend.
These emergency preparation supplies will qualify for the tax exemption:
Less than $3,000: Portable generators.
Less than $300: Emergency ladders and hurricane shutters.
Less than $75: Axes; batteries, single or multipack (AAA cell, AA cell, C cell, D cell, 6 volt or 9 volt); can openers (nonelectric); carbon monoxide detectors; coolers and ice chests for food storage (nonelectric); fire extinguishers; first aid kits; fuel containers; ground anchor systems and tie-down kits; hatchets; ice products (reusable and artificial); light sources (portable self-powered including battery-operated; examples include candles, flashlights and lanterns); mobile telephone batteries and mobile telephone chargers; radios including two-way and weather band radios; smoke detectors; tarps and other plastic sheeting.
These emergency preparation supplies will not qualify for the tax exemption:
Medical masks and face masks.
Cleaning supplies, such as disinfectants and bleach wipes.
Gloves, including leather, fabric, latex and types used in healthcare.
Toilet paper.
Batteries for automobiles, boats and other motorized vehicles.
Camping stoves or camping supplies.
Chainsaws.
Plywood.
Extension ladders.
Stepladders.
Tents.
Repair or replacement parts for emergency preparation supplies; or services performed on or related to emergency preparation supplies.
Residents can learn more about emergency preparedness at AustinHSEM.com.