You are here
City of Austin
---
FOR IMMEDIATE RELEASE
Release Date:
Jan. 31, 2017
Contact: Kasey Spain 8174565370 Email
Austin Humane Society, Austin Pets Alive!, and Austin Animal Center are waiving fees on all adoptable pets, February 10 - 12, as part of the Petco Foundation "Discover Love" national adoption event.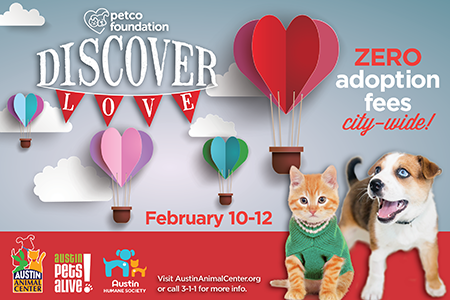 Cats, dogs, kittens, puppies and rabbits will be available for adoption at these three organizations.
"At any given time, there are 2,000 pets of all ages, sizes and breeds waiting in Austin shelters for new families," said Austin Animal Center Chief Animal Services Officer Tawny Hammond. "This is an exciting opportunity for our shelters to come together, with support from the Petco Foundation, to find homes for hundreds of homeless pets."
The goal for the event is 600 total adoptions, and the three organizations will be tracking the numbers throughout the weekend and sharing them on social media.
"If you're thinking of adding a new family member, now is the time," added Hammond. "You can make this a Valentine's Day to remember by saving a life and finding your new best friend."
The Petco Foundation is providing funding to cover the cost of the waived adoption fees.
"If you've ever shared your life with a pet, you know: love changes everything," said Petco Foundation Executive Director Susanne Kogut. "And love is why every day, we work in partnership with animal welfare organizations in Austin and across the country to help bring more pets in need together with loving people."
As always, adopters will get to meet available pets and visit with adoption counselors to learn about the particular personality and care requirements of the pets they are interested in adopting.
Austin Humane Society
Serving our community since 1952, the Austin Humane Society (AHS) is the longest standing no-kill shelter in Austin. AHS transforms the lives of animals and the people who love them through life-saving programs that find animals homes, serve animals and people in times of crisis, prevent future homelessness though spay and neuter, and engage the community to be a part of the solution. Over the past year, AHS has unleashed hope for nearly 11,000 animals thanks to the generosity of our donors.
The Austin Humane Society is located at 124 W. Anderson Lane, Austin, Texas 78752. AHS is open from noon–7p.m. Monday-Saturday and noon-5p.m. on Sundays. For more information visit www.austinhumanesociety.org or follow us on Facebook, Twitter and Instagram.
About Austin Pets Alive!
Austin Pets Alive! is a 501(c) (3) (nonprofit) organization. Austin Pets Alive! is focused on helping the healthy and treatable pets at risk of euthanasia at municipal shelters. Our mission is to promote and provide the resources, education and programs needed to eliminate the killing of companion animals. Our Town Lake Animal Center shelter is open from 11:30 a.m.– 7:00 p.m. daily, and our Tarrytown adoption center is open from noon–7p.m. daily. In 2017, APA! is on track to rescue its 50,000th shelter pet from euthanasia.
Austin Animal Center
Austin Animal Center is the largest No Kill municipal animal shelter in the United States, providing shelter to more than 18,000 animals each year and animal protection services to all of Austin and Travis County. Last year, Austin Animal Center saved 96.4 percent of the pets that walked through their doors. AAC has numerous programs and partnerships designed to help pets in the shelter, in the community and in your home.
The Austin Animal Center, 7201 Levander Loop, is open from 11 a.m. to 7 p.m. daily.  For more information go to www.austinanimalcenter.org, call 3-1-1, or visit facebook.com/austinanimalcenter for daily pet updates.
About the Petco Foundation
At the Petco Foundation, we believe that every animal deserves to live its best life. Since 1999, we've invested more than $175 million in lifesaving animal welfare work to make that happen. With our more than 4,000 animal welfare partners, we inspire and empower communities to make a difference by investing in adoption and medical care programs, spay and neuter services, pet cancer research, service and therapy animals, and numerous other lifesaving initiatives. Through our Think Adoption First program, we partner with Petco stores and animal welfare organizations across the country to increase pet adoptions. So far, we've helped more than 5 million pets find their new loving families, and we're just getting started. Visit petcofoundation.org to learn more about how you can get involved.
---