City of Austin
FOR IMMEDIATE RELEASE
Release Date:

---
Now open just beyond Checkpoint 3 is JetSet Market, the convenient store that offers quality content and everyday essentials to AUS travelers.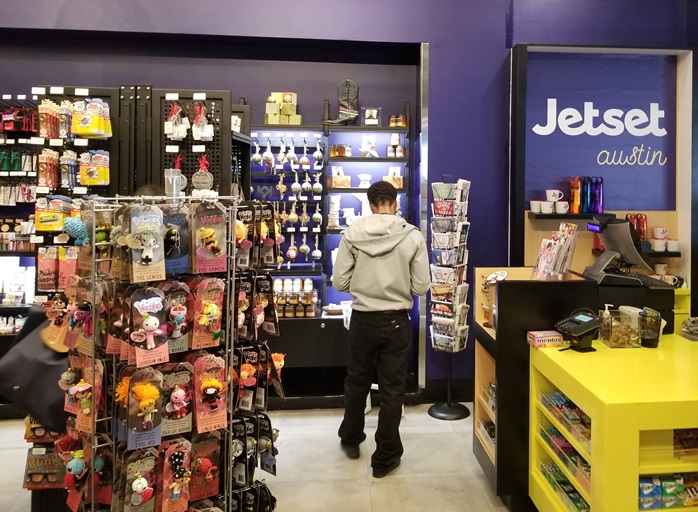 Customer browsing through the new JetSet Market, now open near Gate 24 - picture taken by Tanya Haden
AUSTIN, Texas – Now open just beyond Checkpoint 3 is JetSet Market, the quick and convenient store that offers quality content, everyday essentials and luxury items for passengers. Replacing Waterloo Records/Austin City Limits, the new 1,115 square foot JetSet market across from Gate 24 is split into four areas for travelers to browse and shop. These four areas include:
Media Lab – a small section offering a variety of news items, magazines, books, and electronic devices such as chargers, ear phones, and batteries.
Local and Austin made section – an area spreading across the market that sports local t-shirts and memorabilia as well as a stand with some University of Texas gear.
Apothecary/Healthcare – A wall set up with the necessary over-the-counter medicines, beauty products, and more.
Food Market area – a section of the market that stores cold beverages and snacks for quick, easy, and convenient food.
Delaware North (DN) will operate this new market offering cold beverages and food, vending items and merchandise. Along with the opening of Haymaker and JetSet, DN also opened Tacodeli and Einstein's Bagel & Caribou Coffee near Gate 24 in late 2018.
The airport of choice for Central Texas is Austin-Bergstrom International Airport (AUS). New nonstop international flights include Calgary, Canada (YYC) on WestJet www.westjet.com; Frankfurt, Germany (FRA) on Lufthansa www.lufthansa.com; London Gatwick, United Kingdom (LGW) on Norwegian Air, www.norwegian.com/us; and Mexico City, Mexico (MEX) on AeroMexico, www.aeromexico.com. Austin also welcomes new carrier Spirit Airlines, www.spirit.com. Find all nonstop routes with the free interactive flight guide on www.abia.org. Connect with us on Twitter, @AUStinAirport, Facebook, www.facebook.com/abia and on Instagram, @AUSairport.