You are here
City of Austin
---
FOR IMMEDIATE RELEASE
Release Date:
Jun. 28, 2019
– Local independent restaurateur and operator, Iris Ren, is pleased to announce the opening of Z Café at Austin-Bergstrom International Airport.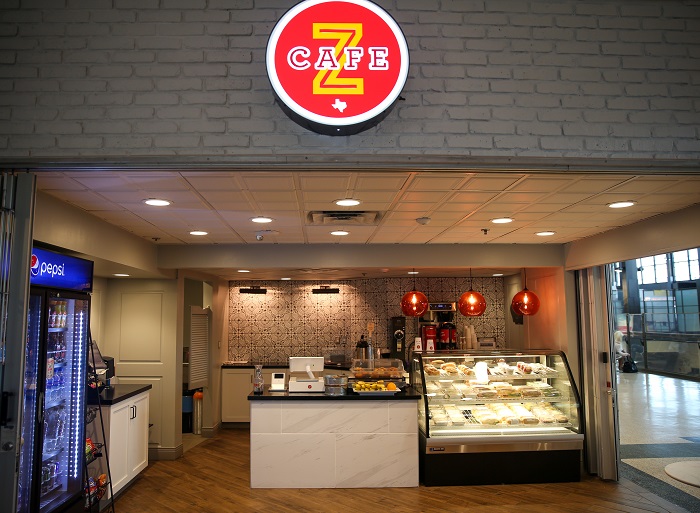 AUSTIN, Texas – Local independent restaurateur and operator, Iris Ren, is pleased to announce the opening of Z Café, the new one-stop shop food option located before Security Checkpoint 2 at the Austin-Bergstrom International Airport.
Z Café is in the former SoCo Market location near the American Airlines ticket counter. The space was renovated this spring and will have its grand opening this summer. Z Café will serve hot and cold coffees, drinks, sandwiches and Asian foods as well as assorted snacks like pastries, salads, chips and energy bars. It will be open from 4:30 a.m. to 8:30 p.m.
Z Café features scalloped signage lining its exterior, with banners informing customers of the treats awaiting them inside. Once inside, customers are greeted with new dark wood flooring, marble tables and café chairs. The order station has also been remodeled with a contemporary tiled backsplash and red light fixtures.
Kasey McCarty, the interior designer of Z Café, wanted to create an inviting environment to set the tone for travelers before they enter the terminal. Her design brings a rustic, homey feeling that Ren wanted to emulate in her store. Ren chose McCarty due to her previous work in Austin coffee shops.
"We want people to know that there is a place to stop on this side," she said.
After starting her own firm in 2005, McCarty has designed for several Austin favorites like the Violet Crown Cinema on Second Street and the Salon by Milk and Honey in the Hill Country Galleria. McCarty's coordinating architect was Kennedy Colombo and her contractor was Whalers Construction.
McCarty said she wanted to bring a design that was unique to both her and Ren's aesthetics, as well as a vision of a modern Texan café with elements of French and farmhouse design. She hopes the new renovations will encourage travelers to arrive early and enjoy Z Café.
As the previous operator of the airport's Wok 'n Roll restaurant on the departure side of the terminal, Ren said she loves the new renovation and is glad she found a new home before security thanks to McCarty's renovation.
"Everything is just so cute, no matter which angle you look at the store, it is just cute," she said. "This is my small world." 
The airport of choice for Central Texas is Austin-Bergstrom International Airport (AUS). New nonstop international flights include Calgary, Canada (YYC) on WestJet www.westjet.com; Frankfurt, Germany (FRA) on Lufthansa www.lufthansa.com; London Gatwick, United Kingdom (LGW) on Norwegian Air, www.norwegian.com/us; and Mexico City, Mexico (MEX) on AeroMexico, www.aeromexico.com. Austin also welcomes new carrier Spirit Airlines,  www.spirit.com.  Find all nonstop routes with the free interactive flight guide on www.abia.org. Connect with us on Twitter @AUStinAirport, Facebook,  www.facebook.com/abia and on Instagram @AUSairport.
###
This release was written by Marisol Peters, Austin airport PIO summer high school intern.
---