You are here
City of Austin
---
FOR IMMEDIATE RELEASE
Release Date:
Feb. 27, 2018
Passengers should arrive in the terminal at least two hours before departure.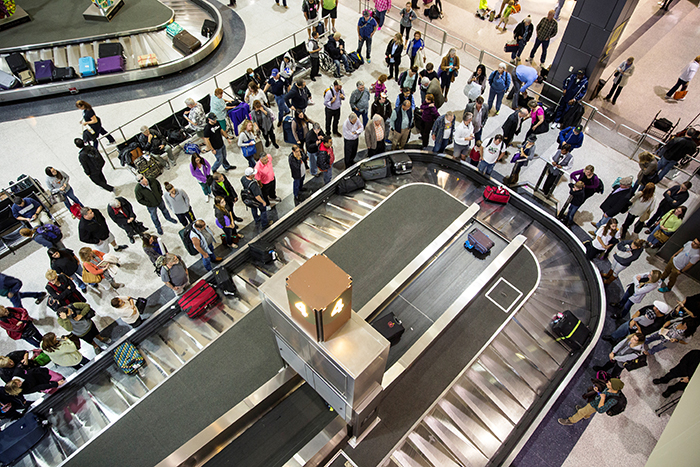 AUSTIN, Texas — March is among the busiest months for the Austin-Bergstrom International Airport as the city bustles with events. With more travelers being drawn to the airport, passengers are advised to arrive in the terminal at least two hours prior to departure time during peak travel times of 5 – 8 a.m., 11 a.m. – 1 p.m. and 3:30 – 5:30 p.m., and 90 minutes prior to departure at all other times. During a month of lively events across the city, the airport entertains travelers with extra live music performances and exhibits geared to the interactive crowd such as Pong to Pokemon.
March typically brings the airport's first large influx of passengers each year. March 2017 brought 1,156,928 passengers through the airport. The combination of more air service for Austin and events such as the SXSW music and film festival (March 10 – 19), Spring Break, Rodeo Austin (March 11 – 25) and Texas Relays Festival (March 29 – April 1), means more travelers are expected. As more visitors travel through the airport, passengers may encounter longer ticketing and security lines. Knowing travel and security processes help make for smoother travel.
Special International SXSW Flights
With 125,000 attendees estimated to attend the highly-anticipated SXSW music and film festival, select nonstop flights have been added to allow international travelers to enjoy the week-long event. These include:
Amsterdam, Netherlands (AMS) - Delta Air Lines, March 8, 9, 14 and 18
Stockholm, Sweden (ARN) - Scandinavian Airlines, March 8 and 12
Allegiant and ViaAir passengers park, depart/arrive from South Terminal
Remember – if you are flying Allegiant or ViaAir, your flight arrives and departs from the South Terminal. The South Terminal has a separate entrance and parking on the south side of the airport and is not accessible from inside the Barbara Jordan Terminal or from SH 71. The South Terminal is located at 10000 Logistics Lane and is accessible from US 183 South and Burleson Road. For more information on the South Terminal including directions, on-site parking and amenities, visit http://austinsouthterminal.com/.
Flights new to March 2018
For Austin passengers, there are more new nonstop destinations available in March 2018 that were not available in March 2017. These include:
Columbus, Ohio (LCK) – Allegiant Air
Indianapolis, Indiana (IND) – Allegiant Air
London, England: Gatwick airport – (LGW) – Norwegian Air, launching March 27
Ontario, California (ONT)  - Frontier Airlines
Steamboat Springs, Colorado (HDN) – ViaAir
Tucson, Arizona (TUS) – ViaAir
New restaurants and services
Austin Article – Offering University of Texas apparel, best-selling books, magazines and snacks, Austin themed gifts, jewelry, hats and comfort travel items. Located across from Gate 9.
Bark & Zoom – Bark & Zoom (www.barkandzoom.com) is a state-of-the-art pet hotel which also includes covered airport parking. Located at: 2601 Cardinal Loop, Del Valle, TX 78617.
Hyatt Place – The newest hotel on the Austin airport campus, the Hyatt is located at 9532 Spirit of Austin Lane.
IVINI – This new Italian restaurant, market and wine bar is found between Gates 21 and 25.
Knot Anymore – Now offering hand and nail treatments and table massages in addition to chair massages, Knot Anymore is located inside the terminal near Gates 7 and 13.
Second Bar + Kitchen – Newly opened at ABIA, Second Bar + Kitchen is an upscale dining experience that combines seasonal ingredients with local artisan products. Located between Gate 6 and 7.
Tyler's Austin Warehouse – An Austin themed retail store that offers top name brand and local merchandise. Located across from Gate 10.
Travel Tips
Check real-time flight status before arriving at the airport at www.abia.org, or with your airline.
Allow ample time to get to the airport. Highway construction near the airport, traffic and weather could add to commute time.
Questions about parking? Call ahead for real-time, 24/7 updates at 512-530-3300. For lots and rates click on www.abiaparking.com.
Arrive in the terminal at least two hours before flights during peak departure times of 5 – 8 a.m., 11 a.m. – 1 p.m. and 3:30 – 5:30 p.m. For all other times, travelers are advised to arrive 90 minutes before their departure time. The first passenger screening checkpoint opens at 3:30 a.m. http://www.austintexas.gov/department/travel-security-information
Need a lift? Ground transportation options, including Transportation Network Companies, to and from the airport are available at http://www.austintexas.gov/department/ground-transportation
Picking up a passenger? A free cell phone parking lot is available for those picking up arriving passengers.  The cell phone lot can be accessed from either the airport's main entrance road, Presidential Blvd., or from Spirit of Texas Drive.
For airport information, 24 hours a day, call 512-530-ABIA (2242) or visit www.abia.org.
Security
Be prepared for security screening — dress and pack smart. Here are a few tips to ensure your security screening runs smoothly:
Monitor security wait times and speeds at http://aus.tsa.iinside.com.
While packing, check luggage to ensure no prohibited items are in the bag or its pockets. For a comprehensive list of banned and permitted items in carry-on baggage, visit the TSA's Web site at www.tsa.gov.
Heading to a March conference or convention? TSA suggests that large or bulky conference promotional materials be packed in carry-on bags and placed in a bin at the security checkpoint for faster screening.
TSA's Pre-Check is available at Checkpoints 1 and 2. To enroll, visit www.tsa.gov.
Carry-on luggage is restricted to one bag and one personal item such as a laptop, purse or backpack.
Shoes, coats, jackets, hats and other such garments must be put through X-ray screening.
Remember 3-1-1 for liquids, gels, and aerosols in carry-on luggage. Three ounces per container, in a clear, one-quart bag, one per passenger. Place these items in a bin for X-ray.
New passenger environmental programs
Good Traveler Carbon Offset Program - Passengers now have the opportunity to help make air travel more sustainable by purchasing carbon offsets at an affordable price. For more information, visit http://www.austintexas.gov/news/good-traveler-offers-carbon-offsets-passengers
Pour it Out to improve recycling – Bottles containing liquid often don't get recycled, and can contaminate other recycled materials. With the "Pour it Out" receptacles at checkpoint entries, passengers can easily pour out the liquids from bottles before placing them in a recycling bin, reducing landfill waste and creating a more efficient beverage recycling process. For more information, visit http://www.austintexas.gov/news/%E2%80%98pour-it-out%E2%80%99-launches-earth-day-improve-recycling
The airport of choice for Central Texas is Austin-Bergstrom International Airport (AUS). New nonstop international flights include London Gatwick, United Kingdom (LGW) on Norwegian Air, www.norwegian.com/us, Punta Cana (PUJ), Dominican Republic on Vacation Express, www.vacationexpress.com,  Guadalajara, Mexico (GDL) on Volaris, www.volaris.com, and Mexico City, Mexico (MEX) on AeroMexico, www.aeromexico.com. New for SXSW 2018: Delta to Amsterdam (AMS), www.delta.com, and SAS to Stockholm (ARN) www.flysas.com/en/us/.   Find all nonstop routes with the free interactive flight guide on www.abia.org. Connect with us on Twitter, @AUStinAirport, Facebook, www.facebook.com/abia and on Instagram, @AUSairport.
# # #
---