City of Austin
FOR IMMEDIATE RELEASE
Release Date:

---
Record-Breaking Fun Facts About Austin Air Passengers in 2018.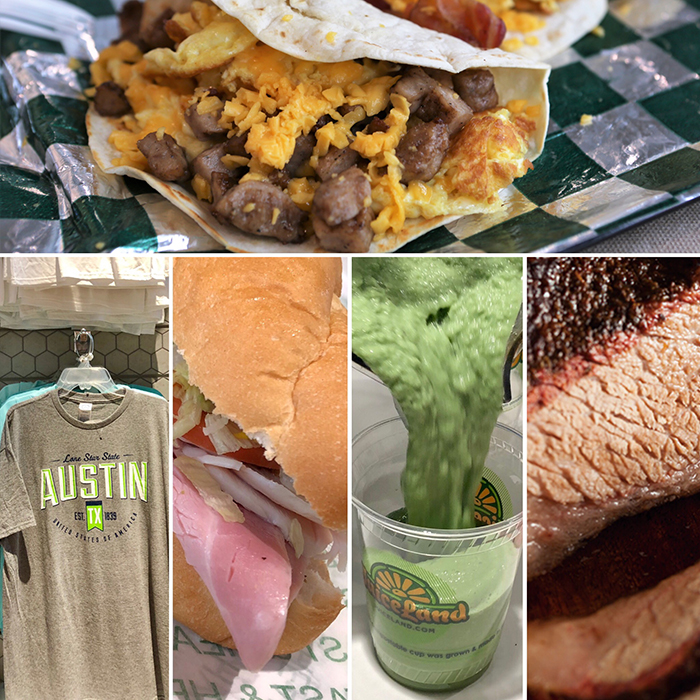 AUSTIN, Texas – For the ninth consecutive year, passengers at the Austin-Bergstrom International Airport have set a new annual record as demand for air travel increased to 15.8 million passengers in 2018. This surpassed the 2017 record of 13.8 million, an increase of 13.9 percent.
Bigger jets and more departure options on popular routes added to the Austin airport economic impact. In 2018, along with experiencing the airport's well-known art and music programs, air passengers enjoyed:
833,507 breakfast tacos
151,107 Thundercloud Sub sandwiches
112,269 pounds (58.1 tons) of brisket
56,978 T-shirts sold in 2018 with Core Austin and ACL shirts the most popular
24,528 mugs
24,284 yogurt cups
21,024 Lone Star Beers – as the top-selling bottled or can beer
19,375 shakes and smoothies
995 live music performances, making for a total of 12,270 live performances and counting, since opening in 1999
495 kegs of Real Ale Axis IPA – the top-selling draft or tap beer, followed by Pearl Snap Draft, Shiner Bock, and Austin 512 IPA
Austin flair with art – Showcased the creative energy and cultural diversity of Austin with over 60 artists' works exhibited in 2018. The program allowed individual local artists and organizations such as the Austin Mosaic Guild and La Peña Latino Arts Organization to exhibit over $117,000 worth of art in 2018.
Increased demand for air service also means that more airport-related jobs and local economic activity are generated. According to the latest TXDOT (Texas Department of Transportation) Economic Impact Study, the Austin airport generated $7.6 billion dollars in economic activity and supports more than 74,000 jobs in the Austin area.
Central Texas depends on reliable air service to foster business and leisure opportunities as well as connecting friends and families. A record-breaking year, 11 carriers announced or started 42 new routes at the Austin airport in 2018. Highlights include Lufthansa's announcement of a new international service to Frankfurt, Germany (FRA) to start May 3, 2019, now on sale. Norwegian Air launched in Texas with Austin in 2018 serving London Gatwick (LGW). 
Frontier ramped up with new routes and a move to the Austin South Terminal. Taos Air added seasonal winter service to New Mexico. New carriers to Austin, Spirit Airlines will begin flying from Austin to nine destinations on Feb. 14, 2019, and WestJet to Calgary (YYC) is set to launch May 2, 2019.
Southwest Airlines added nonstop service to Indianapolis, San Francisco, and Sacramento. Delta Air Lines added Cincinnati nonstop in May 2018 to its growing service and announced a new airline club in the new 9-gate expansion.
To keep up with passenger growth and prepare for future growth, the airport is Tuning Up with terminal, airfield and parking services expansions. Construction of the 9-gate terminal expansion is in progress and is anticipated to open this month to begin servicing passengers. Additionally, 1,900 spaces are now available as two levels of the new six-story parking garage have opened, and when complete the garage will offer 6,000 total parking spaces.
The airfield's jet movement and parking area are increasing by 36 acres and the U.S. Department of Transportation announced that the Federal Aviation Administration (FAA) awarded the Austin airport $12.7 million in grants for airport infrastructure.
Environmentally, Austin's airport terminal in 2018 diverted over 29 percent of discarded or unused items from going to the landfill. Rather, items are recycled, composted, or repurposed. To divert waste from landfills, the Austin airport initiated the below:
Food Rescue Program - In 2018, the Food Rescue Program collected almost 14,000 pounds of fresh food to deliver to needy individuals and families via Keep Austin Fed. This kept unsold, packaged food from being wasted.
Pour It Out – Empty bottles are ideal for the recycling process. However, the liquids in them are considered contamination and ruin recyclable materials.  'Pour It Out' receptacles provide a place for passengers to dump liquids from a bottle or container before placing it in a neighboring recycling bin. In 2018, an average of 19 gallons of liquids per day is collected by each receptacle located before TSA checkpoints. That's the equivalent of 152, 16 ounce sized bottles per station.
Compost program with airport restaurants – In 2018, over 45 tons of organic material has been collected from restaurant kitchens for composting, diverting it from the landfill.
The airport of choice for Central Texas is Austin-Bergstrom International Airport (AUS). New nonstop international flights include Calgary, Canada (YYC) on WestJet www.westjet.com; Frankfurt, Germany (FRA) on Lufthansa www.lufthansa.com; London Gatwick, United Kingdom (LGW) on Norwegian Air, www.norwegian.com/us; and Mexico City, Mexico (MEX) on AeroMexico, www.aeromexico.com. Austin also welcomes new carrier Spirit Airlines launching Feb. 14, 2019, www.spirit.com.  Find all nonstop routes with the free interactive flight guide on www.abia.org. Connect with us on Twitter, @AUStinAirport, Facebook, www.facebook.com/abia and on Instagram, @AUSairport.