Due to the recent spike in COVID-19 cases, the DAC and the Artist Resource Center will be closed to the public beginning on Friday, July 3. Read more here.
Please be sure to check our Facebook page for virtual events and join our Facebook Group and stay up to date on artist opportunities!
The Artist Resource Center is a place for emerging and established artists of all mediums to engage and collaborate. Functioning as a no cost meeting and research space for the arts community, the Artist Resource Center offers the tools for creatives to develop and advance their careers in the arts. 
Amenities Include:
Community bulletin board with artist opportunities and events
Free wifi
Access to Adobe Suite (by appointment)
60" LCD TV with HDMI connection
Charging stations
Artist Resource Library
Complimentary coffee and tea
Available office hours with onsite arts professionals
This is a shared workspace, no reservations are necessary. Hours are Monday-Thursday from 10am to 10pm, Fridays 10am to 6pm, and Saturdays from 10am to 2pm. The Artist Resource Center is occasionally closed to general use for Dougherty events and classes.  
---
Are you an artist new to Austin or an Austinite that's new to the arts? The Dougherty Arts Center has created the Austin Artist Orientation Guide to help you learn what resources Austin has to offer artists of all mediums. From art festivals and exhibit spaces, to where to find studio space and artist professional development opportunities, learn the services and funding that Austin has available for artists.
---
Artist Professional Development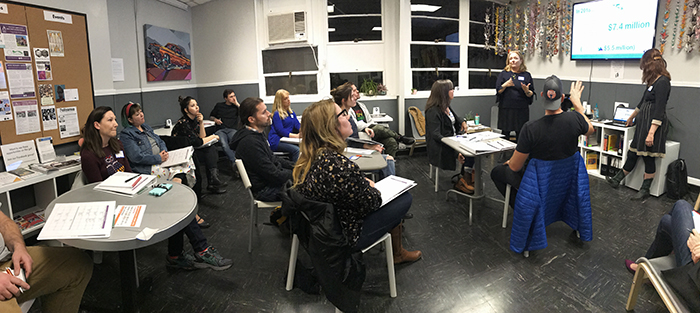 The Dougherty Art Center offers Artist Professional Development through workshops, classes, and residencies.
Visit the pages below for more information:
The Artist Resource Center at the Dougherty Arts Center offers artist professional development classes to give artists the tools to develop and advance their careers in the arts.
Works in Progress (WIP) is an immersive program that prepares teens living in Austin for careers in the arts. Through weekly workshops and networking, students will develop their professional skills, prepare for artistic careers and education beyond school, and meet with industry professionals and working artists. The goal of the program is to encourage students to follow their artistic passions and explore the diverse paths available in the creative industries.
This volunteer work exchange program provides visual artists with the space, facilities, time, and professional interaction to help them develop as practicing artists in exchange for creating outreach opportunities within our community.
---
Professional Development Workshop Series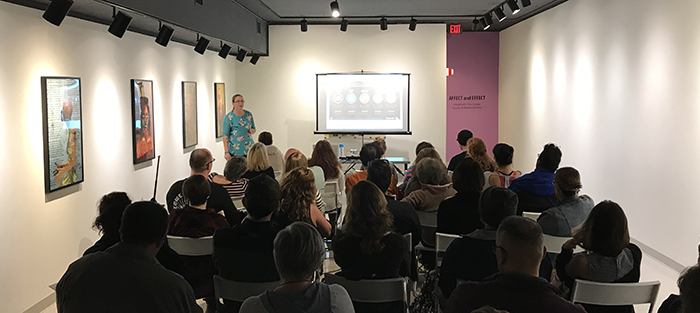 The Artist Resource Center is pleased to host free monthly professional development workshops for artists. Covering a different topic each month, our workshops give artists the tools to develop and advance their careers in the arts.
All workshops are free and open to the public. Virtual workshops do require registration to receive a link to the event.
Upcoming Workshops

September 2020 - POSTPONED: Preparing Artwork for Exhibit

FALL 2020 Lineup Coming Soon!

Previous Workshops

August 2020 - Financial Planning and Health Coverage with Foundation Communities (video)
July 2020 - How to Feel Like You Have Enough (video)
June 2020 - POSTPONED: Social Media for Artists
May 2020 - POSTPONED: Trademarks for Artists
April 2020 - POSTPONED: Austin Artist Orientation (Resource Guide)
March 2020 - Selling Your Work through Galleries and Online Platforms (video)
February 2020 - Grants & Funding for Artists (pdf)
January 2020 - The Art of Taxes (pdf)
January 2020 - Art Fair Bootcamp (pdf) video
December 2019 - Artist Self Care 
November 2019 - Health Insurance for Artists (pdf)
October 2019 - The Online Application Process (pdf)
September 2019 - Collaborating: The Artist Dating Game
August 2019 - Crowdfunding for Artists
July 2019 - Networking to Build Your Audience
June 2019 - Sales Tax for Artists
May 2019 - Preparing a Visual Portfolio (pdf)
April 2019 - Photographing Your Work
March 2019 - Budgeting for Artists
February 2019 - Pricing Your Art (video)
January 2019 - Strategic Social Media (pdf)
December 2018 - The Art of Taxes
November 2018 - Owning Your Work: Copyright Laws
October 2018 - Grants & Funding for Artists (pdf)
September 2018 - Working with Galleries (pdf)
August 2018 - Building Your Audience (pdf)
July 2018 - Selling Your Work Online (pdf)
June 2018 - Preparing a Visual Portfolio (pdf)
May 2018 - Photographing Your Work (pdf)
April 2018 - Writing Your Artist Statement (pdf)
March 2018 - Beginners Social Media for Artists (pdf)
February 2018 - Becoming a City of Austin Teaching Artist (pdf)
January 2018 - The Online Application Process (pdf)
---
If you have questions about the Artist Resource Center or opportunities for Austin artists, email artistresourcecenter@austintexas.gov