You are here
Improvements are underway at Austin-Bergstrom International Airport
---
Terminal Addition: Terminal
East
Infill Project
This project will improve passenger flow in the terminal of Austin-Bergstrom International Airport. The Terminal East Infill will build a connection from the East ticket lobby to the concourse at approximately Gate 5 and includes a new passenger security screening checkpoint with six lanes and a larger Customs area designed to the latest standards. A record 10 million passengers traveled through Austin-Bergstrom in 2013 and the airport has experienced continuous growth since January 2010. This terminal addition works to meet the needs of passenger growth and prepares the way for future terminal expansion. The Terminal East Infill Project will add approximately 55,000 square feet to the terminal and will renovate approximately 17,000 existing square feet. It is budgeted at $62 million. Construction started in 2013 and is anticipated for completion in 2015. Construction of the Terminal East Infill is being performed by the design-build team of Hensel Phelps (construction) and Austin design firm PSP (PageSoutherlandPage)
CONRAC - Consolidated Rental Car Facility, More Customer Parking
At its completion, CONRAC will consolidate all rental car operations into a 1.6 million square feet parking complex and provide 900 new parking spaces for travelers. The new CONRAC garage will be built on the eastern half of Lot A. In preparation, new surface parking construction is underway to provide alternative spaces to those lost in Lot A during construction.
All car rental operations will be consolidated into this one facility. Currently, each car rental company operates a service center to clean and refuel cars which is located a mile away from customer pickup. Cars are driven back and forth between the service center and customer pick up.
Consolidating fueling, cleaning, storage and customer pickup into one facility will increase efficiency. Eliminating the need to ferry cars between the service center and customer pickup will reduce fuel consumption, traffic on airport roadways, and vehicle exhaust.  The reduction in vehicle exhaust will lower carbon dioxide emissions by 411.7 tons.
When completed, the CONRAC facility will have five levels. New, covered public parking will be available on the ground level of the CONRAC garage. The second, third, fourth and fifth levels will be for car rental including customer pickup/drop off and car storage and servicing.
Additionally, new public parking will become available directly across from the terminal. About 900 spaces on the third floor of the existing parking garage will become public parking when car rental operations relocate from there to the new CONRAC facility.
Construction started in Spring 2013 and is anticipated for completion in 2015. A public/private partnership of the City of Austin Aviation Department and car rental companies, the project is funded at $150 million. Austin Commercial LP is the design builder of the project.  DeMattei Wong Architecture(DWA) is the design firm for the design build  team.                               

Aerial view of Terminal/Apron    Expansion highlighted in red
Terminal/Apron Expansion & Improvements Project
Recent growth patterns suggest that the airport will need additional space for both passengers utilizing the terminal concourse and aircraft parking at the terminal gates as soon as 2015.  Currently, ABIA has 24 contact gates which have boarding bridges that service airplanes parked at each gate. The terminal concourse level, which consists of approximately 300,000 square feet, is nearing its service capacity of 11 million total passengers.
In keeping with the recommendations in both the 2003 and 2008 Master Plan and Master Plan Phasing Projects, respectively, the new terminal space will be added to the eastern end of the existing terminal facility with completion anticipated in 2018. This $240 million expansion will "balance" the terminal and provide much needed space for the ever-expanding passenger and aircraft operational numbers. The east terminal gate expansion will provide approximately 70,000 square feet (a 23% increase) of new hold room space, concessions, restroom facilities, and concourse circulation space to name a few. It also provides the added concourse footprint that will accommodate seven to eight additional aircraft parking spaces on the apron for both domestic and international airline operations. This near-term expansion will provide an approximate 30% increase in aircraft operational capacity. The expanded terminal will accommodate approximately 4 million additional passengers per year for a total of 15 million annual passengers – an increase of 27%.
The project will include:
Terminal Gate Expansion (Concourse Level): The terminal gate expansion component of this project will include many of the typical amenities a new terminal would require. For example, on the concourse level, some of the items to be addressed in design will include a possibly wider concourse, new hold-room spaces, ticket lift and gate podiums, signage, concessions and support space, duty-free concessions, restroom facilities, mechanical systems, security systems, and Art in Public Places (AIPP).
Terminal Gate Expansion (Apron Level): On the apron level, the terminal gate expansion will include baggage makeup conveyors, additional inbound baggage systems, airline operations office space, signage, airport support space, security systems, restroom facilities, storage and other related ancillary facilities.
Terminal Apron Expansion (Apron Level): Implementation of the apron expansion will be required to provide needed taxi-lane dimensions for the terminal expansion as well as accommodate additional RON aircraft parking needs. The apron expansion project would also include the design and construction of GSE storage facility(s) to accommodate airline/ground service providers' equipment storage. Additional water quality pond infrastructure will also be required to adequately treat storm water runoff due to the added impervious cover from the apron expansion.
Terminal Improvements: Various associated improvements throughout the facility will be completed at the same time as the expansion work.
Taxiway A Completion
Taxiway A is parallel to one of the two main runways at ABIA. It has been constructed in phases, with the most recent expansion in 2002. To complete the south and north portions, outlined in red in the aerial photo, a 75-foot wide concrete taxiway pavement has to be laid, along with a 30-foot wide pavement shoulder, as well as other additions including taxiway lights and guidance signs. Upon completion, it will join existing Taxiway B as a full length parallel taxiway, providing multiple access points to the east runway. This will allow air traffic control more options in handling high density traffic. Construction is anticipated to start around early May and finish in early 2015. Cost projections for Taxiway A Completion are around $9 million, which includes design, construction, testing, inspections, etc… The Federal Aviation Administration (FAA) will fund 75% of the project up to $7.2 million, with the airport responsible for the remainder.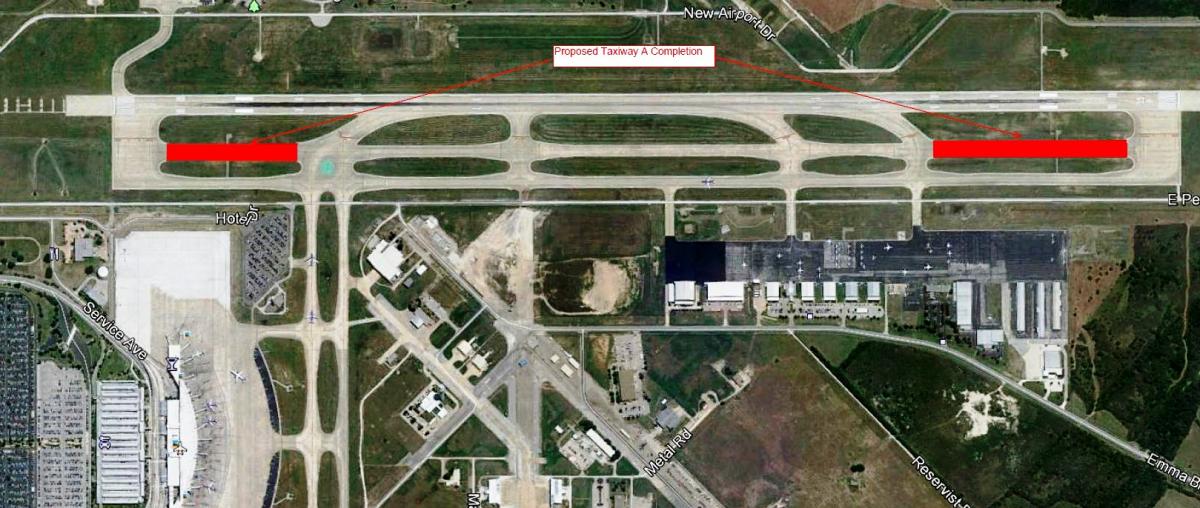 ---