You are here
Current Projects
New Garage, Parking Improvements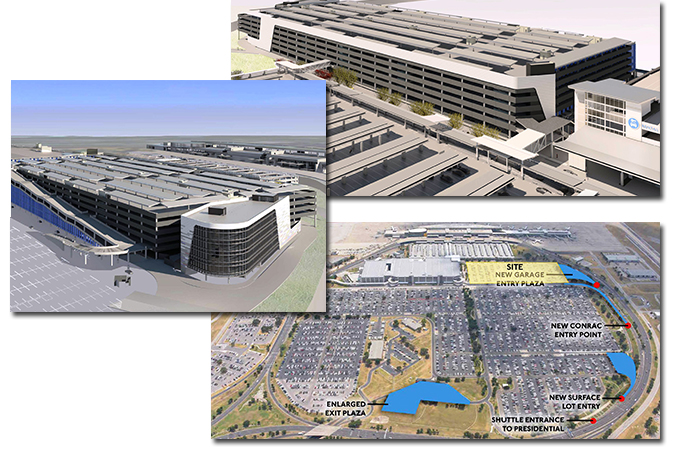 A new six level parking garage is in construction at Austin-Bergstrom International Airport. The garage will provide 6,000 covered parking spaces within walking distance of the Barbara Jordan Terminal. It is located at the site that previously was Lot A. Lot A is now closed for the construction of the parking garage.
The project, funded at $250 million, includes improvements in addition to the garage. The overall project includes:
The new, 6,000 space parking garage
New entry plazas to the parking lots, garages and to the Rental Car Facility
Enlarging and upgrading the north exit plaza to meet the demands of the expanded parking operations.
Upgrades to signs along Presidential Blvd.
Aviation administrative building
The project was approved by the Austin City Council on March 23, 2017. City Council approved PGAL as the project architect. Austin Commercial was approved as the contractor. The garage is scheduled to be completed in 2018 and the administrative building in 2019.
The former Lot A location accommodated 1,021 parking spaces. The new garage with 6,000 significantly increases parking capacity in that area. Currently, ABIA Parking offers 4,088 garage parking spaces available with 7,268 economy spaces in surface open lots B-G. There are 850 spaces available for overflow at the economy rate that opens when all lots are full.
ABIA Parking is managed by SP Plus Corp and offers several convenient parking options including Family Friendly Valet and Executive Valet services. There is also a Complimentary Cell Phone Lot to wait for arriving passenger pickups. More airport parking information can be found at www.abiaparking.com and passengers can follow on Twitter for parking updates @ABIA_Parking.
Terminal/Apron Expansion & Improvements
Austin-Bergstrom International Airport is undergoing a terminal expansion project to add nine more gates to keep pace with increasing passenger traffic and to prepare for the future growth of air service to the rapidly growing area.
The Austin City Council in October 2015 authorized the Aviation Department, to contract with Gensler (designer) for up to $36 million and Hensel-Phelps (builder) for up to $289 million, to complete the additional gates to the east end of the current terminal. The total project funding is $350 million which includes the architectural and engineering fees, furniture and equipment, testing and inspections and other project cost. The expansion, starting near Gate 2, will increase the number of contact gates with boarding bridges at ABIA from 24 to 33 and is anticipated to be completed in 2019.
Additionally, the expansion will provide an additional 48 acres of space for more aircraft to the existing terminal facility and supports the recommendations made in the 2003 and 2008 Master Plan Phasing Projects.
The current Barbara Jordan Terminal at ABIA is designed to serve 11 million passengers annually. In 2015, a record high, 11.9 million passengers traveled through the airport. The expansion project will increase the airport's capacity to 15 million passengers annually.  It is anticipated that it will be at least 2025 before that level of passenger traffic is reached.
Due to the expansion of the existing terminal facility and the increase in aircraft size, the existing apron pavements need to be expanded.  The apron expansion is separated into three phases of work with targeted completion dates. 
Phase 1 includes construction of 528,400 square feet of pavement  (2017)
Phase 2 includes construction of 314,000 square feet of pavement (2018)
Phase 3 includes 466,800 square feet of pavement (2019)
Terminal & Apron Quick Points:
The total size of the Terminal Expansion project is nearly 175,000 square feet and includes:

88,359 square feet of concourse space
52,282 square feet of apron level space
28,205 square feet of mezzanine and platform level space
5,770 square feet of patio

On the concourse level, the east terminal gate expansion will provide 88,359 square feet – an increase of 29 percent, of new hold room space, concessions, restroom facilities, and concourse circulation space
Along with nine new gates, the expansion includes the replacement of three existing gates, and all gates can accommodate domestic airline operations. Four gates will accommodate international flights
This near-term expansion will provide an approximate 30 percent increase in aircraft operational capacity
The expanded terminal will accommodate approximately 4 million additional passengers per year for a total of 15 million annual passengers – an increase of 27 percent.
Terminal Gate Expansion:
Concourse Level - The terminal gate expansion component will tackle the numerous amenities expected of a new terminal such as a wider concourse, new hold-room spaces, gate podiums, signage, concessions and support space, duty-free concessions, restroom facilities, mechanical systems, security systems, and Art in Public Places (AIPP).
Apron Level - The terminal gate expansion will include baggage makeup conveyors, additional inbound baggage systems, airline operations office space, signage, airport support space, security systems, restroom facilities, storage and other related ancillary facilities.
Terminal Apron Expansion:
The terminal expansion will also provide updated taxi-lane dimensions as well as accommodations for additional Remain Overnight (RON) aircraft parking needs. This also includes the design and construction of ground service equipment storage to accommodate airline and ground service providers.
Additional water quality pond infrastructure will also be required to adequately treat storm water runoff due to the added impervious cover from the apron expansion.
New Parking Facilities with Pet Boarding: Park & Zoom, Bark & Zoom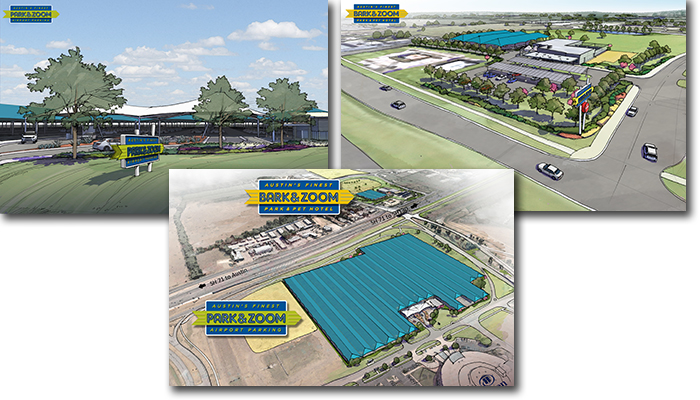 Park&Zoom, Austin-Bergstrom International Airport's newest parking facility, will provide 2,000 new, covered spaces on the airport grounds. Developed by local Austin business Scott Airport Parking, the convenient option supplies flyers with an expansive alternative to the airport's traditional parking lot. The project celebrated its partial completion with a grand opening in late November 2016 that marked the initiation of 1,200 ready-to-use spaces. The new lot is located at 9518 Hotel Drive, across from the Hilton Austin Airport Hotel.
Offering convenient transportation to the terminal and bicycle-friendly stations, Park&Zoom is more than a parking lot. The new facilities come with EV charging stations, bicycle racks and showers for cyclists, and a mix of all-electric and low-emission diesel shuttles that provide travelers with rides to the terminal. Park&Zoom also features an eco-friendly detention pond with water filtration system, capturing rain runoff to prevent flooding and minimizing environmental impact.
Construction is underway for Bark&Zoom, a project that will provide travelers with a one-stop, convenient pet care facility while they are away.  Pets will have access to outdoor play yards, a pet pool, and dog and cat grooming in this newly designed, state-of-the-art pet resort. Bark&Zoom will be conveniently located on five acres near the entrance to the airport, on the north side of IH-71 at Presidential Blvd. Its services will be available to the general public, not just those traveling through ABIA. The pet resort will be managed by the Taurus Academy, a local Austin company with more than 20 years of experience in the pet care and training industry. Optional training services will be offered during their stay by Taurus Academy.
Both Park & Zoom, www.parkandzoom.com, and Bark & Zoom, www.barkandzoom.com, will have 24/7 access to help accommodate customer flight times and schedules.
New Hyatt Place Hotel
A new Hyatt Place Hotel is under construction at the Austin-Bergstrom International Airport. A ground breaking ceremony for the four-story, 77,000 square foot and 139-room hotel was held in January 2016 and is estimated to be complete in spring 2017. The Hyatt Place is being built on undeveloped land located adjacent to planned retail development, off Presidential Boulevard between the airport's Cell Phone Lot and the Hilton Austin Airport.
The hotel will include a main lobby, café and dining area, meeting rooms, state of the art fitness center and resort style pool. Convenient surface level parking will be provided for hotel guests. In an effort to maximize building efficiency while limiting the environmental impact, the hotel will achieve LEED Silver Certification as well as an Austin Energy Green Building Two Star Rating.
The hotel is a privately developed and owned project by ABIA HP, LLC on leased land from ABIA Retail, LLC and the airport. Two local businesses, Journeyman Construction, Inc. (general contractor) and JCI Hospitality, LLC (developer and operator) will work on the project.
The hotel will take advantage of the close proximity to the airport terminal as well as a proposed retail development adjacent to the property. The hotel design places the entry along the airport's main roadway, Presidential Boulevard. This access point will be highly visible and very convenient for passengers traveling through the airport.
Recently Completed Projects
CONRAC - Consolidated Rental Car Facility, More Customer Parking

The 1.6 million square foot complex hosted a grand opening ceremony in October of 2015 to showcase the consolidation of all rental car operations.
A public/private partnership of the City of Austin Aviation Department and car rental companies, the project was funded at $150 million. Construction started in spring 2013. Austin Commercial LP was the design builder of the project. DeMattei Wong Architecture (DWA) was the design firm for the design build team.
See a time lapse video of construction here https://vimeo.com/143430558 and you can  Click here to visit the Flickr gallery, or view the photo album on http://on.fb.me/1SdbfOM
Terminal East Infill Project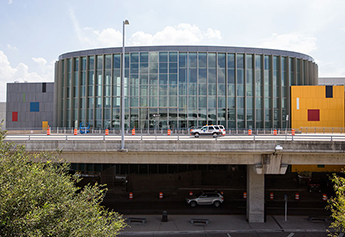 The Terminal East Infill Project was completed in July 2015 with the opening of a new six lane passenger security checkpoint. This created a new connection from the east ticket lobby to the concourse at approximately Gate 5. In December 2014, the lower level of the project was completed. This provided a new Customs facility that is larger and more efficient. With the new Customs facility, the processing of international arrivals has increased from 200 passengers per hour to 400 per hour. Further, it has the capability of processing up to 600 passengers per hour. The Terminal East Infill Project added approximately 56,700 square feet to the terminal and renovated approximately 17,000 square feet of the existing terminal. This included adding two luggage carousels to bag claim. The completion of the project comes in a very timely fashion as Austin-Bergstrom International Airport is experiencing record passenger growth. A record 10.7 million passengers traveled through the airport in 2014 and 2015 passengers are on pace to exceed the previous year. The project was budgeted at $62 million. Construction of the Terminal East Infill was performed by the design-build team of Hensel Phelps (construction) and Austin design firm PageSoutherlandPage. In addition to function, the new terminal addition incorporates colorful and cultural expressions into the architecture. Learn more here.
Taxiway A Completion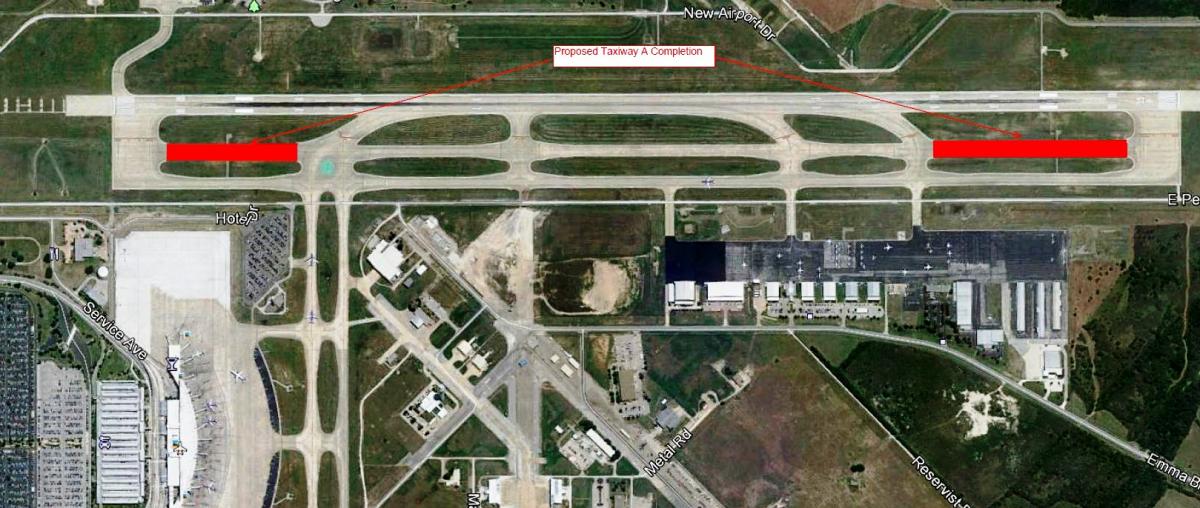 Another full-length taxiway is now operational at Austin-Bergstrom International Airport. The year-long project to extend the north and south ends of Taxiway A was completed on July 9, 2015. This completes the taxiway to its full length, providing multiple access points to the airport's east runway and allowing air traffic control more options in handling high density traffic. 
Taxiway A is parallel to one of the two runways at ABIA. It has been constructed in phases, with prior expansion taking place in 2002. To complete the south and north portions, outlined in red in the aerial photo, a 75-foot wide concrete taxiway pavement was laid, along with a 30-foot wide pavement shoulder, as well as other additions including taxiway lights and guidance signs.
The Taxiway A Completion project was funded at about $9 million, which includes design, construction, testing, inspections, etc… The Federal Aviation Administration (FAA) will fund 75% of the project up to $7.2 million, with the airport responsible for the remainder.
---