You are here
Current Project
Terminal/Apron Expansion & Improvements
Recent growth patterns suggest that the airport will need additional space for both passengers utilizing the terminal concourse and aircraft parking at the terminal gates as soon as 2015.  Currently, ABIA has 24 contact gates which have boarding bridges that service airplanes parked at each gate. The terminal concourse level, which consists of approximately 300,000 square feet, is nearing its service capacity of 11 million total passengers.
In keeping with the recommendations in both the 2003 and 2008 Master Plan and Master Plan Phasing Projects, respectively, the new terminal space will be added to the eastern end of the existing terminal facility with completion anticipated in 2018. This $240 million expansion will "balance" the terminal and provide much needed space for the ever-expanding passenger and aircraft operational numbers. The east terminal gate expansion will provide approximately 70,000 square feet (a 23% increase) of new hold room space, concessions, restroom facilities, and concourse circulation space to name a few. It also provides the added concourse footprint that will accommodate seven to eight additional aircraft parking spaces on the apron for both domestic and international airline operations. This near-term expansion will provide an approximate 30% increase in aircraft operational capacity. The expanded terminal will accommodate approximately 4 million additional passengers per year for a total of 15 million annual passengers – an increase of 36%.
The project will include:
Terminal Gate Expansion (Concourse Level): The terminal gate expansion component of this project will include many of the typical amenities a new terminal would require. For example, on the concourse level, some of the items to be addressed in design will include a possibly wider concourse, new hold-room spaces, ticket lift and gate podiums, signage, concessions and support space, duty-free concessions, restroom facilities, mechanical systems, security systems, and Art in Public Places (AIPP).
Terminal Gate Expansion (Apron Level): On the apron level, the terminal gate expansion will include baggage makeup conveyors, additional inbound baggage systems, airline operations office space, signage, airport support space, security systems, restroom facilities, storage and other related ancillary facilities.
Terminal Apron Expansion (Apron Level): Implementation of the apron expansion will be required to provide needed taxi-lane dimensions for the terminal expansion as well as accommodate additional RON aircraft parking needs. The apron expansion project would also include the design and construction of GSE storage facility(s) to accommodate airline/ground service providers' equipment storage. Additional water quality pond infrastructure will also be required to adequately treat storm water runoff due to the added impervious cover from the apron expansion.
Terminal Improvements: Various associated improvements throughout the facility will be completed at the same time as the expansion work.
New Parking Facilities with Pet Boarding: Park & Zoom, Bark & Zoom
Construction is underway on new parking facilities, including a pet boarding service, at Austin-Bergstrom International Airport (ABIA). The new parking services, Park & Zoom and Bark & Zoom, are being developed and operated by Scott Airport Parking, a local Austin business. Both Park & Zoom and Bark & Zoom are anticipated for completion in late 2016. 
Park & Zoom will provide 2,000 new, covered parking spaces on the airport. The facility will be located at 9518 Hotel Drive, across from the Hilton Austin Airport Hotel.
Bark & Zoom will bring one-stop convenience to travelers who need someone to take care of their pets while they are away. Pets will have access to outdoor play yards, a pet pool, and dog and cat grooming in this newly designed state-of-the-art pet resort. Bark & Zoom will be conveniently located on five acres near the entrance to the airport, on the north side of IH-71 at Presidential Blvd. Its services will be available to the general public, not just those traveling through ABIA. The pet resort will be managed by the Taurus Academy, an Austin "home grown" company with more than 20 years of experience in the pet care and training industry. Optional training services will be offered during their stay by Taurus Academy.
Both Park & Zoom, www.parkandzoom.com, and Bark & Zoom, www.barkandzoom.com, will have 24/7 access to help accommodate customer flight times and schedules.
Recently Completed Projects
CONRAC - Consolidated Rental Car Facility, More Customer Parking

The new Rental Car Facility at Austin-Bergstrom International Airport is open for business.
The facility is a new five-level, 1.6 million square foot complex that consolidates all rental car operations into a single facility, reduces traffic on airport roadways, and lowers vehicle carbon dioxide emissions by 411.7 tons per year.  Grand opening festivities were held October 28, 2015, read more at  http://www.austintexas.gov/news/new-rental-car-facility-grand-opening-austin%E2%80%99s-airport
A public/private partnership of the City of Austin Aviation Department and car rental companies, the project was funded at $150 million. Construction started in Spring 2013. Austin Commercial LP was the design builder of the project. DeMattei Wong Architecture(DWA) was the design firm for the design build team.
See a time lapse video of construction here https://vimeo.com/143430558
Click here to visit the Flickr gallery, or view the photo album on http://on.fb.me/1SdbfOM
Terminal East Infill Project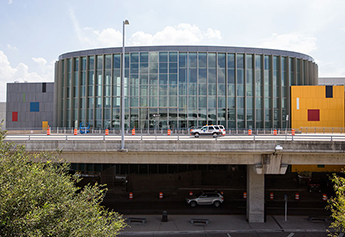 The Terminal East Infill Project was completed in July 2015 with the opening of a new six lane passenger security checkpoint. This created a new connection from the east ticket lobby to the concourse at approximately Gate 5. In December 2014, the lower level of the project was completed. This provided a new Customs facility that is larger and more efficient. With the new Customs facility, the processing of international arrivals has increased from 200 passengers per hour to 400 per hour. Further, it has the capability of processing up to 600 passengers per hour. The Terminal East Infill Project added approximately 56,700 square feet to the terminal and renovated approximately 17,000 square feet of the existing terminal. This included adding two luggage carousels to bag claim. The completion of the project comes in a very timely fashion as Austin-Bergstrom International Airport is experiencing record passenger growth. A record 10.7 million passengers traveled through the airport in 2014 and 2015 passengers are on pace to exceed the previous year. The project was budgeted at $62 million. Construction of the Terminal East Infill was performed by the design-build team of Hensel Phelps (construction) and Austin design firm PageSoutherlandPage. In addition to function, the new terminal addition incorporates colorful and cultural expressions into the architecture. Learn more here.
Taxiway A Completion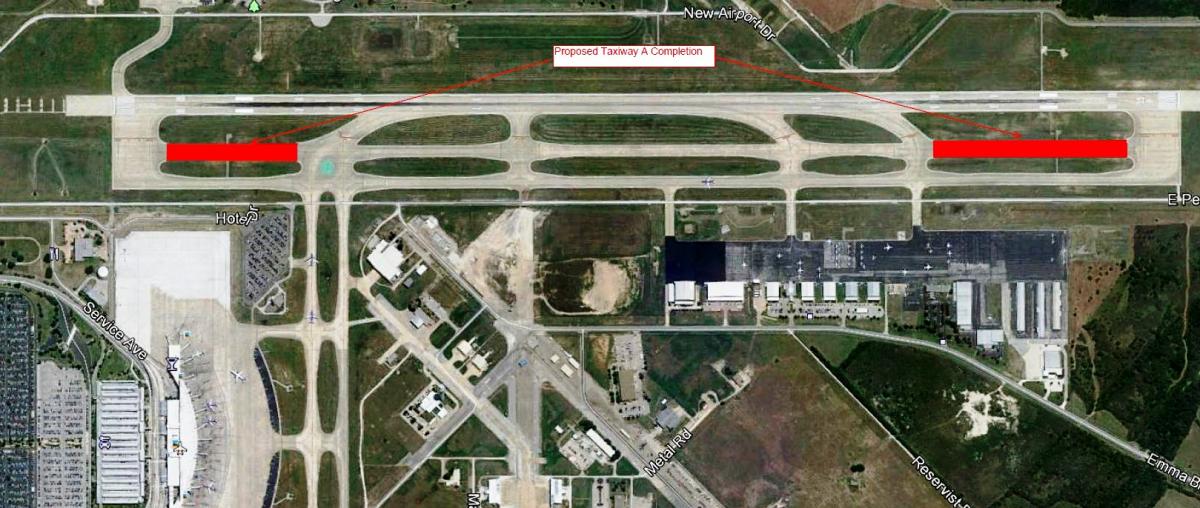 Another full-length taxiway is now operational at Austin-Bergstrom International Airport. The year-long project to extend the north and south ends of Taxiway A was completed on July 9, 2015. This completes the taxiway to its full length, providing multiple access points to the airport's east runway and allowing air traffic control more options in handling high density traffic. 
Taxiway A is parallel to one of the two runways at ABIA. It has been constructed in phases, with prior expansion taking place in 2002. To complete the south and north portions, outlined in red in the aerial photo, a 75-foot wide concrete taxiway pavement was laid, along with a 30-foot wide pavement shoulder, as well as other additions including taxiway lights and guidance signs.
The Taxiway A Completion project was funded at about $9 million, which includes design, construction, testing, inspections, etc… The Federal Aviation Administration (FAA) will fund 75% of the project up to $7.2 million, with the airport responsible for the remainder.
---