---
City of Austin & Austin Water Utility - Winners of Special Achievement in GIS (SAG) Award for 2014
---
The City of Austin has received praise recently for their work with Geographic Information System application and received two awards. The first was from the Public Technology Institute for Significant Achievement in GIS for the Infrastructure Management, Mapping, Planning and Coordination Tool (IMMPACT).  The second award was from the ESRI SAG Awards for special achievement in GIS.
"The City's work to create unique applications with a GIS component is not only innovative, it has also saved the City of Austin millions of dollars," said the City's Chief Information Officer Stephen Elkins.
The City of Austin and Austin Water are leaders in utilizing GIS to solve their business needs. The City identified the need to better manage their Capital Improvement Projects and foster collaboration between agencies and business systems.
They added a spatial component to their CIP projects to support this much needed interdepartmental coordinated asset management strategy using spatial analysis tools and spatial extract-transform-load (ETL) software.
IMMPACT not only saves the City of Austin money, but also acts as a spider database to bring together information from several disparate databases with GIS foundations.
Another effort that was recognized by ESRI is Austin Water's adoption of the ArcGIS Online configuration to support a variety of water conservation activities within the City of Austin. Central Texas is in a major drought and with the rapid growth of the Austin area over the last 20 years has water resources stretched. AWU uses ArcGIS Online capabilities such as the Collector App and Operations Dashboard to capture and track watering violations through a mobile application that collects the geographic location of the incident, a photo, and other useful data for the Water Utility's staff to determine if a violation indeed has occurred and what further action is necessary.
The City of Austin Enterprise License Agreement with ESRI, has allowed city GIS staff to develop a wide variety of tools that provide anyone with a web browser the ability to retrieve a rich store of information about any location within Travis County. 
There is no doubt that the wide array of websites developed by the city, are used extensively by ordinary citizens and other organizations day and night.
These GIS viewers support trade registrations, park reservations, health announcements, routing inquiries to specific destinations, identifying likely sites for marketing strategies, resolving jurisdiction disputes, planning distribution networks, responding to emergencies, and host of other services delivered to our citizens. Building developers can also retrieve permit and inspection information about an address, and so can the customer at that address using the same set of web-based tools. Moms can locate the nearest park facility that has a skateboard park, and get the driving directions along with the map of the route using a single address search tool.  Additionally, many non-GIS business applications across the enterprise have been integrated directly with our GIS data using customized programs behind-the-scenes to connect the business with where it is happening.
The City of Austin and AWU continues to push the capabilities of GIS technology and are often referenced when it comes to GIS implementation best practices.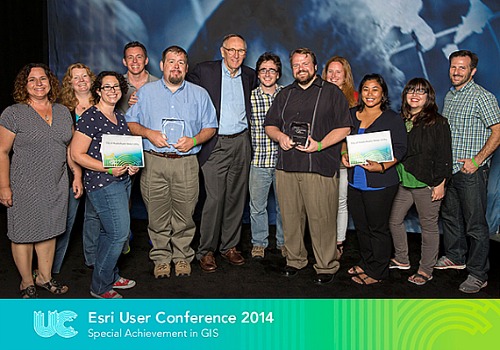 ---
City of Austin - Winners of The Center for Digital Government's "Best of the Web and Digital Government Achievement Awards to U.S. Government Websites and Applications" Award for 2013
---
In Sacramento, California on September 3, 2013 - e.Republic's Center for Digital Government announced the winners of the 2013 Best of the Web and Digital Government Achievement Awards.
In its 18th year, the annual Best of the Web (BOW) awards recognize city, county and state governments for outstanding portals and websites based on innovation, functionality, productivity and performance.  
This year's first-place BOW winners are -Austin, TX. -Alameda County, California. and Tennessee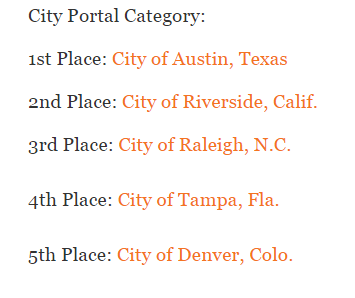 (City of Austin also received Honorable Mention in relation to the Government Internal Category.)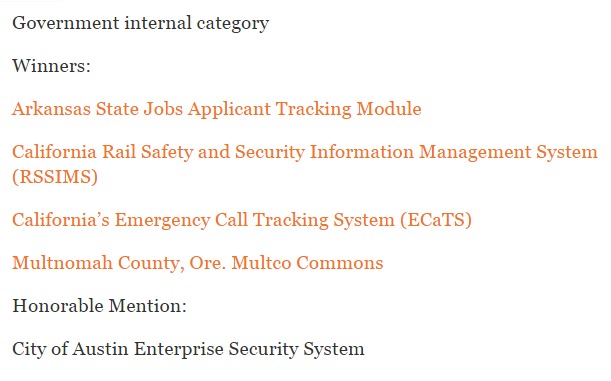 "As technology continues to evolve, governments are finding innovative ways of utilizing new technologies to transform operations and engage with citizens. This year's winners have demonstrated the ability to adapt to the changing technology landscape, while creating first-class public and business services. Congratulations to this year's winners for their remarkable achievements!"  -said Todd Sander, (Executive Director of the Center for Digital Government.)
---