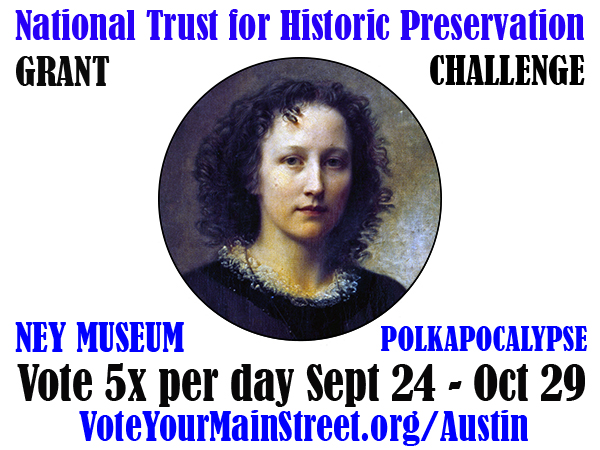 VOTE FOR NEY FIVE TIMES A DAY!
The Elisabet Ney Museum has been named a finalist for the 2019 Partners in Preservation: Main Streets grant by the National Trust for Historic Preservation. The nationwide campaign showcases the centennial of the 19th Amendment, which granted women the right to vote, by engaging the public in preserving historic places. Fittingly, the grants will be awarded by the sites that receives the most votes at http://voteyourmainstreet.org/Austin from the public through October 29. You can help the museum win up to $200,000 in grant funding by VOTING up to FIVE TIMES A DAY and passing the info along to friends and family.
Elisabet Ney rocketed to fame as a sculptor in 19th-century Berlin. Deeply intellectual, a gender non-conformist, and a democracy activist, she fled persecution in 1871 and landed in Texas. In 1892, after farming and raising a son, she built Formosa, a rugged but majestic limestone homestead and studio, and relaunched her career. She created important artwork here, but also sparked a brilliant legacy: the birth of Austin's independent spirit.
Today, the Elisabet Ney Museum at Formosa provides both an anchor and a laboratory for progressive identity and art. Funding will help restore the homestead's 18 exterior doors. Worn and fragile, plain but grand, they graciously welcome outsiders—women, artists, and immigrants—just as they did a century ago.