You are here
The Music and Entertainment Division is pleased to announce 10 local Austin musicians and bands selected for the 2019 Tip the Band, a digital tipping grant program. Participants include: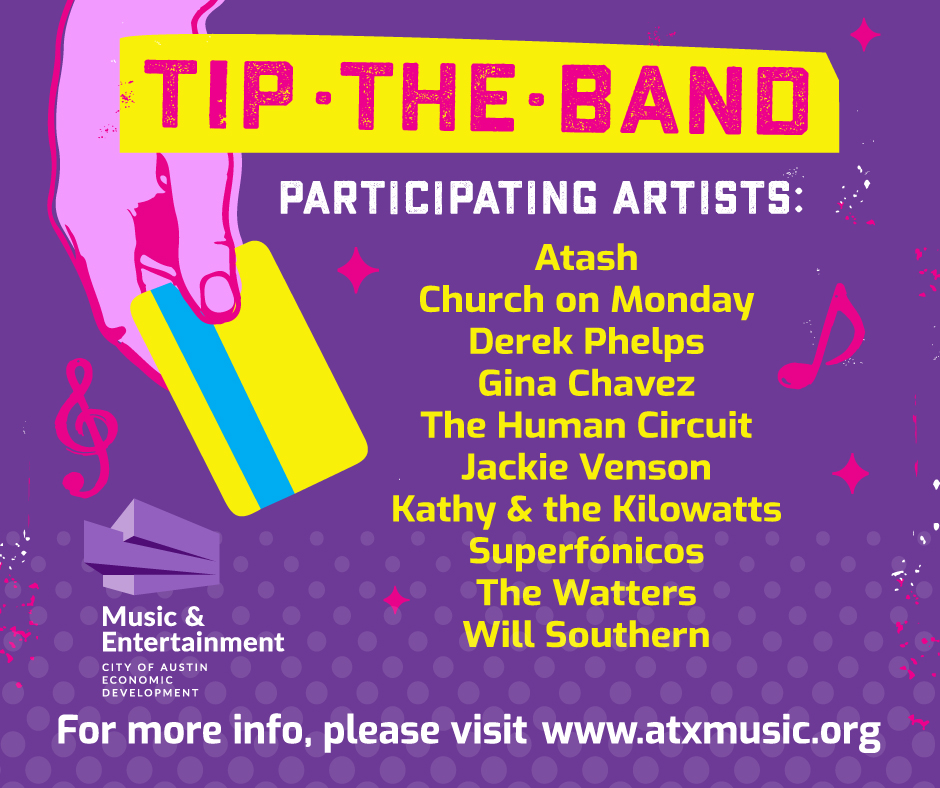 The Tip the Band grant program addresses affordability concerns for Austin's music community by creating a new and convenient revenue stream for musicians. Through the use of new technology—a digital tipping vessel—artists can collect digital tips from fans using a debit and/or credit card within seconds. 
The Music & Entertainment Division received over 100 applications for the pilot year that were reviewed and selected by an independent panel of music industry professionals.
Grantees will utilize the vessels to collect digital tips at live performances for a six-month period, for all local and traveling shows. These selected musicians will be required to market and promote their use of Tip the Band alongside a promotional campaign implemented by the Music & Entertainment Division. Following a six-month evaluation period, and upon submitting a final report, the band may continue utilizing the vessel to collect tips.
 
Intended outcomes of the Tip the Band grant program are to: increase musician compensation to help address affordability pressures experienced by our creative class; elevate the practice of tipping our local musicians which reinforces Austin as a community that cares about the vitality of its artists and creatives; and determine the effectiveness of this type of technology as a solution for increasing revenue among Austin musicians.
 
"There are certainly methods now for musicians to collect digital tips, but not as instantaneously or seamlessly as this tool," said Erica Shamaly, Music and Entertainment Division Manager. "Research shows additional steps, like opening an app and searching for an account, decreases the likelihood of fans following through on tipping. This pilot will be an invaluable opportunity to see if this tool works to add more income to musicians' existing compensation."
 
Important Tip the Band Dates:
July 16, 2019                Artist Orientation Session
August 1, 2019             Program period begins
January 31, 2020          Program period ends
---