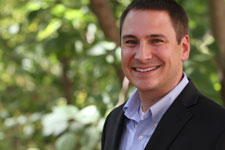 Zach Baumer leads the City of Austin's climate protection efforts, providing strategic direction to meet the goal of municipal carbon neutrality by 2020, as well as a target of net-zero community-wide greenhouse gas emissions by 2050. Under Zach's guidance, the Climate Program is responsible for:
Tracking greenhouse gas inventories – at the City Department level, as well as community-wide.
Collaborating with City leaders to improve sustainability performance and reduce departmental carbon footprints.
Monitoring advances in technology and changes in cost structures to continuously refine emissions reduction strategies.
Coordinating with City staff to identify vulnerabilities and prepare for climate change impacts.
Reporting progress toward goals and identifying areas for improvement.
Working with City and community stakeholders to raise awareness, motivate positive action and advance long-term regional sustainability.
In each of these efforts, Zach strives to continue Austin's reputation as a leading city in the fight against climate change.
Prior to joining the City of Austin in 2011, Zach served as a Sustainability and Environmental Consultant. In that capacity, he collaborated with major private corporations and public entities to create and manage overall sustainability strategies that included calculating greenhouse gas inventories, developing tracking and monitoring protocols, and creating emissions reduction plans. This experience involved preparation of a Corporate Sustainability Report for CPS Energy; providing a Sustainability Plan and staff training program for Tennessee Valley Authority; performing an evaluation of a carbon offset project for the Sacramento Municipal Utility District; and completing a Climate Action Plan Cost-Benefit Analysis for the City of Palo Alto.
A LEED Accredited Professional, he earned an MBA in Sustainable Management from the Presidio School of Management in San Francisco. Zach is a native of Indianapolis and holds undergraduate degrees in Chemistry and Chemical Engineering from Purdue University.