To achieve Austin's Zero Waste Goal by 2040, the community needs to divert more than 90 percent of discards from being burned or buried.
In order to measure Austin's progress towards zero waste, Austin Resource Recovery hired a third-party engineering firm (CB&I) to conduct a comprehensive study of recycling, composting, reduction, donation and other diversion activities at both residences and commercial businesses.

Find an overview of the study here!
---

| | |
| --- | --- |
| • Comprehensive | Inclusive of recycling, composting, reduction, donation, reuse, and other diversion activities |
| • Transparent | Conducted by a third-party environmental engineering firm and the backup data is online for public review |
| • Innovative | First study of its kind in Austin, includes best practices from around the U.S., and establishes a baseline for future studies |
| • Transferable | Other communities can replicate and improve upon Austin's approach |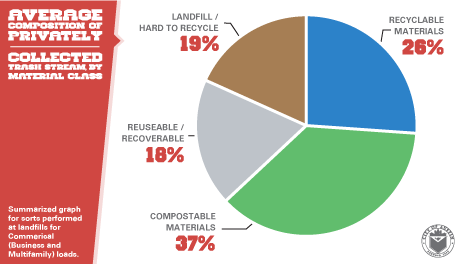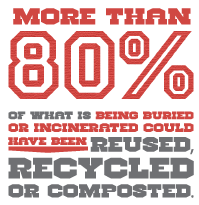 Austin's 2015 diversion rate is 42%
"More than 80% of materials in the trash could have been recycled or composted."
Organic/Compostable materials make up about 37% of materials sent to local landfills.
Businesses and apartments generated more than 85% of the discards in our community. City collected materials from one-to-four family homes is less than 15% of the total trash and recycling generated in Austin. 
| | | | |
| --- | --- | --- | --- |
| | | | |
| Data Collection: Collected available public data, including hauler tonnage and Universal Recycling Ordinance (URO) information | Biz Surveys: Surveyed thousands of businesses to learn about current business practices in Austin | Lid-lifting Observations: Randomly selected and catalogued over 2300 dumpsters at Austin businesses | Waste Sorts: Random loads of commercial materials were sorted at local landfills and recycling facilities |
Austin Resource Recovery Staff will review and provide a thorough analysis in late 2016, including policy, program, and study specific recommendations to accelerate zero waste in our community.
Continue to support innovative programs for reducing, reusing, recycling and composting material at home and at work.
Continue to implement the Universal Recycling Ordinance (URO) to find cost-effective solutions that result in less waste.
Recycle everywhere you work, live and play.
If recycling or composting is NOT visible, tell the manager or customer service staff so they know you want access to recycling and/or composting.
If recycling is not available at a commercial property or apartment complex, please call Austin 3-1-1 or 512-974-9727 or email CommercialRecycling@austintexas.gov
Find more information about recycling and other diversion programs at AustinRecycles.com
Forms Used During Study
Diversion Calculation Files
Zero Waste Advisory Council Presentation - May 11, 2016