The goal of the Pollution Prevention and Reduction Program is to prevent or minimize polluting discharges to Austin's creeks and lakes through the Spills and Complaints Response and Stormwater Discharge Permit programs.
24 Hour Pollution Hotline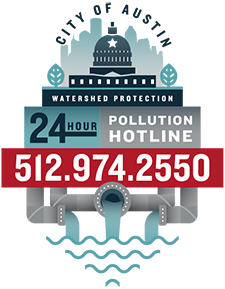 Program staff responds to hazardous and non-hazardous material spills as well as citizen pollution complaints within the Austin City limits, the five mile extra-territorial jurisdiction, and within the City's water supply watersheds. Program investigators respond 24 hours a day, seven days a week to calls received through the Pollution Hotline.
Staff are pro-active in preventing pollution by doing targeted community outreach and producing educational print pieces.
Click here to learn more about pollution disposal, authority, community education, and other frequently asked questions.
Public Awareness Programs
Coal Tar Ban
On November 17, 2005 the City of Austin's City Council voted unanimously to ban the sale and use of coal tar containing pavement sealants in the city and its ETJ (Extra Territorial Jurisdiction). Learn more about coal tar.
Closed Landfills
There are many closed or abandoned landfills in the Austin area. Many operated before landfills were regulated, and may pose environmental or safety risks. Their boundaries are often unknown or poorly defined. Learn more
Request Data
Fill out an online form to request data