The Watershed Protection Department is coordinating the response to a slope failure or landslide. The landslide occurred along Shoal Creek just north of Pease Park.
Project Status
July 19, 2019: The Austin City Council authorized a project to stabilize the landslide in June 2019. The first activity will begin on July 22. Our contractor will pump down the pool of water that has formed upstream of the landslide. We have initially authorized the pumping to last for one week from 7 a.m. to 7 p.m., but it may be extended. This work is necessary to prevent the water from further destabilizing the area at the bottom of the landslide. The contractor will also install additional fencing in the area and block off an informal dirt trail to Shoal Creek in Pease Park. We are continuing to negotiate with homeowners at the top of the landslide before further work can begin.
Project Goals
Restore the streambank of Shoal Creek and its capacity to handle floodwaters in this area.
Improve stability of the hill for the protection of public parkland, roadways and infrastructure. 
Restore the wastewater line under the damaged trail.
Stabilize the hill to allow for phased trail replacement. The initial hill stabilization will serve as a first phase for providing trail connectivity.
Map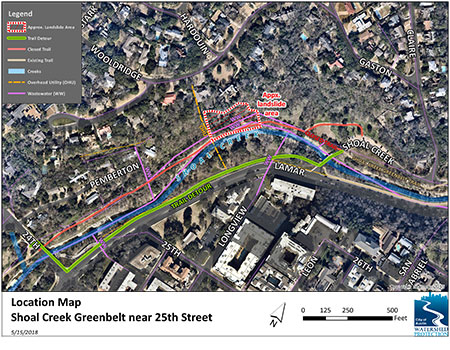 The map shows where the landslide occurred and the trail detour. Click on the map to see a larger, printable version.
Background
On Friday, May 4, 2018, there was a landslide on a cliff that overlooks Shoal Creek. No one was injured, but there was significant damage to public and private property.
Part of the Shoal Creek Trail was destroyed.
Debris is partially blocking Shoal Creek. This makes it more likely that Shoal Creek will flood Lamar Boulevard between 24th and 29th Streets. We have removed some vegetation to help offset this risk.
A wastewater line was broken.
Some homes lost large sections of their backyards.
An stormdrain outfall on Wooldridge Dr. was damaged.
What caused the landslide?
The natural geology of the area is prone to slope failures. Fractured limestone sits on top of a clay layer that weakens when it gets wet. A combination of groundwater and rainfall likely initiated the large failure on May 4.
Public Meeting
A public meeting was held in July 2018.
Wooldridge Dr. Emergency Storm Drain Project
We will be rerouting a storm drain system on Wooldridge Drive beginning in the spring of 2019. There is more information on this presentation about the storm drain project. This map shows the new system.
Documents
More Information
Please contact Stephanie Lott with questions. Stephanie can be reached through email or at 512-974-2799.