The City of Austin has confirmed a harmful algal bloom on Lady Bird Lake beginning in July 2019. Neurotoxins have been detected in some algae. We have heard of five dogs that have died after swimming in Lady Bird Lake this summer.
The algal bloom appears to mostly affect dogs, and the risk to people appears low. Lady Bird Lake continues to meet State of Texas contact recreation standards, which are based on bacteria levels.
To keep you, your family and your pets safe, we recommend:
Do not allow pets to drink from or swim in Lady Bird Lake or parts of Barton Creek near the lake.
Do not handle the algae.
Remember that swimming is prohibited in Lady Bird Lake (Ord. 640611-C).
Avoid creeks and lakes where the water is warm and stagnant or where there is lots of algae present.
Boating and paddle-boarding are allowed at your own risk. We recommend staying away from areas with lots of algae and rinsing off if you come in contact with the water. If symptoms occur, seek immediate medical attention.
Swimming Holes for Pets
Red Bud Isle: Closed. Algae, some of it harmful, has been widespread in this area.
Auditorium Shores: The off-leash area is open, but we recommend you do not allow your pet to drink from the lake or swim in this area. Harmful algae has been detected in this area.
Barking Springs: You may allow your dog to swim in the area near the spillway at your own risk. Avoid downstream areas with algae. We have detected harmful algae between the spillway and the lake. Bacteria levels may also be high given the number of dogs playing at this location.
Other Water Bodies: Our scientists are routinely in the field, and they have not seen harmful algae blooms (cyanobacteria) in other creeks and lakes. However, there is the potential for it in any natural water body when it is hot and dry. Algae and bacteria are much less likely to cause problems when the water is cool and flowing. Avoid warm, stagnant pools of water or areas with lots of algae.
Timeline and Mitigation
We have not identified an effective and safe way to treat or remove the algae. It will naturally die off when cooler temperatures and higher flows return in the fall.
Testing
We initially tested water samples and algae from eight locations on Lady Bird Lake. Additional samples were taken at the Walsh Boat Ramp on Lake Austin and downstream of Longhorn Dam. We are currently testing water and algae at three locations.  We have detected toxins in algae at Red Bud Isle, Auditorium Shores and Barton Creek.
Algae samples taken on October 14 had low levels of toxins and people should continue to keep their pets out of Lady Bird Lake. We took more samples on October 21 and have not received results yet. Since then the amount of algae has been fluctuating week by week. On November 12, we did not see any algae on Red Bud Isle. However, there still may be algae in other locations and we continue to recommend that you keep your dogs out of the water.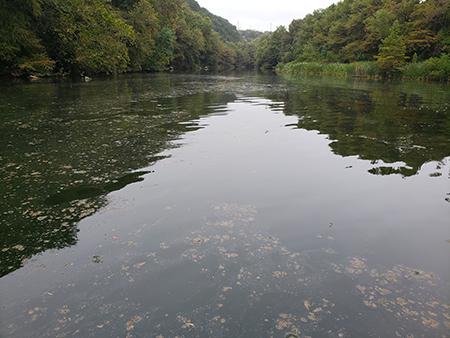 Algae at Red Bud Isle on October 14.
Cause and Type of Algae
Cyanobacteria is also called blue-green algae and is common in Austin. There are many types of blue-green algae and some can produce toxins. When this happens, it is called a harmful algal bloom. We have not been aware of any health or pet impacts from harmful algae in Austin previously.
Blue-green algae tends to be more prevalent in late summer and early fall. It thrives when temperatures are hot, nutrients are high, and flow is low. Zebra mussels, flooding during the fall and climate change are potential contributing factors.
Drinking Water
Austin Water regularly looks at algae levels on Lake Austin and Lake Travis and has not seen levels of concern for drinking water. Currently, Austin Water does not use Lady Bird Lake as a source for drinking water.
Symptoms of Exposure
ANIMALS
If your dog enters the water, we recommend rinsing your pet off. Animals who ingest water contaminated with this toxin could have a number of symptoms. They can also be exposed by licking algae from their fur. Exposure could result in respiratory paralysis and death. Look for these signs in your pet within minutes to hours of exposure:
    Excessive drooling, vomiting, diarrhea
    Foaming at the mouth
    Jaundice, hepatomegaly
    Blood in urine or dark urine
    Stumbling
    Loss of appetite
    Photosensitization in recovering animals
    Abdominal tenderness
    Progression of muscle twitches
    Respiratory paralysis
PEOPLE
In people, possible health effects include:
Dermatologic signs or symptoms such as rash, irritation, swelling, or sores
Gastrointestinal signs or symptoms
Respiratory signs or symptoms
Fever
Headache
Neurologic signs or symptoms
Ear symptoms
Eye irritation
Young children, older adults and those with medical conditions are more vulnerable to the possible health effects as a result of algae exposure. We advise these populations to take extra precautions and pay attention to possible signs of harmful algae bloom-associated illness. Austin Public Health routinely tracks emergency department visits. They have not seen any increases in unusual conditions that may be related to exposure to the water.