The Austin Strategic Mobility Plan (ASMP) is Austin's new city-wide transportation plan. This plan will make it easier to get around Austin for years to come. Learn more about the ASMP.
El Plan Estratégico de Movilidad de Austin (ASMP, por sus siglas en inglés)  es el nuevo plan de transporte para toda la ciudad de Austin. Lea más en nuestro sitio web español ASMP.
Final Adopted ASMP Policy Document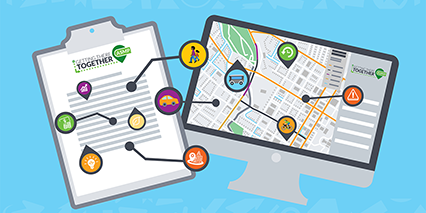 On April 11, City Council unanimously adopted the ASMP. The ASMP policy document will guide how we make decisions that impact Austin's transportation future for the next 20 years.
Final ASMP Adopted Maps
These interactive maps reflect our future transportation plans for the entire city. Adopted maps include current and future roadway capacity projects, sidewalk system prioritization, the public transportation system, the bicycle system, the urban trail system, and the high-injury network. Click on a map to learn more about a specific transportation system, and turn layers on and off to compare different systems. Zoom in on specific areas of the maps to see the information most relevant to you. The layers in these maps are also available for download.
Street Network Table and Map
The ASMP Street Network Table and Street Network Map show Austin's vision for improvements to the street network over the next 20+ years. They went into effect on April 21, 2019, replacing the 2025 AMATP Roadway Table and Map. The Street Network Table and Map include roads that are within the jurisdictional boundaries of the City of Austin. They are used to identify right of way dedication requirements to accommodate future roadway conditions (referred to as Dedication of Right of Way in the Land Development Code). These future roadway conditions found in the table include a description of the multimodal elements within the right of way. The map reflects all of the systems that make up our roadways. 
Five Things You Should Know About the ASMP
Learn about key points of the plan from Assistant Director Annick Beaudet in the video below. Video credit: KLRU/Decibel
Read more: