The National Weather Service has completed a historical rainfall study, called Atlas 14. This study shows that Central Texas is more likely to experience larger storms than previously thought. This means that severe flooding is also more likely.
Updated Floodplain Regulations
The city has updated its floodplain regulations in order to protect the public from flooding. The most significant change to the floodplain regulations is that we are using the current 500-year floodplain as the regulatory floodplain until new floodplain studies are complete. The definition of the 100-year floodplain in the Land Development Code has been revised to be the current 500-year floodplain. Find out more about the new floodplain regulations or download a summary of the changes.
There is no requirement to bring existing buildings into compliance with the new floodplain regulations if you are not proposing any development on the property. Regulations will only apply when a building permit or site plan application is submitted to the city that proposes a modification to a building in the floodplain.
Is Your Property Affected?
Maps of the interim 100-year floodplain are online. To view them, follow the instructions below or download these instructions: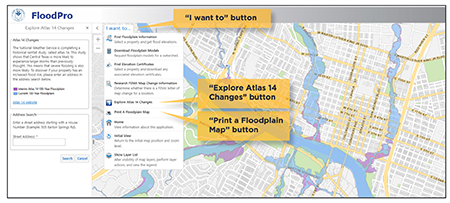 Go to www.ATXFloodPro.com.
Click the "I want to" button, then "Explore Atlas 14 Changes"
Enter your address and click on "Search."
Areas shown in blue are mapped within the current 100-year floodplain. Purple areas indicate the proposed interim 100-year floodplain, based on Atlas 14 and our new understanding of flood risk in Austin.
To print or download a map of your property, click the "I want to" button again and select "Print a Floodplain Map." Check the circle next to "Custom Map" and then the circle next to "Atlas 14." Choosing "Print Current" will prepare a map of the area you are currently zoomed in to.
What Should You Do
Talk with your insurance agent to obtain a quote for flood insurance.
Related Links