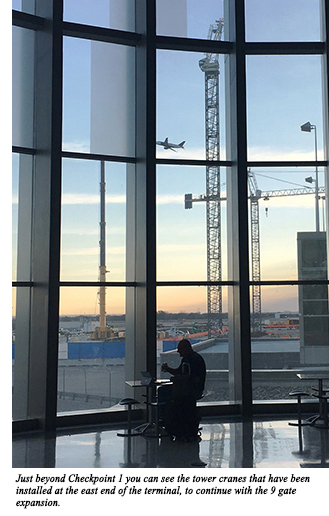 Here are nine things to know about the Austin-Bergstrom International Airports expansion construction project and the airport will reveal jet bridge marathon posters in Gate 2 on Instagram. The free cell phone lot has temporarily relocated for retail construction.
9 Things to Know About Terminal Expansion
The floor to ceiling construction wall at Gates 2-3, is part of the 9 gate expansion project and the views of the construction site from the terminal windows are no more, for now. For construction safety and for the protection of the existing concourse, the wall allows for the continuation of related work at the construction site.  Here are nine facts about the airport expansion project:  9 Things to Know.
@AUSairport Instagram to showcase jet bridge posters
Each of the 48 marathon themed posters on the temporary jet bridge for Gate 2 that are to encourage passengers, will be revealed and posted on the airport's Instagram account www.instagram.com/ausairport/ (@AUSairport). The Gate 2 jet bridge, the longest of the four temporary walkways constructed during the 9 gate expansion project is 720 feet. Travelers on the jet bridge can share the posters using hashtag #AUSjetposters on social media.
Free Cell Phone Lot temporarily relocates
Austin airport's Free Cell Phone Lot, used by drivers waiting to pick up arriving passengers, has temporarily relocated to 9340 Rental Car Lane, the former overflow Lot H. This is for the construction of a new and enhanced cell lot with new shopping, restaurants, a gas station and kids play area that is expected to be completed in 2017. An online map with directions is available at http://www.austintexas.gov/department/airport-parking#cell .