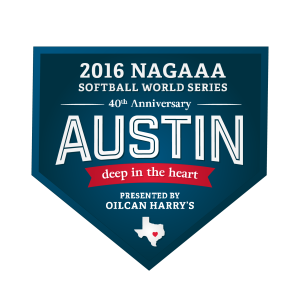 The North American Gay Amateur Athletic Alliance (NAGAAA) was formed in 1977.  NAGAAA is a 501 c(3) international sports organization comprised of men and women dedicated to providing opportunity and access for the LGBT community to participate in organized softball competition in safe environments.  Currently, more than 13,000 players from 43 cities across Canada and the United States participate in member leagues, and the best of these teams converge once a year for head-to-head competition at the annual Gay Softball World Series.
Each year, NAGAAA partners with a Host City to deliver the Gay Softball World Series (GSWS) – the largest annual, LGBT single-sport, week-long athletic competition in the world.  Teams from the 43 Member Cities across North America compete to qualify and represent their city in one of five Divisions.
2016 is the 40th Gay Softball World Series, and will be held in Austin, Texas on August 15th – 20th.  Many of the City of Austin Parks and Recreational softball fields are the primary fields for play:  Krieg Softball Complex; Havins Fields at Walnut Creek Metropolitan Park and Southeast Metropolitan Park in Del Valle.
To get general information about the 2016 Gay Softball World Series being hosted here in Austin, please download the FAQ now.
  Click Here to visit the official Gay Softball World Series Web Site at http://austingsws2016.org/.