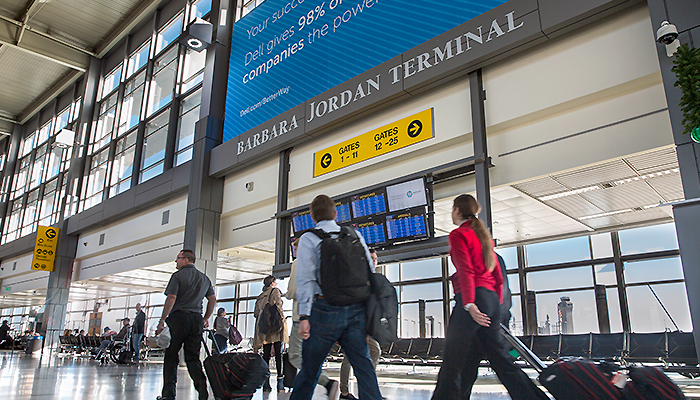 Click here for contact information.
• Barbara Jordan Terminal
• South Terminal
Airport Ambassador Program is a volunteer organization designed to provide exceptional customer service to airport passengers and visitors. Interested individuals may contact us via email at volunteeratabia@austintexas.gov or call 512-530-6302.
• Stay In Tune Email Newsletter
• Airport News & Releases
• Airport Activity Reports - Passenger & Air Cargo Traffic
• Sustainability Report
• Construction Updates
Existing conditions, aviation demand forecasts, development options, and environmental evaluations may be found in the Airport Master Plan.
Construction and Design Resources
ABIA's lost and found department is located at the west end of baggage claim. For items left at the security checkpoints or on an airplane, please visit our Lost & Found page.
Community Outreach
Community outreach includes feeding the hungry through our Food Rescue Program, hosting Honor Flights for veterans and Wings for All.  Our airplane float is in local parades and events and we partner with Del Valle schools through mentoring, Build-A-Backpack, clothing drives and Adopt a Family.
Austin is one of the most livable cities in the country and we want to keep it that way. From its beginning, Austin-Bergstrom International Airport has worked to reduce its impact on the environment by recycling, using alternative fuels, reducing electric and water consumption, and building with recycled materials.
• Annual Performance Report
• Financial Statement
• Comprehensive Annual Financial Report (CAFR)
• Airport System Revenue Bonds
• ABIA Airline Rates and Charges
FAA: Title VI  of the Civil Rights Act of 1964 - Regulation on Unlawful Discrimination
For wheelchair Assistance, call 512-530-2242
• Airport Rules and Policy
• Permit for Solicitation/Display/Demonstration at the Airport
From Aeronautic services provides to ground transportation, learn the rules of minimum standards for operation here.
A listing of Honors, rankings, and awards received by Austin's airport.