Current Calls for Art in Public Places Projects

Announcing TEMPO 2-D and TEMPO Refresh!
Art in Public Places (AIPP) is expanding TEMPO, its annual temporary public art program! Since 2012, the popular TEMPO program has commissioned artists to create outdoor installations for temporary exhibition at City-owned sites across Austin. While diverse in material and theme, TEMPO artworks have typically been three-dimensional sculptural installations. This year, AIPP will grow the program to include opportunities for muralists and also a unique occasion to reimagine an existing work in the AIPP collection. Through TEMPO 2-D, AIPP will commission seven to ten artists to create temporary murals at select sites across the City. TEMPO Refresh offers artists an opportunity to reimagine an existing artwork—this year, Carl Trominski's Moments—by temporarily modifying or enhancing it to create a new experience and interpretation. Both programs provide compensation for the selected artists.
TEMPO 2-D
AIPP has issued a Request for Qualifications for the TEMPO 2-D program. Selected artists will propose mural designs that will either be hand-painted, digitally-printed vinyl adhesives or temporarily attached panels for locations ranging from public parks to the Austin Bergstrom International Airport, among other sites. Artists will work with the community to develop designs that reflect the character of their chosen location and special consideration will be given to artists with lived experience in the neighborhoods in which they are proposing artwork. The budget for each mural is between $2,000 and $7,000, contingent on the size and complexity of the project. Applicants may review the complete Request for Proposals at www.tinyurl.com/AustinAIPP and must apply online at www.PublicArtist.org, by Thursday April 26, at 5 PM. Artists may learn more about the program at several artist information meetings:
Thursday, March 22 |6:00 – 7:00 PM | Howson Library, 2500 Exposition Blvd
Monday, March 26 | 6:30 – 7:30 PM | Dougherty Art Center, 1110 Barton Springs Rd
Thursday, March 29 | 6:00 – 7:00 PM | North Village Library, 2505 Steck Ave
TEMPO Refresh
TEMPO Refresh will offer one artist or artist team a unique chance to reimagine Carl Trominski's Moments, part of AIPP's permanent collection. AIPP seeks letters of interest from the City's 2018-2020 Local Pre-Qualified Artist Pool to create a temporary intervention for Moments, which was chosen in recognition of the installation's 15th anniversary. The artwork, comprised of a series of blue signs adhered to a retaining wall of 3 x 3 foot squares, is located at the Lamar Boulevard underpass beneath the 3rd St and Union Pacific Railroad bridges. The selected artist will develop a colorful and engaging design that takes inspiration from Trominski's original proposal—addressing the retaining walls, the blue signs and a light component. The total budget for the project is $50,000. Applicants may review the complete project prospectus at www.tinyurl.com/AustinAIPP and must submit their letters of interest via www.PublicArtist.org, no later than Tuesday, April 3, at 5 PM.
---
LaunchPAD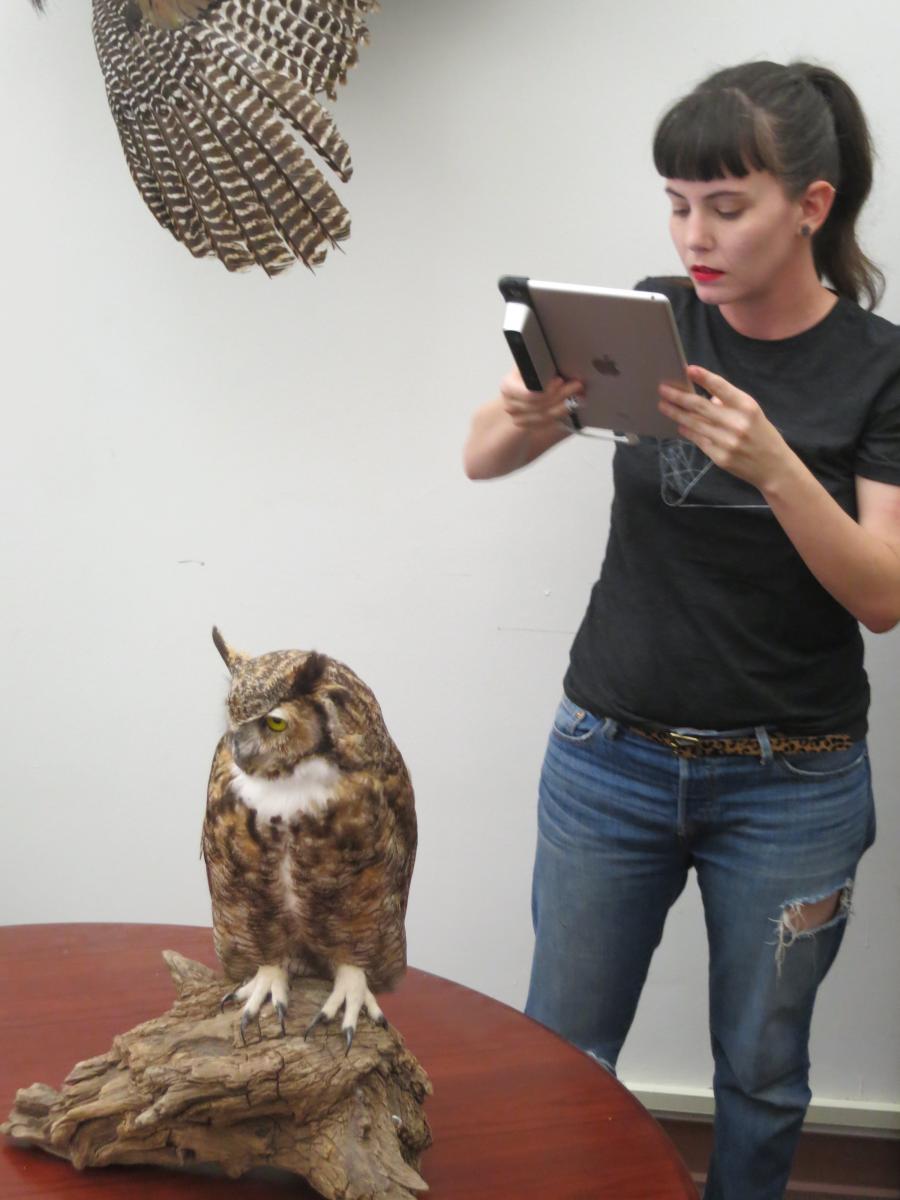 Artist fee $15,000
Interested in a career in public art? Through the LaunchPAD program, AIPP pairs established public artists with visual artists moving into the field of public art to gain expertise while providing services benefitting a public art project for the City.
Visit www.PublicArtist.org/AustinAIPP for more information. Get your application in now! LaunchPAD artists are commissioned after a selection process that begins on the 16th of every month.
(Image: LaunchPAD artist Christine Angelone at work on her project with New American Public Art.)
Public Art Commissions
Artists interested in being considered for a public art commission for the City of Austin must apply through PublicArtist.org. All professional artists, with a consistent body of work in any visual art media, are eligible to apply.
Watch Now: How to Apply for Public Art Projects using PublicArtist.org
This is a child page of::