Located in historic Central Fire Station No. 1, the Austin Fire Museum features 19th to 21st Century uniforms, photographs, and memorabilia from the firefighters of Austin. Operated by the Austin Fire Museum Hook & Ladder Society.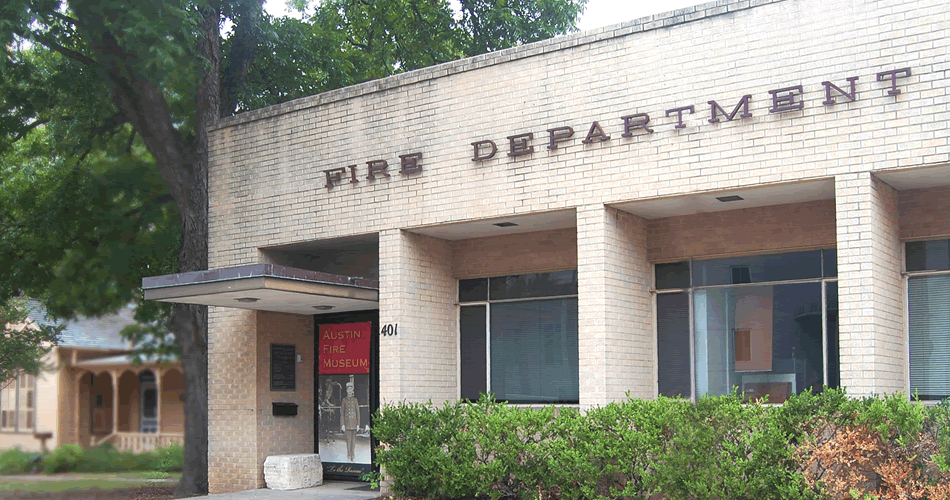 Sat - Sun: 12 - 3  //  Weekdays by appointment only
401 East 5th Street  //  512-974-3835
Austin Fire Department: Volunteers to Professional Fire Fighters
Austin Fire Department began in the 1870´s with a very formal volunteer program. The success of the volunteer organization actually delayed the need for a career department until 1916. It was Austin's businessmen and merchants who mainly comprised the volunteer rosters. Many devoted their lives to the fire department. In the spring of 1916, the citizens of Austin voted in support of the creation of a paid, municipal fire department. Overnight, the department went from more than 200 volunteers to 27 paid firefighters, working six 24 hour shifts per week.
The first paid Fire Chief appointed by Austin city administrators was C.F. Millett. Under Millett's direction strict fire ordinances were passed and they were effectively enforced by the dedicated volunteers. By 1874 the city council establishing a fire department with a chief, assistant chief, recorder, fire commissioners, and fire police. By 1880s Austin Fire Department included both volunteer and paid firemen.
In June 1916, Clarence Woodward was appointed Fire Chief. The volunteer fire companies disbanded and the fire department renumbered its fire stations and renamed its apparatus which is still in effect today.
Washington #1 closed its station
Austin Hook and Ladder #1 became Truck Co. 1, Engine 1
Colorado #2 became Hose 1 at Central Fire Station 1
Protection #3 became Engine 2 at Station 2, and Truck 2 was created
East Austin #4 became Engine 5 at Station 5
South Austin #5 became Engine 6 at Station 6
North Austin #6 became Engine 3 at Station 3
West Austin #7 became Engine 4 at Station 4
Tenth Ward #8 became Engine 7 at Station 7
And Rescue #9 became Engine 8 at Station 8