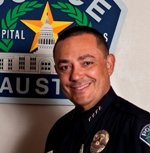 Austin Police Chief Art Acevedo
Keeping You, Your Family and Our Community Safe
Art Acevedo leads Austin's police department of 2,300 sworn law enforcement and support personnel who carry out police operations within the City of Austin, as well as the Austin-Bergstrom International Airport, city parks and lakes, and municipal courts. With an annual budget of $283 million, APD serves Austin's diversified population in the 13th largest city in the United States. Under Chief Acevedo's leadership, the APD has been reengineered into a data driven and intelligence led policing organization. more... [1]
Mailing Address:
P. O. Box 689001
Austin
,
TX
78768-9001