CTECC improves emergency response coordination and cooperation by providing a centralized public safety facility sustaining the operations of shared, critical emergency communications and transportation management for the region. Our primary goal is to receive and process emergency 9-1-1 calls for service and emergency.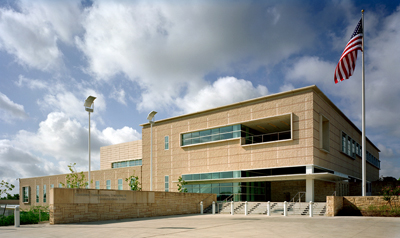 A secured site with restricted access, the facility and its operation is a partnership between:
Located on 13.9 acres at the old Robert Mueller Airport site, the 75,000 square-foot operations building with 5,600 square-foot utility and support buildings hosts the following public safety and transportation systems:
Intelligent Transportation System
CAD (Computer Aided Dispatch)
911
311
Fire and A/TCEMS Records Management System
Regional Radio System
Capital Metro Fixed Route Dispatch
CTECC was constructed with particular detail to infrastructure redundancy because of the criticality of the systems being hosted. Austin Energy is partnering and assisting the participating entities in the following areas of facility reliability and implementation:
Chilled water
Premium Power
Full spectrum of mission critical facility management services
The facility was completed for occupancy in October of 2003 and all CTECC agencies were moved in by December of 2003.
Awards
The U.S. Green Building Council officially awarded CTECC a silver LEEDS award on October 15, 2004. This is the first government building in Texas awarded the silver LEEDS. LEEDS (Leadership in Energy and Environment Design) promotes sustainable design which recognizes that products and processes are interdependent with environmental, economic and social systems. LEEDS focuses on 5 areas:
Water efficiency
Materials & resources selection
Energy Efficiency
Indoor environmental quality
Sustainable site development
CTECC was also awarded the 2004 Best of ITS Award for Partnership and Deployment in the public sector. The ITS America's Best of ITS Awards is the only program in the world that recognizes leaders of the intelligent transportation technology community.
Presentations