Public Health and Human Services 1115 Waiver Transformation Projects
Using federal dollars, the City of Austin is improving the health outcomes of our community.  Through the 1115 funding source, projects enhance access to health care, increase quality of care, or increase the cost-effectiveness of care and the health of the patient and families served.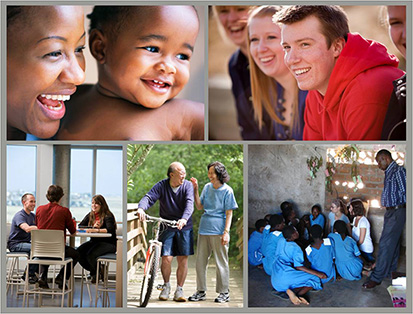 Permanent Supportive Housing
Two of the City's projects provide intensive support services for the chronically homeless. This population is one of the costliest to taxpayers as they are often uninsured yet use the most expensive emergency services.  Providing these services will help them maintain housing stability and improve their quality of life, which will not only benefit them but the community at large.  Learn more about the homeless in Austin.
Expansion of the Community Diabetes Project
This project provides free diabetes self-management education classes for individuals living with diabetes.  The series of six classes is offered in Spanish or English by community health workers in community settings. 
Tobacco Prevention and Cessation Program targeting 18-24 year olds
This tobacco prevention and cessation intervention project aims to reduce tobacco use among the 18-24 year old population.  Research indicates that tobacco cessation before the age of 30 avoids almost all the long-term effects of smoking.  Patients receive free and confidential counseling services, support and information from trained professionals.  The project has produced four public service announcements:Justin - SmokefreeTXT; Reena - SmokefreeTXT; Justin - This is . . .; and Reena - Storytelling. 
Immunizations
This project seeks to increase the provision of vaccines to decrease morbidity and mortality to uninsured or Medicaid/Medicare eligible high risk populations.  This project specifically targets clients seeking STD & HIV services, day laborers, homeless individuals, substance abusers, and other high risk individuals.   This video provides greater insight into this project. Learn more about our immunizations program.
Maternal Infant Outreach Program
This program provides support for African American women before and during their pregnancies, and throughout the first year of life of their child.  Community health workers help women access health and human services, provide health education and birth education and provide labor and delivery support.  
Healthy Families Expansion
This program provides long-term home visiting services to support the needs of first-time African American parents.  Services begin during the woman's pregnancy and continue until the child turns three years old. Learn more about Smart Moms Austin.
Peer to Peer Health Education to Prevent Teen Pregnancy
The goal of this intervention for all youth who participate—as either community educators or program participants—is to increase their knowledge, skills, and attitudes about health and personal choices while becoming empowered to disseminate this information to their peers. Learn more about the Austin Healthy Adolescent program..
Increasing the Healthcare Workforce
Through this project, the City of Austin is looking to increase the number of registered nurses who commit to serve in medically underserved areas.  This project builds on HHSD workforce development investments that are helping individuals become self-sufficient.  
Infectious Disease Management through Electronic Health Records
This project is implementing new clinical protocols and integrating them into electronic medical records to increase efficiencies and decrease duplication of infectious disease management services.