Onion Creek is Austin's largest watershed and is particularly vulnerable to flooding. We have several projects to reduce the risk of flooding along Onion Creek.
Status
As of January 28, 2019, we have purchased 812 properties in the lower Onion Creek project areas and 41 in the Upper Onion Creek project area.
Project Locations
Map of Project Locations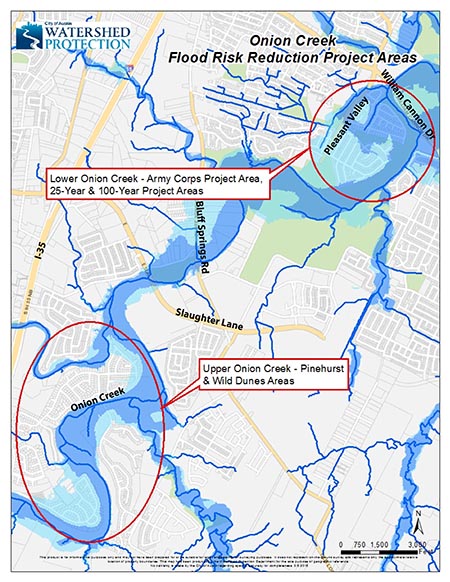 Overview
Onion Creek is vulnerable to flooding due to the size and characteristics of the watershed. At 344 square miles, it is Austin's largest watershed. The creek catches water from a large area, resulting in high flows and a wide floodplain.
The neighborhoods along Onion Creek were built in the 1970s, before we understood the breadth and depth of the creek's floodplain. After the houses were built, new floodplain maps showed the potential for severe flooding.
For lower and upper Onion Creek, buyouts are the most effective way to protect the public and first responders from flood risks. There have been three studies evaluating flooding along Onion Creek. These studies have all found many drawbacks to other types of solutions, resulting in the recommendation for buyouts.
Studies
Flood Safety
Another flood will occur in this area. To prepare, we encourage residents of this area to take the following steps:
Consider purchasing flood insurance for both the structure and the contents. Renters can purchase policies too. Contact your insurance agent.
Stay informed by signing up for Warn Central Texas.
Have an emergency plan. Please keep in mind that you may be safer staying at your home, on your roof, if necessary, than trying to escape a flood in your vehicle. Most fatalities during floods happen in vehicles.
Make an emergency kit.
Get to know your neighbors. They are often the ones who can respond first in an emergency.