Curbside Collections
City of Austin curbside customers can recycle their trees at the curb! Please remove all decorations from tree. Please set out your tree by 6:30 a.m. on your regular collection day and remove all decorations and stands from the tree. Trees over 6 feet should be cut in half. Do not place tree in a plastic bag.
 





Zilker Park Drop-off
Not a City of Austin curbside customer? No problem! All residents can drop off their trees for recycling at Zilker Park. Trees with flocking (artificial snow) are not accepted, please remember to remove all decorations and stands.  Drop off is between 10 a.m. to 2 p.m. on the following dates:
Saturday, Dec. 29, 2018
Sunday, Dec. 30, 2018
Saturday, Jan. 5, 2019
Sunday, Jan. 6, 2019
Trees collected will be turned into mulch and will be available for free on a first-come, first-served basis beginning Jan. 17, 9 a.m. Please bring your own tools and storage containers for loading and transporting the mulch.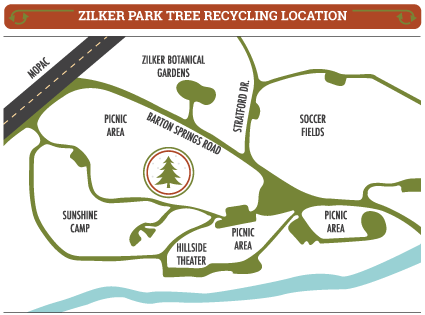 Volunteer Opportunities 
Contact April L. Thedford at April.Thedford@austintexas.gov for tree recycling volunteer opportunities.
---
Alternative Drop-Off Locations
Free Drop-Off Locations
Tree will be accepted free of cost at the locations listed below. However, a contamination fee will be added to any trees with tags, decorations, and/or plastic remaining.
 
TDS Landfill: 3016 FM 1327, Creedmoor, Texas
Eco Depot: 4001 RR 620 South, Bee Cave, Texas
13602 FM 969, Austin, TX 78724
 | (512) 276-1211
Walker Aero Environmental (JV Dirt) 
3600 FM 973 North Austin, Texas 78725
3219 S IH 35 Round Rock, Texas 78664
629 Dalton Lane, Austin, Texas 78742
Travis County Transfer Station
2625 Woodall Dr. Leander, Texas 78641
6013 Blue Bluff Rd Austin, Texas 78724
Del Valle Softball Complex (Behind the Southwest Rural Center)
3614 FM 973 Del Valle, Texas 78617
Drop-Off Locations with a Fee
Locations listed below have varying fees. Call for more information. 
 
Kinser Ranch LLC.
Starts at $1.00/per tree to $20/per load
For more information: 512-748-0800
10701 Kinser Lane, Austin, Texas 78736
Sid Mourning Tree Service
Pricing varies
Call for fee information: 512-420-0733
3810 Medical Parkway Austin, TX 78756
Austin Wood Recycling
$5.00/per tree
For more information: 512-259-7430
3875 E. Whitestone Blvd., Cedar Park, TX 78613
Good Guys Tree Service
Prices vary
For more information: 512-743-3909
10713 Ranch Rd. 620 North, Austin, TX 78726
Austin Tree Surgeons
Pickup requests only. Prices start at $25 for pickup and disposal.
For more information: 512-301-4400
13062 W. Hwy. 290 #112, Austin, TX 78750