Food Gardeners, what's in your soil?
Find out with free testing!
The Soil Kitchen is an opportunity for backyard food gardeners to receive free soil testing! Soil brought to the kitchen will be screened for heavy metals and tested for soil nutrients. Soil from your backyard, schools and community gardens are all eligible and the results will help growers safely and effectively start or continue gardening.
How does it work?
Representatives from the City of Austin Brownfields Office will be on hand to accept soil samples and assign each with an identification number. Each sample must be labeled with the cross streets closest to the garden and the initials of the soil owner.
All samples will be tested for the presence of heavy metals and soil nutrients. 2019 Soil Kitchen results are available!  
How to collect a soil sample: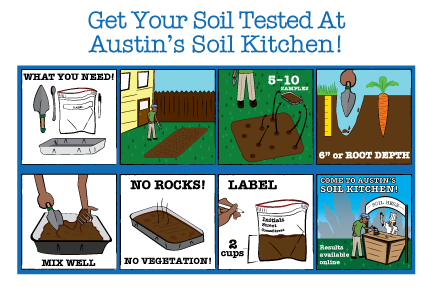 You'll need a garden trowel, a quart-sized zip-top plastic bag, a waterproof marker and a clean, shallow pan.
Bags must be labeled with your initials, the date you took the sample and the closest street intersection to the garden plot. PLEASE do not give your exact address.
Go to the garden area and sample the soil in five to 10 different spots around the bed(s). Sample to a depth of six inches, using your trowel to make a cone shape into the soil. Extract the samples and place each of the collected samples into the shallow pan.
When you have completed the sampling work, mix all the soil together in the shallow pan to obtain a more representative example. Make sure to remove any rocks, grass or dead plant material.
Put about two cups of soil into a zip-top plastic bag and seal it shut.
Drop your sample off at the Soil Kitchen and we'll give you a card that has information on how to look up your soil results online beginning May 2019.
The Soil Kitchen is sponsored by the City of Austin's Brownfields Revitalization Office and the Region 6 Environmental Protection Agency. We hope to see you at the Austin Soil Kitchen for soil diagnostics, fun and all the gardening tips you can imagine!
Visit Austin's Grow Green page and the Travis County Master Gardeners for more helpful gardening advice! Soil Kitchen is part of the East Austin Garden Fair.