The Austin Water Utility and our paying customers are victims of millions of gallons of water annually stolen from fire hydrants.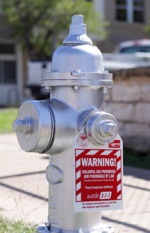 The City of Austin has invested millions of dollars to ensure our customers are provided safe, clean and reliable drinking water. That is compromised when water is illegally taken from fire hydrants. Illegal and careless connections carry the risk of contaminating our water supply and can lower pressure required for fire protection. Water theft may result in a class C misdemeanor, which is punishable by fines of up to $2,000.
How to spot theft? Water is most often stolen from fire hydrants without using a metered connection. A permit is required to take water from a fire hydrant and backflow equipment must be used to ensure the water supply is not contaminated. Some water trucks have meters installed, and regularly report usage to the Austin Water Utility, but not all citizens who obtain water from a hydrant are using water meters, or reporting the usage. If the fire hydrant does not have a meter attached to it, theft may be occurring.
Help stop water theft. If you suspect water is being stolen from a fire hydrant or identify a water meter that has been bypassed or tampered with, please call 3-1-1 to report this illegal activity.
To view a spanish and english copy of the January 2010 bill insert on Water Theft click here.