This PARD event takes place rain or shine. In the event of inclement weather, we will continue the program 30 minutes after the last sign of thunder or lightening
An Austin- Area Butterfly Celebration that offers fun for the entire family!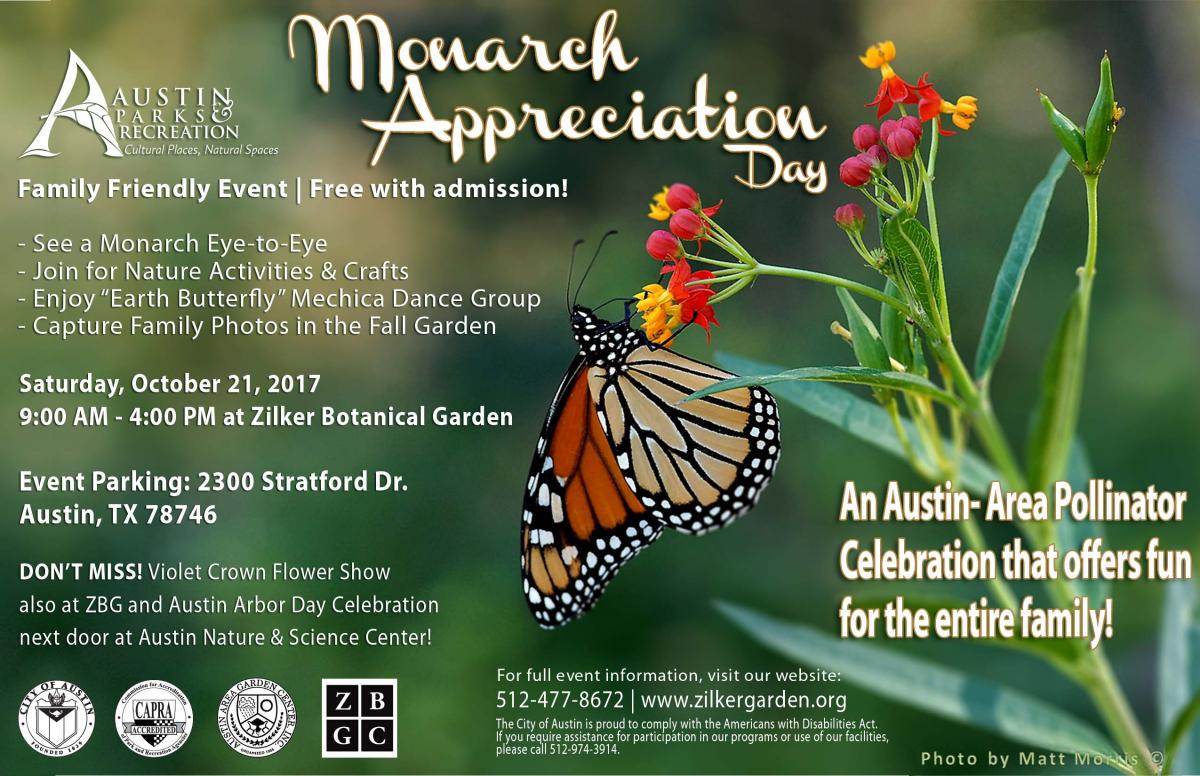 Family Friendly Event | Free with Admission!
See a Monarch Eye-to-Eye
Join for Nature Activities & Crafts
Enjoy "Earth Butterfly" Mechica Dance Group Ceremony
Take pictures with the Austin Bike Zoo- Monarch Bicycle
Butterfly releases at 11:00 am, 1:00 pm and 3:00 pm
Experience the magic of Monarchs at the Zilker Botanical Garden
Monarch butterflies and their fascinating story of migration will provide the focus for a day of festivities at the Zilker Botanical Garden during Monarch Appreciation Day on Saturday, October 21st, from 9:00 a.m. – 4:00 p.m. The event highlights the importance of pollinators. Attendees can learn how they can help by increasing or improving the habitat they provide at their own homes. In addition, there's just a lot of fun to be had with a variety of Monarch- and pollinator-themed programming. Planned activities include:
Butterfly releases will be conducted 3 times throughout the day: at 11:00 am, 1:00 pm, and 3:00 pm. Learn how to catch, tag, and release a monarch to support conservation efforts.
Eye-to-Eye with the Monarch - Guests can enter and walk through a special butterfly tent to observe Monarchs and other butterflies up close. "It's a fascinating experience to see a Monarch—or any butterfly—up close," says Butterfly Garden Gardener Matt Morris. "They are amazing creatures!  Butterflies and other pollinators are a critical part of our ecosystem and are responsible for 1 out every 3 bites of food you eat. Today many of these are in trouble, come learn what you can do to help!"
Austin Bike Zoo – See the giant, playful, interactive, hand-built 13 foot tall Monarch butterfly bicycle Born as a collaboration of collective imagination between bike-builders, puppet-makers, and performers, the Austin Bike Zoo will delight all of us with this amazing creature… a great photo opportunity for children! Attendees can ride the Magical Monarch Bike, or pose on it for pictures. The Monarch Bike is sponsored by Grow Green, who also partner with the Garden to provide and maintain the Green Garden at the Zilker Botanical Garden. Grow Green will be on hand with garden and landscape information to help support and educate pollinator-friendly gardening. "Using earth-wise practices can save you time, energy, and money while helping to protect our precious water resources – our streams, lakes, and aquifers." Stop by the Monarch Bike and the Grow Green tent to learn more!
http://austinbikezoo.org/blog/bike-zoo-butterflies/ [1]
Native American Mechica ("Me-shee-ca") Dance Group will bless the Garden, the festival and its guests by providing a Blessing Ceremony in which they open and close the day at 10:15 am and 3:15 pm. The Dance group will open the day to the four directions by welcoming each direction with a ceremonial dance and offerings for each direction in the form of Water, Fire (by burning sacred incense from tree resin native to Mexico and Central America- Copal), Earth represented through flowers, and Air by the blowing of the conch shell. Between the performances, members of the Earth-Butterfly community will be tending the altar, offering cleansing of sacred smudge by means of the burning of Copal and will be on hand to interact with guests and answer questions about the ceremony. They will also have several drums on hand, which symbolize the heartbeat of life, and will guide children and other guests in rhythmic drumming used for ceremonies and rituals.
Singing Zoologist— Lucas Miller - the singing zoologist! Silly Songs. Serious Science. Science education through music, videos, books, and school author visits. First performance begins at 10:30 am on the stage in the Oak Grove, performances will continue throughout the day between activities.
http://singingzoologist.com/ [2]
Additional offerings will include hands-on children's activities, face painting, and activities and information from a variety of partner organizations. In addition to Monarchs, guests can learn about other butterflies and pollinators, how to garden to support them, what to plant, and other sustainable gardening information.
A Trifecta of events, all from one parking spot:
The butterfly theme extends throughout the Garden with the Violet Crown Garden Club flower show "Butterflies: My How they Fly!" that will take place in the Garden Center building. Saturday, October 21st from 1:00 – 5:00 pm and Sunday, October 22nd from 1:00 – 4:00 pm. Free with admission, guests can enjoy a number of artful floral designs themed around butterflies and pollinators.
Austin's Arbor Day Celebration will be held just next door at the Austin Science + Nature Center from 10:00 am – 2:00 pm. Family friendly and FREE! Free parking is available under the Mopac Bridge. 2389 Stratford Dr, ATX 78746. 
On-site Arbor Day Activities:
Tree Trail Tours – Be one of the first to walk the new tree trail at Austin Nature & Science Center.
Kids Climb – Have fun climbing trees! Climbing experts will assist tree climbing with harness and ropes.
Nature Craft Table – Park Rangers will be on hand with their Nature Trailer. Come out and make something special and unique!
Ask an Arborist Booth - Got tree questions? Ask an arborist. (PARD Urban Forestry)
Parking Notice for Special Events taking place on Saturday, October 21st:
Parking at the Garden is limited. Visitors and volunteers are encouraged to park in the overflow lot across the street from the Garden in the Zilker Park Polo Fields (2211 Andrew Zilker Rd. 78746). Austin Police Department Explorers will be on-site to direct visitors to cross Barton Springs Rd. at the crosswalk located at the intersection of Barton Springs Rd. and Stratford Dr. to enter through the front gate. Guests are also welcome to park under the Mopac Bridge on Stratford Dr. (2389 Stratford Dr.) and enter the Garden through the Rose Gate (2300 Stratford Dr.).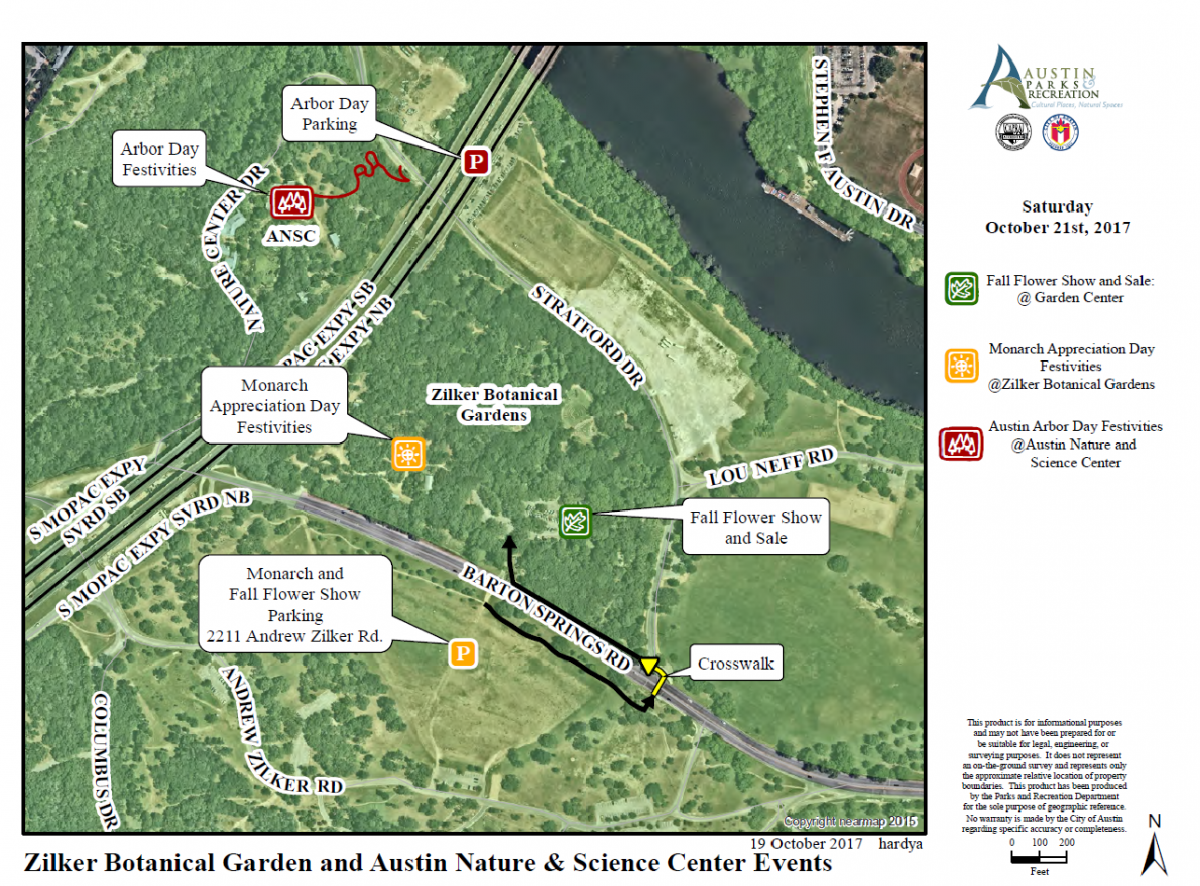 DON'T MISS! Violet Crown Flower Show also at ZBG and Austin Arbor Day Celebration next door at Austin Nature & Science Center!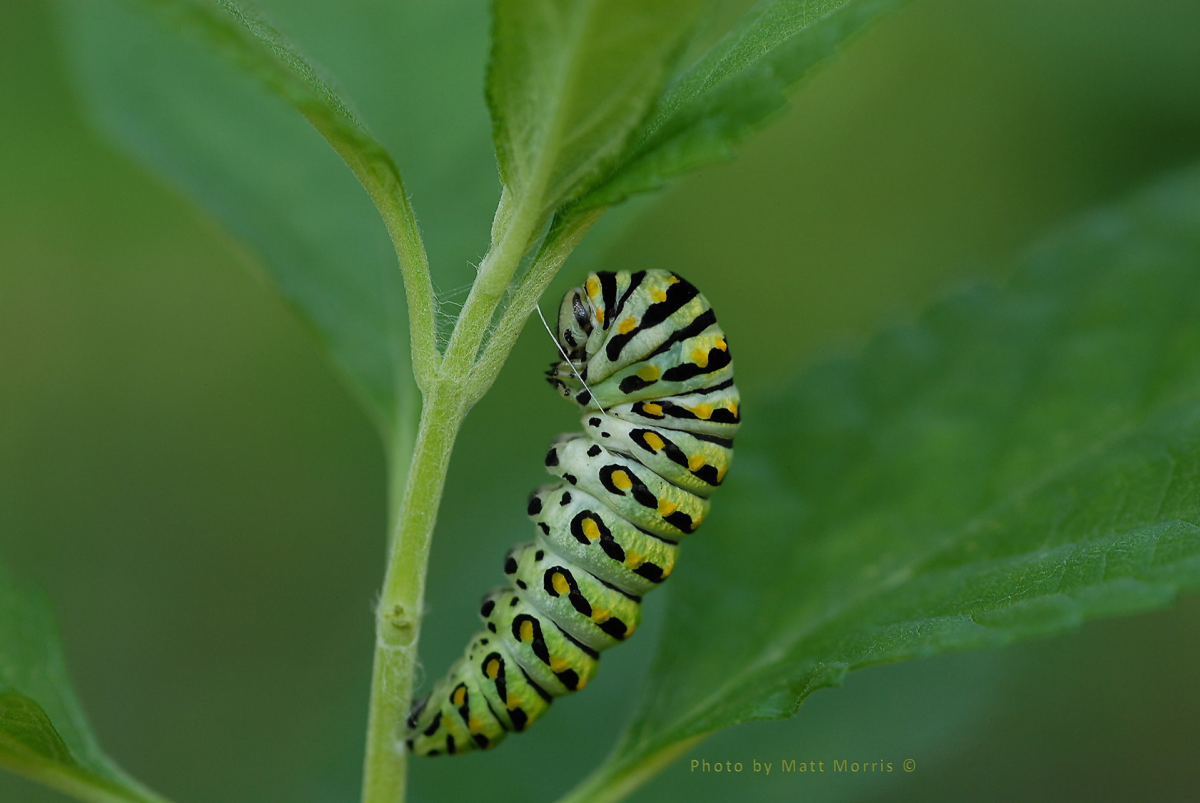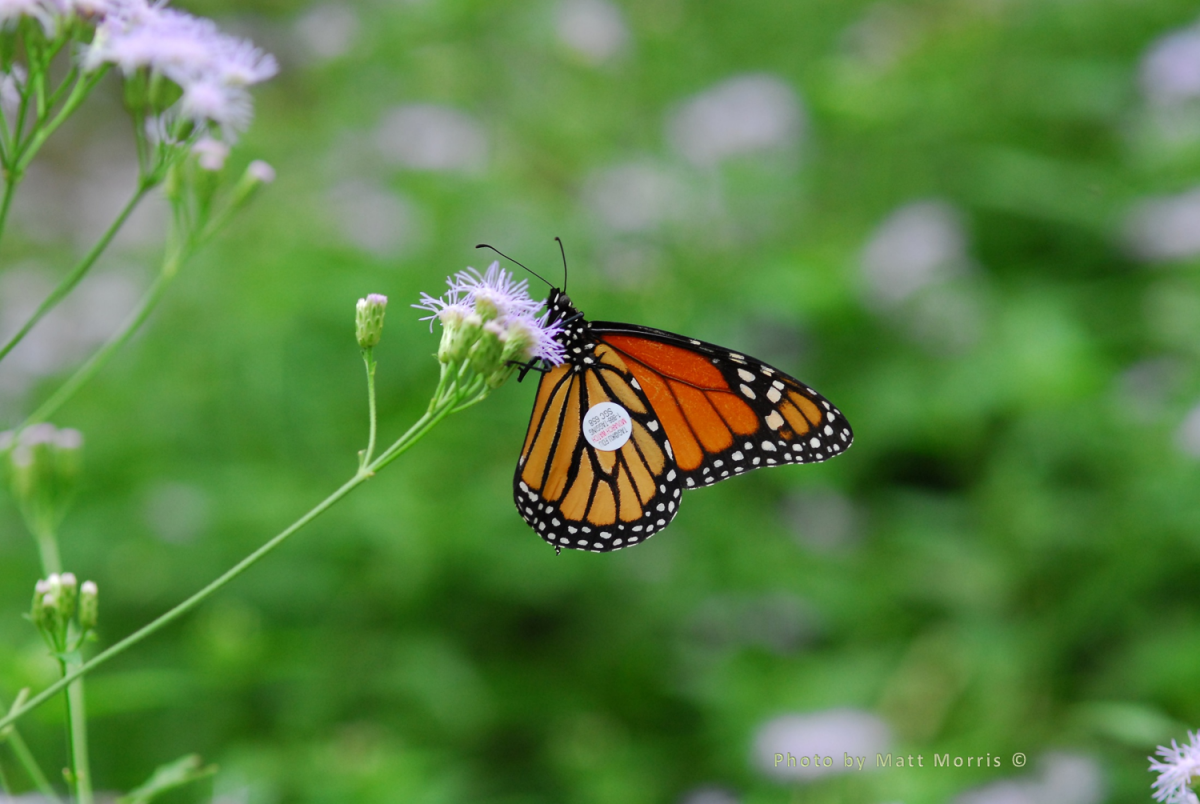 Every fall people all over North America carefully catch monarch butterflies, and place a tiny paper ID tag on one wing. The tagged butterflies are released and continue their journeys. It is always exciting to find a tagged butterfly and wonder when and where it was tagged. Tagging Monarch Butterflies helps researchers answer questions such as:
What pathways do migrating monarchs take?
How does weather influence migration speed and stopover behavior?
What differences in migration occur from year to year?
Come to Monarch Appreciation Day for a first-hand experience of tagging Monarch Butterflies!