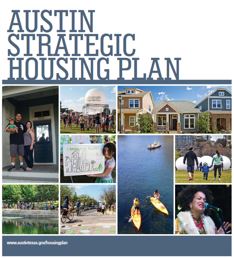 The Austin Strategic Housing Blueprint includes numerical goals, timelines, and strategies to maintain and create affordable housing for a range of incomes throughout the city, as envisioned in Imagine Austin.
The plan helps align resources, ensures a unified strategic direction, and facilitates community partnerships to achieve this shared vision. The plan includes funding mechanisms, potential regulations, and other creative approaches the City of Austin should utilize to achieve housing goals.
Download the Austin Strategic Housing Blueprint
Download the Austin Strategic Housing Blueprint Appendix E (Community Outreach)
Strategic Housing Blueprint Overview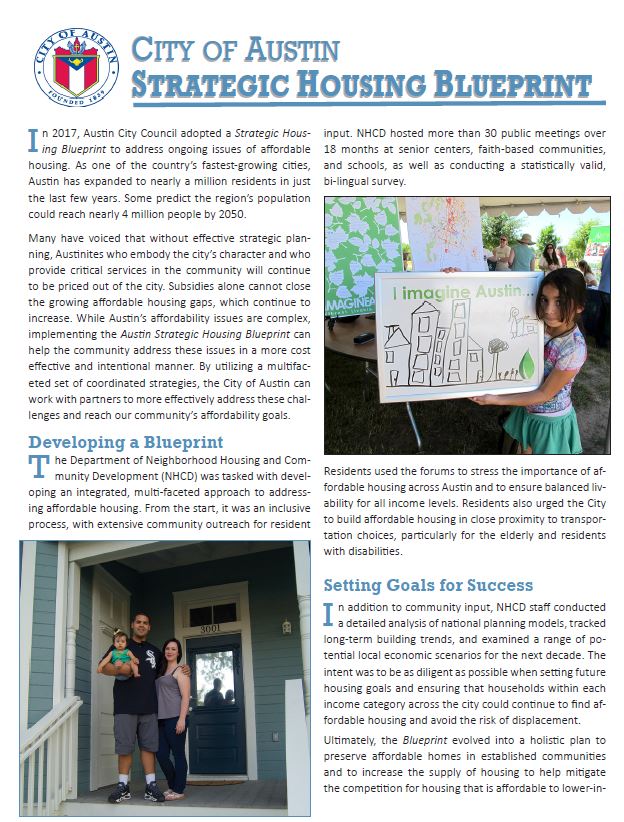 The next step for the Blueprint is to work toward implementation.  The Austin City Council has directed the City Manager to create an Interdepartmental Action Team to coordinate implementation steps for each of the Key Actions, and to document progress and obtain ongoing public feedback.
To facilitate the discussion, Neighborhood Housing and Community Development has published an overview that summarizes the Blueprint, outlines the factors affecting housing affordability in Austin, and elucidates the values that will inform future planning and programming.
Download a copy of the Blueprint Overview, or contact the Division of Policy, Planning, and Outreach at NHCD@austintexas.edu.
Blueprint Overview, Chinese Translation
Blueprint Overview, Korean Translation
Blueprint Overview, Vietnamese Translation