The City of Austin recognizes the importance of creativity to its vitality, livability, and economic success. A place where small, local businesses thrive, Austin has achieved prominence as a trendsetting global city at the intersection of art [1], music [2], film [3], and digital technology [4]. In 2015, Austin became the first and only U.S. city to receive a City of Media Arts designation from UNESCO [5] (United Nations Educational, Scientific and Cultural Organization.) Through the UNESCO Creative Cities Network [6], Austin aims to increase the international presence of our creative industries and establish opportunities for joint creative industry development with global partners to encourage economic growth and sustainability.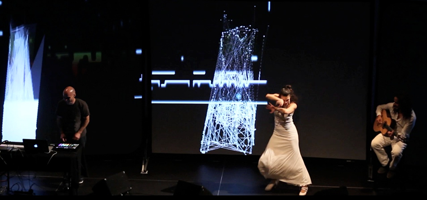 World premiere 3D interactive audio-visual performance by RGBA/Future Flamenco at Protos Festival in Austin, Texas, May 2013. Photo by Meg Seidel.
---
AUSTIN PARTICIPATES IN UNESCO MEDIA ARTS EXHIBITION
As part of the City of Media Arts cluster, Austin recently participated in an international UNESCO exhibition. Titled Data City, and hosted in the Paris suburb of Enghier-les-Bain, the presentation featured the latest innovations in new media art from around the globe. To repersent Austin, designer and University of Texas at Austin Assistant Professor Clay Odom exhibited his multimedia installation, Flowering Phantasm. Designed by Odom's studioMODO, with media and programming completed in collaboration with fellow Austinite Sean ONeill, Flowering Phantasm is an intricate assemblage of 400 anodized gold "petals" covered in over 3000 feet of LED fiber "hairs." A series of inflatable petals, which are parametrically programmed with modeling software, expand and contract via an internal network of micro-blowers. Over 40 individual LED light sources, controlled with an internal computer, illuminate the object from within. The work invites and engages passersby. It captures external stimuli including movement, light and sound, and literally processes that information through the object, generating new sensory experiences and interactions. Like a flower in bloom, it beckons viewers to interact with it, but remains elusive, a phantasm that defies exact reference.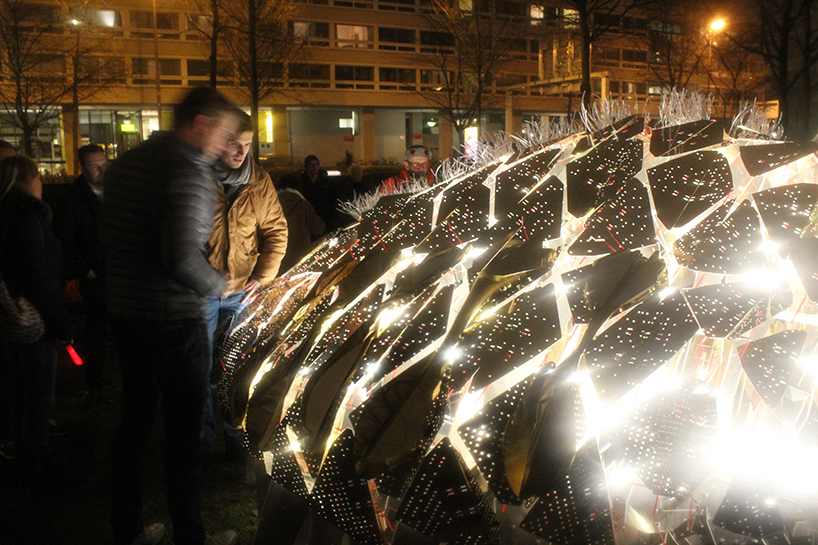 Flowering Phantasm by Clay Odom/Studiomodo
---
This is a child page of::