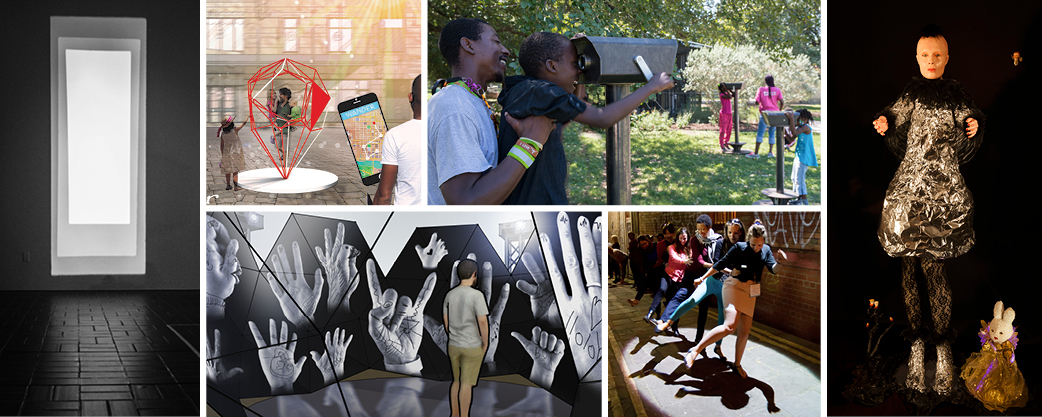 The Cultural Arts Division and SXSW have joined forces to develop the first annual UNESCO Media Arts Showcase at SXSW. Hosted March 12-13, as an official part of SXSW's art program and its new Cities Summit, the showcase comprises a mini-exhibition of media art installations and a companion panel discussion highlighting the global initiatives of the UNESCO (United Nations Educational, Scientific and Cultural Organization) Creative Cities Network. The mission of the Cities Summit to "..foster collaboration between civic leaders and creative urbanists of all disciplines to learn, strategize, and form coalitions to transform the cities of tomorrow" aligns with the goals of Austin's UNESCO designation, creating a natural partnership and perfect synergy for the City and SXSW.
Exhibition
The UNESCO Media Arts Showcase at SXSW, hosted at the Four Seasons Austin on March 12-13, will feature installations by local artists or artist teams whose work explores the intersection of art and technology:
Modeled after Edison's Kinetoscope, Forgotten Landscapes by James Hughes and Ha Na Lee connects viewers to the last known locations of missing persons via interactive, 360-degree virtual reality videos featuring Austin landscapes.
Gathering, by Lisa Woods, is an interactive installation that invites participants to use their hands as a canvas for storytelling. The work explores group portraiture and participatory art, and celebrates how technology can help tell stories in new ways. 
Yuliya Lanina's Herstory, a motion-activated sculpture featuring a miniaturized and distorted replica of the artist, embodies humor, compassion, and silent sorrow— an examination of the human condition.  An accompanying fiddler bunny in a golden dress plays original music by Yevgeniy Sharlat. 
Luke Savisky's Passage (Variation) conjures cinematic memory and perceptual illusion via a three dimensional, virtual passageway made of flickering multi-layered white light, emanating from multiple vintage 16mm projectors.  
Visitors to the Media Arts Showcase will also have an opportunity to discover two cutting-edge art installations on view in Austin: Wander, recently launched by artists Chris Gannon, Chadwick Wood and Brockett Davidson, is an interactive, choose-your-own adventure installation featuring a sculptural beacon and mobile-optimized web app that takes visitors throughout downtown Austin. Jonathan Chomko and Matthew Rosier's Shadowing a public art installation that utilizes city streetlights to capture and project shadows of passersby, will be on view in select locations around the city during the SXSW festival.
Panel Discussion
In tandem with the exhibition, a panel discussion be held March 12 at 2PM at the Four Seasons. The session will explore the role of the UNESCO Creative Cities Network and the individual and joint initiatives of its members to promote creativity and cultural industries, strengthen participation in cultural life, and assure the integration of culture into urban development plans.
Participating panelists will include:
Meghan Wells, Manager, Austin Cultural Arts Division (UNESCO City of Media Arts- Austin)
Patrick Bartos, CEO, Creative Region, Linz & Upper Austria (UNESCO City of Media Arts-Linz)
Natsumi Ohara, Community & Cultural Promotion Bureau (UNESCO City of Media Arts-Sapporo)
Kevin Reilly, Creative Software and Hardware Engineer, Founding Partner of the new media arts vûrv collective; With vûrv collective, Reilly represented Austin at the 2017 Gwangju Cultural Foundation Meeting and Artist Exchange Exhibition
The Media Arts Exhibition and accompanying panel are part of SXSW convergence programming and will be open to Music, Film, Interactive and Platinum badge holders of SXSW Conference and festivals.
---
The City of Austin recognizes the importance of creativity to its vitality, livability, and economic success. A place where small, local businesses thrive, Austin has achieved prominence as a trendsetting global city at the intersection of art, music, film, and digital technology. In 2015, Austin became the first and only U.S. city to receive a City of Media Arts designation from UNESCO (United Nations Educational, Scientific and Cultural Organization.) Through the UNESCO Creative Cities Network, Austin aims to increase the international presence of our creative industries and establish opportunities for joint creative industry development with global partners to encourage economic growth and sustainability.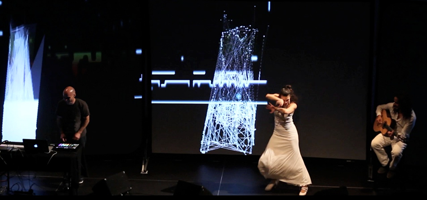 World premiere 3D interactive audio-visual performance by RGBA/Future Flamenco at Protos Festival in Austin, Texas, May 2013. Photo by Meg Seidel.
---
AUSTIN PARTICIPATES IN UNESCO MEDIA ARTS EXHIBITION
As part of the City of Media Arts cluster, Austin recently participated in an international UNESCO exhibition. Titled Data City, and hosted in the Paris suburb of Enghier-les-Bain, the presentation featured the latest innovations in new media art from around the globe. To repersent Austin, designer and University of Texas at Austin Assistant Professor Clay Odom exhibited his multimedia installation, Flowering Phantasm. Designed by Odom's studioMODO, with media and programming completed in collaboration with fellow Austinite Sean ONeill, Flowering Phantasm is an intricate assemblage of 400 anodized gold "petals" covered in over 3000 feet of LED fiber "hairs." A series of inflatable petals, which are parametrically programmed with modeling software, expand and contract via an internal network of micro-blowers. Over 40 individual LED light sources, controlled with an internal computer, illuminate the object from within. The work invites and engages passersby. It captures external stimuli including movement, light and sound, and literally processes that information through the object, generating new sensory experiences and interactions. Like a flower in bloom, it beckons viewers to interact with it, but remains elusive, a phantasm that defies exact reference.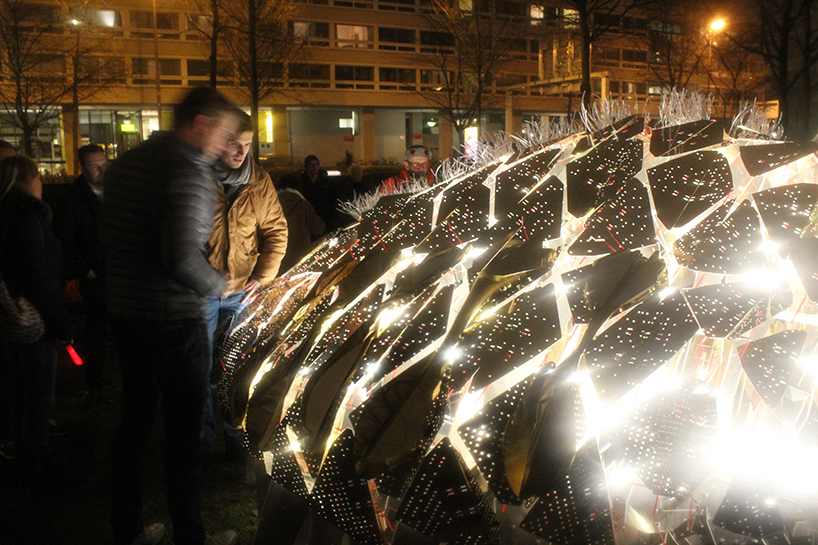 Flowering Phantasm by Clay Odom/Studiomodo
---
This is a child page of::