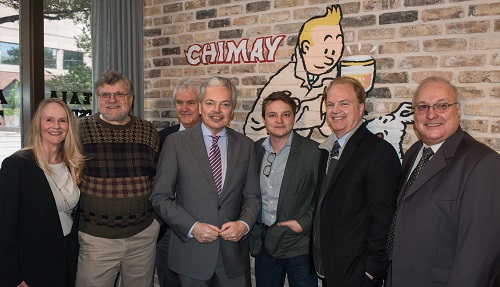 Event honors Family Business Loan Recipient, Mort Subite
December 5, 2016 – Mort Subite, Austin's only Belgium beer pub with imported and hard-to-find Belgium brews, hosted a dedication and ribbon cutting ceremony at their European-inspired location at 308 Congress on Sunday. Honorary speakers at the event included Belgium Deputy Prime Minister and Minister of Foreign Affairs and European Affairs, Didier Reynders, in Texas with Princess Astrid of Belgium, for a 7-day economic mission to develop trade ties between Belgium and Texas.
"Mort Subite in a sense represents a culmination of a long history – in fact many decades – of the partners' involvement with Belgium beer in Austin," said Jim Houchins, one of Mort Subite's managing partners. "We like to think that Austin is the capital of Belgium beer in the United States where Belgian beer was possibly consumed commercially for the first time in 1978."
Situated in a 145 year-old limestone building along Congress Ave, Mort Subite, is the project of 5 locals who aimed to preserve the legacy of Belgium beer by importing it into Austin dating back to 1978. Mort Subite is located two doors down from the old location of Gambrinus, possiblty the  first Belgium beer pub in the U.S., that was in operation from 1979 until 1991, owned by Luc Van Mechelen, now one of the five Mort Subite managing partners which also includes, Robert Leggett, Richard Clements, James Jackson Leach, and Jim Houchins.
As a recipient of the City of Austin Economic Development Department's Family Business Loan Program (FBLP), Mort Subite, utilized a $154,200 low-interest rate loan, at no cost to the city, to finalize furniture fixtures and equipment in advance of their opening. As a result, Mort Subite has committed to hire at least 15 new full-time employees over time, while bringing the Belgium cultural beer experience to Austinites year round.
"Coincidentally, the United Nations' recently added Belgium beer to their list of cultural living heritage experiences," said Kevin Johns, Executive Director of the City of Austin's Economic Development Department. "Mort Subite is exactly the kind of locally owned business the City is excited to assist – we congratulate the owners for bringing their concept to Austin first and hope their dream of national franchising is realized. 'Made in Austin' by way of Belgium has a great ring to it!"
The Family Business Loan Program is the result of a public-private partnership between the City of Austin Economic Development Department, the U.S. Department of Housing and Urban Development, and a private bank, in this case American Bank of Commerce. The program helps small businesses finance expansions that create jobs.
FBLP's mission is to enhance the overall quality of life for Austin residents. The program requires borrowers to create one job for every $35,000 borrowed, and 51% of individuals hired must be deemed low to moderate income as defined by federal levels.
For more information on the Family Business Loan Program, call 512-978-2502 to speak with a Loan Program Advisor.
About the City of Austin Economic Development Department / Small Business Program
Small Business Program is a division of the City of Austin's Economic Development Department, and is committed to providing opportunities and resources to small businesses to help them grow and prosper in a competitive business environment. For more information visit www.smallbizaustin.org.
Pictured from left to right: Shasi Wilson, American Bank of Commerce; Richard Clements, Mort Subite; Jim Houtchins, Mort Subite; Belgium Deputy Prime Minister and Minister of Foreign and European Affairs, Didier Reynders; James Leach, Mort Subite; Kevin Johns, Executive Director - City of Austin Economic Development Department; Ricardo Chapa, American Bank of Commerce