The City of Austin Planning and Zoning Department has recently begun working with residents to develop the North Shoal Creek Neighborhood Plan. All community members are welcome to the third neighborhood workshop, from 9 a.m. to noon Saturday, Dec. 3, in the Pillow Elementary School cafeteria, 3025 Crosscreek Drive.
The North Shoal Creek Neighborhood Plan will guide the form, location and character of future development in the approximately 1-square mile area bounded by Burnet Road to the east; Anderson Lane to the south; MoPac Expressway to the west; and U.S. 183 to the north. The planning area includes approximately 3,700 residents.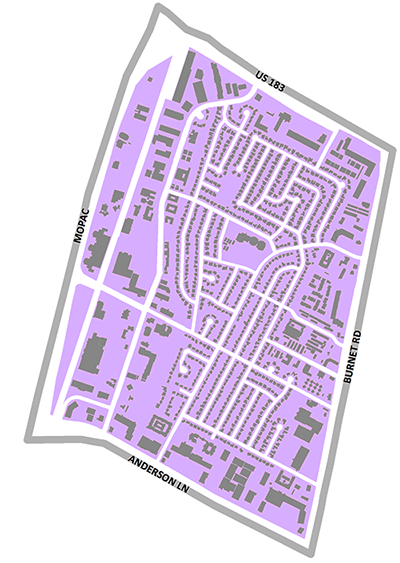 Residents, business owners, landowners, and other interested community members are encouraged to participate in the planning process, which will take approximately six months and will involve a series of community events and workshops. Working together with Planning and Zoning staff, stakeholders will establish a clear vision of their priorities, develop strategies to meet community needs, and create a guide for future development. At the second meeting attendees will learn about community character and will lay the groundwork for a community character district map.
The City initiated the neighborhood planning program in 1997 to preserve and enhance the quality of life and character of neighborhoods – mostly located in Austin's urban core. Fifty-three neighborhood planning areas have completed the planning process and have adopted neighborhood plans.
The North Shoal Creek Neighborhood Plan will be guided by the Imagine Austin Comprehensive Plan's vision of creating a city of complete communities. These are communities in which residents have convenient access to their daily needs, such as goods, services, parks and jobs. While Imagine Austin articulates a citywide vision for Austin, the North Shoal Creek Neighborhood Plan will provide a neighborhood-scale plan that accounts for local conditions.
Following the Dec. 3 meeting will be a follow-up workshop focused on community character on January 21, 2017. For more information on the planning process and upcoming meetings, contact Jeff Engstrom at 512-974-1621 or visit http://www.austintexas.gov/northshoalcreek [1]