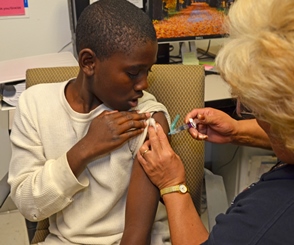 Available for uninsured Travis County residents six months of age or older and all Medicare recipients.
It's time to get an annual flu shot and Austin Public Health has scheduled its seasonal flu vaccine clinics. Free flu shots are available for uninsured Travis County residents 6 months of age or older and all Medicare recipients (please bring card). For the public's convenience, appointments are highly recommended but walk-in clients will be accepted.  For appointments, please call 512-972-5520.
Flu activity is unpredictable and varies from season to season. January tends to be the peak flu illness month in Texas. However, seasonal flu activity can begin as early as October and continue through late May. So it's never too early or too late to roll up your sleeves for a flu shot.  
Austin Public Health urges everyone to take these steps to protect your health and your family's health and lessen the spread of the flu:
Get an annual flu shot.
Wash your hands often.
Cover your coughs and sneezes. Cough or sneeze into your sleeve and not your hands.
Don't touch your face with your hands.
Avoid touching your eyes, nose or mouth.
If you feel sick, stay home from work or school.
Flu Clinic Schedule:
Saturday September 30th
Far South Health Center
405 West Stassney Lane 78745
9:00 am - 1:00 pm
Appointment required
Saturday October 7th Boo the Flu
Travis High School
1211 E. Oltorf Street 78704
11 am – 2pm
No appointment needed; walk-ins welcomed
Saturday October 28th
St. John Neighborhood Center
7500 Blessing Avenue 78752
9:00 am- 1:00 pm
Appointment required
Flu shot information for the public is available by calling 2-1-1, 3-1-1, 512-972-5520 or by visiting our website at http://www.austintexas.gov/immunizations [1].