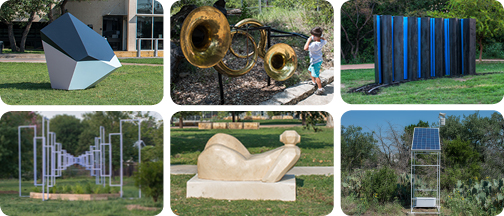 Public art exhibition on view through November 19.
Art in Public Places (AIPP), a program of the City of Austin's Cultural Arts Division, presents TEMPO 2017, a temporary public art exhibition on view through November 19.  Now in its fifth year, the TEMPO program features outdoor artworks by local artists sited across Austin in a temporary display. For 2017, the presentation includes nine installations that utilize a wide-range of materials and reflect the varying styles and interests of this year's selected artists. After being displayed in Austin parklands and other City-owned sites, the works will be presented together at Edward Rendon Sr. Park [1] in a collective exhibition, TEMPO Convergence, as part of the East Austin Studio Tour, November 11-19.
"The TEMPO program has introduced public art to many Austinites and visitors and has highlighted the numerous ways it can enhance enjoyment of public spaces and encourage civic dialogue," remarked Meghan Wells, Manager of the City of Austin Cultural Arts Division. "The works this year emphasize the abundance of creative talent in Austin and reflect the City's diverse spirit and perspectives."
Public Programs
Guided and self-guided tours for TEMPO and TEMPO Convergence will be held at the times and locations listed below:
Self-Guided Tours
Visitors may embark on self-guided tours using the ArtRides Mobile app [2] which will provide suggested routes and audio of the artists describing their works at each stop.
Guided Bike Tours
September 16 at 9 AM (intermediate): Participants to meet at Mellow Johnny's Bike Shop at 400 Nueces                                                                                                                                                                                                                                                                               September 16 at 6 PM (beginner) Participants to meet at the "Open Room Austin" artwork at 200 Sandra Muraida Way
September 17 at 9 AM (intermediate) Participants to meet at Nelo's Cycle's and Coffee, 8108 Mesa Dr
TEMPO Convergence Guided Tours
(Participants to meet at the Camacho Activity Center parking lot at 34 Robert T Martinez Jr St. Parking is free but limited.)
November 11 at 11 am - Saturday Strut Opening event
November 17 at 11 am - Toddler Trot (special tour for families with young children)
November 19 at 4 pm - Sunday Stroll Closing Event
A complete list of public programs is available at www.austintexas.gov/ TEMPO [3].
2017 Artists
TEMPO 2017 launched in January with an open call to Austin-area artists to submit proposals for temporary artwork on City-owned sites. The following projects were selected: (For a checklist with locations and high-resolution images, click here [4].)
Ian Dippo, The Aviary, Carver Branch Library; District 1
George Sabra, Era Gate , Pleasant Hill Branch Library, District 2
Ha Na Lee and James Hughes, Forgotten Landscapes, Bartholomew Park, District 4
Dameon Lester, Humble/B-15 (Oil + Ice), Manchaca Road Branch Library, District 5
R. Eric McMaster, A Composition in Parts, Schroeter Park, District 6
Emily Hoyt-Weber, Double Arch, Brentwood Park, District 7
Steve Parker,Tubascopes, Emma S. Barrientos Mexican American Cultural Center; District 9
Austin Megha Vaidya + Jesus Valdez Barriscope
Reynaldo Alaniz, Maya, Ramsey Park; District 10
###
The City of Austin Cultural Art Division
The Cultural Arts Division of the Economic Development Department provides leadership and management for the City's cultural arts programs and for the development of arts and cultural industries. The Cultural Arts Division is responsible for the Cultural Arts Funding Programs, Art in Public Places Program, community-based arts development, and programs to assist the development of film and creative industries in Austin.
Art in Public Places
The Art in Public Places Program (AIPP) acquires and maintains works of art for City facilities and parks through commissions, donations, and loans for the cultural enrichment of Austin's community. The goal of the City's Art in Public Places program is to commission art projects of redeeming quality that advance the public's understanding of visual art and enhance the aesthetic quality of public places.
TEMPO
A program of Art in Public Places (AIPP), TEMPO allows artists to explore a range of themes suitable for outdoor environments and provides the opportunity for innovative, thought-provoking artwork that effects the way people experience their environment. Funding for this project comes from Hotel Occupancy Tax revenues as a way to cultivate tourism activity around the arts in Austin. More information about the TEMPO project can be found at www.austintexas.gov/ TEMPO [3].
For additional information on the Cultural Arts Division, visit www.austincreates.com [5].