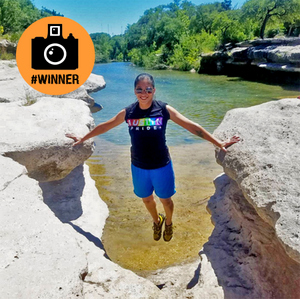 Winning photos have been selected from hundreds submitted.
The winning photos from Austin Public Health's (APH) contest "What Makes You Healthy?" have been selected from hundreds of submitted entrees. The top 10 photos will be featured on the City of Austin's website and on the Austin Public Health [1] and "Show Us Your Austin" [2] Facebook and Instagram pages.  An online photo gallery showing all the fun, energetic and diverse pictures that were submitted can be viewed at the online gallery here:  bit.ly/2re4kxi [3].
The #ShowUsYourAustin initiative asked people to show what makes them healthy by sharing their pictures to social media. Austinites were asked to pick up their cameras and/or phones, and take pictures of themselves and their loved ones doing something that helps make and keep them healthy. This initiative received photos showing healthy food choices, activities in the parks, cultural celebrations and assisting people in need. 
The project was in collaboration with Austin Public Health's Community Health Assessment that collected and analyzed health-related data from community members and local public health system partners.
#ShowUsYourAustin [4] was conceived as a photo-based, non-traditional community engagement tool using social media to help provide a new and creative way to reach out to residents. One of the goals of this initiative is the potential to start visual conversations about different lives and cultural traditions being experienced throughout the City. #ShowUsYourAustin can also help provide information on specific communities for upcoming projects, events and programs.
We are encouraging people to continue posting pictures on what makes them healthy to any social media platform using the hashtag  #ShowUsYourAustin.
For more information on the #ShowUsYourAustin Initiative, please contact Betsy Woldman [5] with the City of Austin.