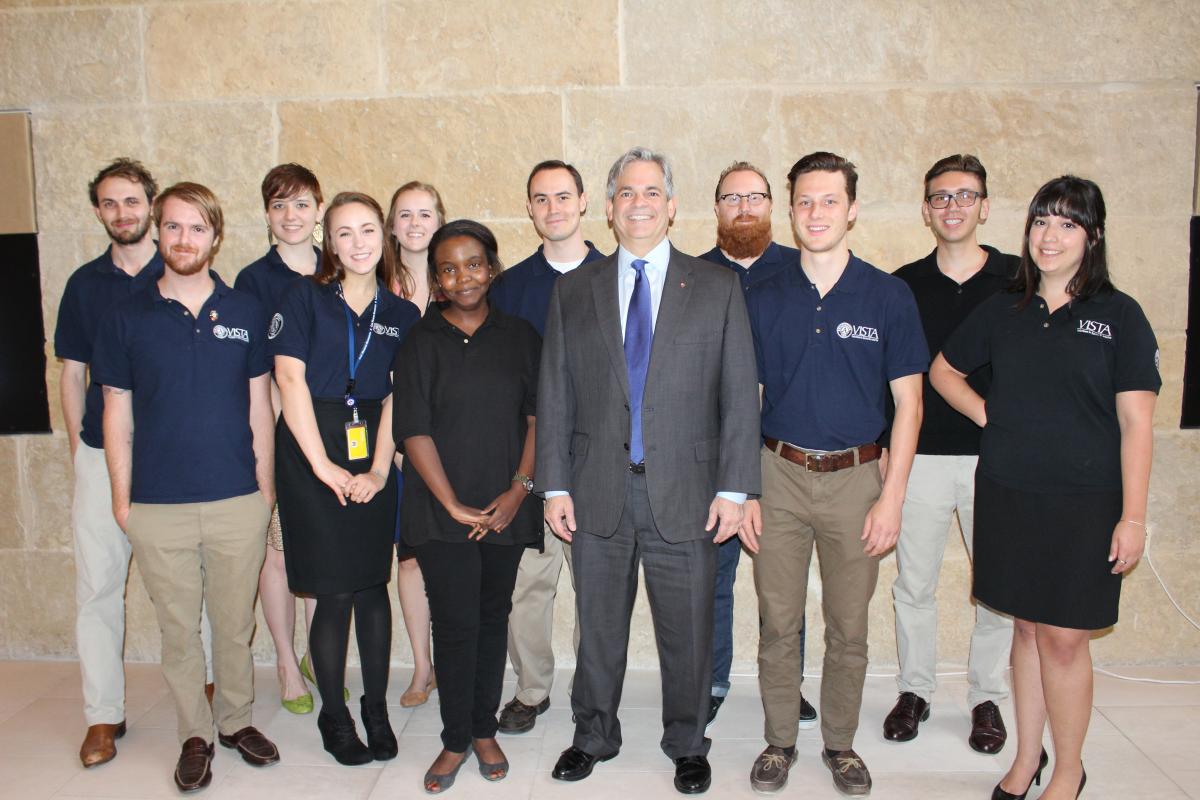 AmeriCorps VISTA (Volunteers in Service to America) is a national service program that focuses on projects aiming to alleviate poverty in communities across the country. The City of Austin currently has 15 VISTA members serving in departments across the city.
VISTA members make a year-long, full-time commitment, to build the capacity for programs to efficiently and effectively reach their goals of serving the community bringing individuals and communities out of poverty.  AmeriCorps VISTA's primarily work on projects and tasks that are considered indirect service, the focus is working to assure projects are sustainable  and can reach a larger population of people.
The City of Austin's AmeriCorps VISTA project has the benefit of working with a group of 15 VISTA members. Although work sites are across the city and most VISTAs work on separate projects, at times projects will allow for collaboration with other VISTAs. The real benefit of this group is the comradery among our project's VISTAs. Having a group of fellow VISTAs help make the transition and experience of being a VISTA a little bit easier. Your fellow VISTAs should be seen as your support network throughout your year of service.
Things to Consider before Applying
Must be a college graduate
Commitment to serve for the full year term
Willing and committed to living on the modest living allowance
All VISTA candidates must submit to fingerprinting for the required comprehensive Federal Bureau of Investigation (FBI) criminal history check
Motivated, passionate, and dedicated to service
VISTA Benefits
As of July 2017, may vary for future service terms.
Monthly Stipend - $1019.76 before taxes (bi-weekly payments of $509.88)
Limited Health Benefits

Does not satisfy the individual responsibility requirement of the Affordable Care Act

Choice of Education Award or End of Service Stipend

Post-Service Stipend - $1,500

Student Loan postponement, or forbearance

You may be eligible for the postponement, or forbearance, of your student loans.

Relocation/Settling-In Allowance Costs

If you are moving more than 50 miles to serve as a VISTA, you are eligible to receive up an allowance to assist with your moving expenses.

Close-of-Service Travel

Travel allowance from your project site back to your home when you complete your year of service.

Childcare, if eligible.
City of Austin Service Opportunities
Applications open 3 months before the start date below.
January 2018
Austin Public Health - Communicable Disease
Ending Veteran Homelessness Initiative
Public Works Department - Neighborhood Partnering Program
Austin Public Health - CHA/CHIP Program
Parks and Recreation Department - Dougherty Arts Center
Equity Office
VISTA Leader
February 2018
Austin Public Health - CHA CHIP Program
Parks and Recreation Department - Dougherty Arts Center
Parks and Recreation Department - Centralized Programs
Equity Office
March 2018
Parks and Recreation Department - Centralized Programs
Equal Employment Fair Housing Initiative
April 2018
Youth and Family Services/Youth Initiatives Office
July 2018
Digital Inclusion Initiative - Telecommunications & Regulatory Affairs Office
August 2018
Mayor's Office
Public Works - Neighborhood Partnering Program
Austin Public Health - Austin Healthy Adolescent Program
Austin Public Health - Open Data Initiative
November 2018
Neighborhood Housing and Community Development Dept.
VISTA Summer Associates Program
In addition to the traditional 12 month service opportunities listed above, the City of Austin hosts a VISTA Summer Associate  Program. This program is a service opportunity for a 10 week duration during the summer and only requires some college experience to be eligible to serve. The Summer Associate VISTAs provide direct service to address the challenges of childhood hunger/nutritional education and the achievement gap in underserved communities experienced over the summer months.
How to Apply
Learn more about the VISTA program:
Create a profile at:
Complete your application on the "My AmeriCorps" site.
Search for the position you are interested in to submit your application.
For questions contact Jamie Gallegos: 512-972-5042 or email.
This is a child page of::