Prayer Phone
Semi-Permanent Art Installation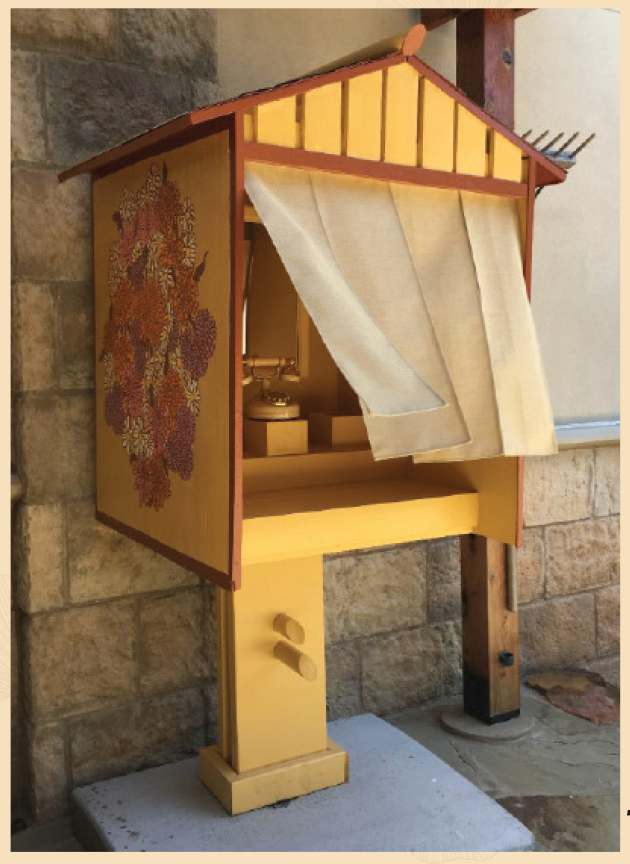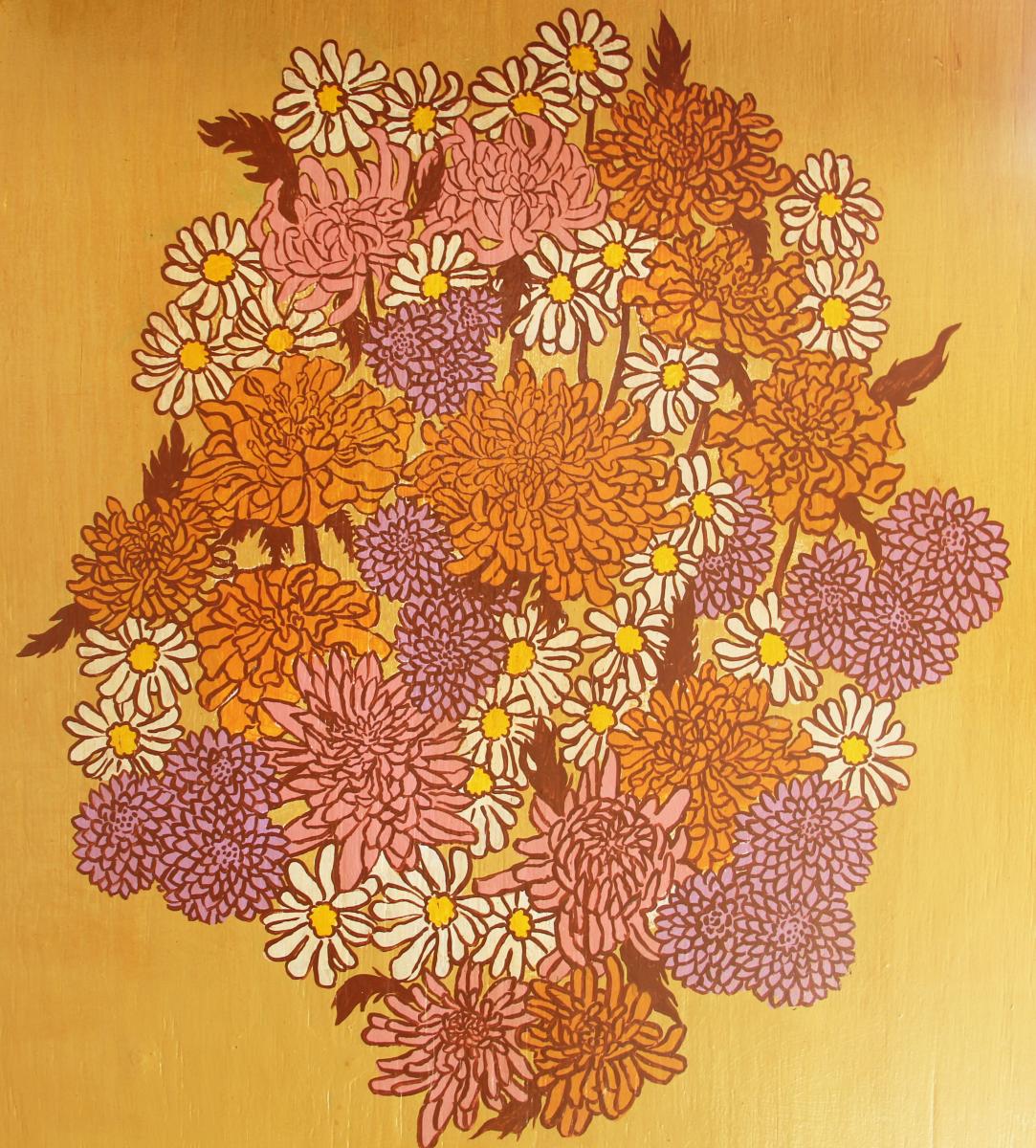 Visit Daily
Monday - Thursday | 9am - 9pm
Friday & Saturday | 9am - 5pm
Zen Garden
Prayer Phone, a handmade altar with a disconnected phone, is an invitation to the public to "call" their deceased loved ones while giving offerings and prayers. This project reflects a common custom of many Asian traditions: commemorating ancestors and venerating the spirit world.
Two essential elements compose this installation. The old fashioned phone is a symbolic artifact that represents humanity's desire to connect and communicate with others. Its historic form evokes passage of time. By contrast, the spiritual act of lighting incense symbolizes the following: sacredness when the element of air is ignited, purification of the environment's energy, and blessings in return for offerings. These two elements combine to help connect the earthly to the heavens.
This project is inspired by an episode of This American Life featuring stories about Telephone of the Wind in Otsuchi Town, a small seaside town in northeastern Japan. An iconic English telephone phone booth connected to nowhere was repurposed, and people began "calling" family members lost during the tsunami caused by the 2011 Great Japan Earthquake. Telephone of the Wind became a public space for people to grieve for their lost loved ones. In response, Prayer Phone shares in the deep tradition of respecting spirits and coexisting with entities beyond the physical realm, as well as providing a physical space and an outlet to feel connected with the departed.
Come be a part of this interactive art activity!

Migration by Raquel Zawrotny & Samuel Velasquez -- Opening October 13, 2017 at 6pm. 

Friday, October 13th | 6 - 8pm
Artist Talk | 7pm
Ballroom
In Migration, Zawrotny and Velasquez studied how various Asian and Pacific Islander cultures and peoples are connected to one another through universal folklores. Commonalities are found in these stories through symbolic flora and fauna like the lotus and the elephant. They depict how various folklores of East and Southeast Asia have evolved through time when their culture bearers migrate away from their birth places. They mix different media and techniques as well as stylizations to represent the diversity of stories. 
---
Waves of Hope & Civil Rights
Monday - Saturday
July 14 - September 23
Foyer and Hallways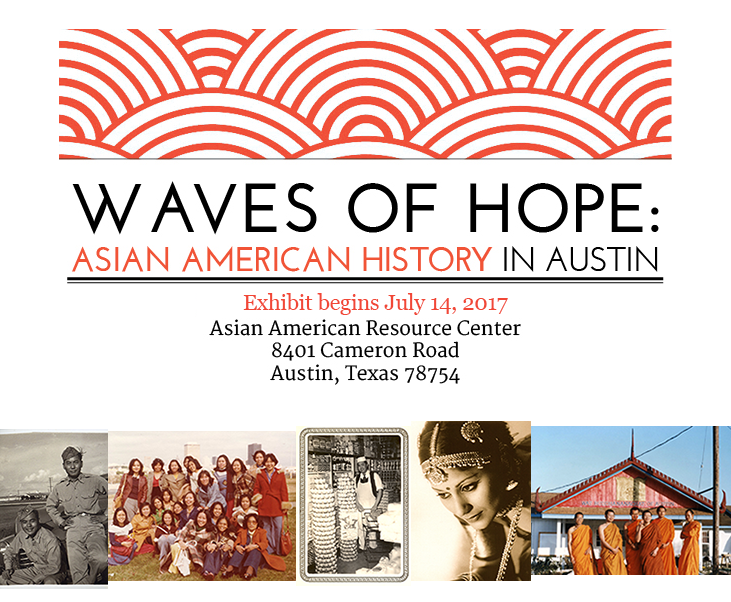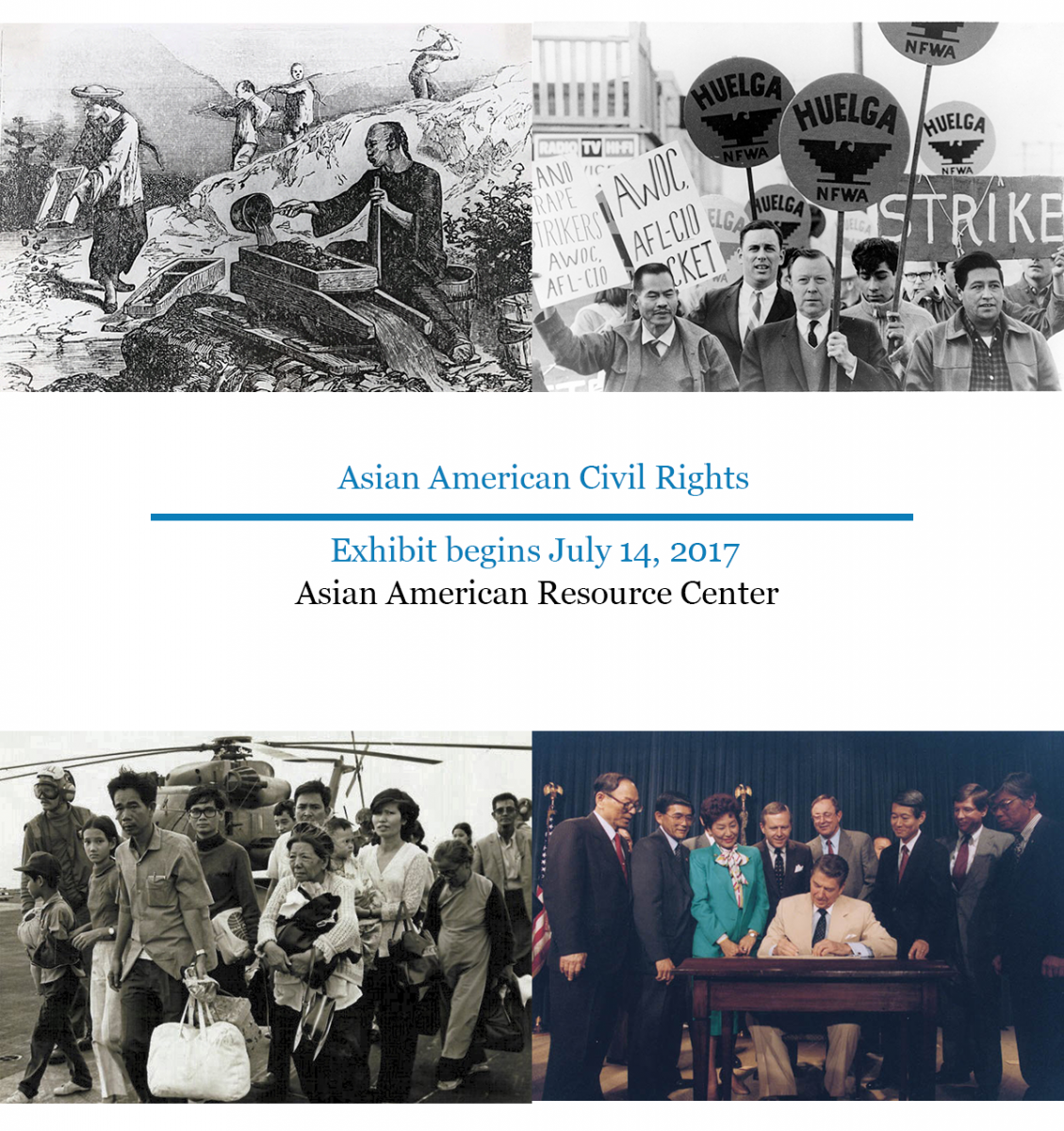 Waves of Hope: Asian American History in Austin is home to many Asian Americans along with their rich history, culture, and traditions that are preserved and passed on to future generations by their families and communities.  This exhibit showcases some of the history that is lesser known but nevertheless important to document and remember.  All of the images can be found at the Austin History Center, which houses an Asian American Archival Collection of manuscript collections, photographs, clippings, books, periodicals and other items.
Asian American Civil Rights accents some of the major struggles Asian Americans faced since their first arrival in America in the 1700s—such as immigration and citizenship rights—within the broader overlay of labor and civil rights movements within the mid-1900s, this timeline aims to call attention to shared experiences in the quest for equal opportunity, fair treatment, social acceptance and freedom in America from a perspective not often documented today. Grace Lee Boggs, Yuri Kochiyama, Larry Itliong and Ram Bagai are four individuals who inspirited activism that reached beyond their distinct Asian American roots to their communal desire for equality, acknowledgement and understanding.

Artisit Vy Ngo and Meena Matocha talk about their heritage, and how it inspired them to create different pieces of art.
AARC Community Art Exhibit Program
The AARC's Community Art Exhibit Program displays artworks year round that celebrate the diverse and dynamic cultural heritage, history, identity and creativity of Asian American Pacific Islanders. Exhibits are displayed on a quarterly schedule. The Exhibit Program's Call for Artworks applications will re-open January 1, 2018 through March 15, 2018. Click HERE for the online application and guidelines.
Helpful Documents and Links
This is a child page of::