Lake Walter E. Long is located in Walter E. Long Metropolitan Park at 6614 Blue Bluff Road. The 1,200 acre lake features open spaces for boating, jet skis, swimming, two sand volleyball courts, picnic sites, tables, grills, walking, running, biking and restrooms available throughout the park.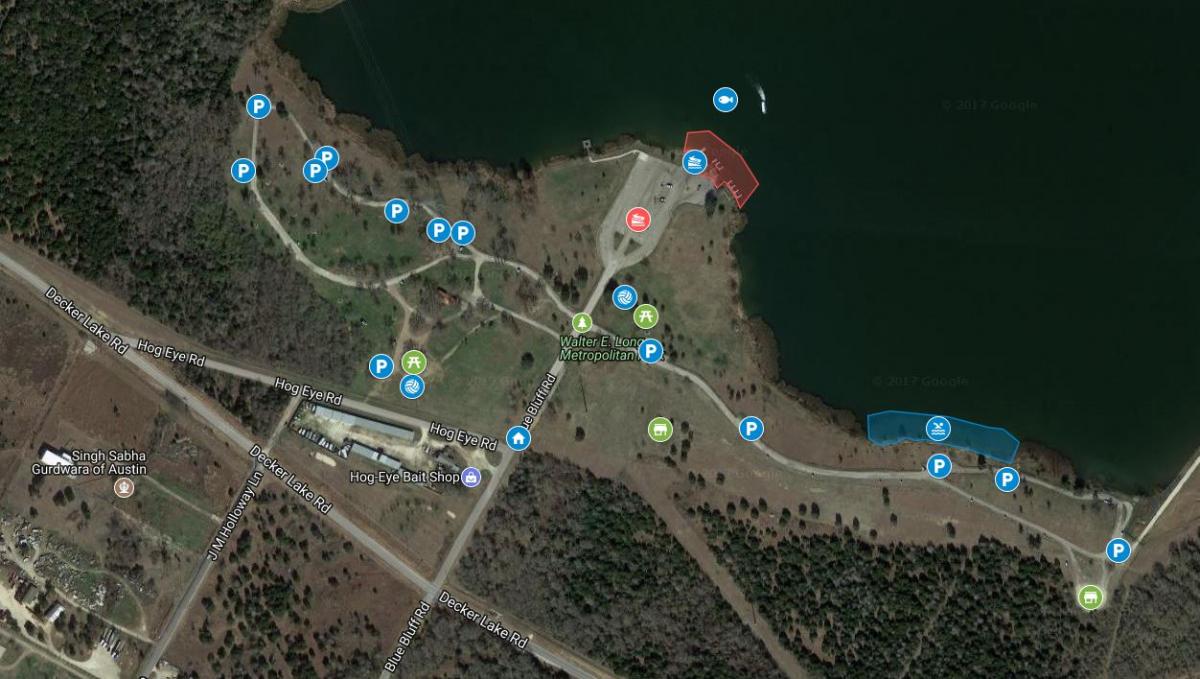 Interactive Park Amenity and Picnic Site Map
Park Entry Booth Hours
8 am – 4 pm     Monday through Sunday*   2nd week of September - end of April
8 am - 7 pm      Friday through Sunday*       May through the 1st week of September
      *Hours are dependent on availability of staffing.
Park Entry Fees
A park entrance fee is charged per day per car at the pay station.

$5 per day, Monday through Thursday.
$10 per day Friday through Sunday, and Holidays.
Multi-entry pass per car (20 entries) Regular $75; Seniors age 62 and older $40

Walk-in:  $1 per person.
Pay stations should be used for all Day Use Entry for entry when cashier is unavailable or after hours.
Payment method:  Credit cards and coins will be accepted at the park entry area automated pay stations.  CASH is NOT accepted for park entry fees.
Fishing
Acclaimed by the local fishing community, Lake Walter E. Long offers abundant varieties of fresh water stock. Walter E. Long Reservoir contains excellent populations of largemouth bass and hybrid striped bass. Largemouth bass in the 8-10 pound range are commonly caught, but the reservoir is primarily noted for producing good numbers of slot sized (14-21 inch) bass. Hybrid striped bass are stocked annually, and fish larger than 5 pounds are prevalent. Channel and flathead catfish are present in low numbers. This reservoir has a good population of bluegill and redbreast sunfish. Many of these sunfish are more than 8 inches in length.
Additional information about fishing in/at Lake Walter E. Long can be found on the TPWD website.
Fishing Tournaments and Events
By City Code and Park Rules, all organized events require permits to ensure proper planning and logistical coordination.  This includes all tournaments that require admission or participation fees.  This ensures successful experience for those proposing tournaments, while maintaining public park access.   Applications are strongly encouraged to be submitted a minimum of 4-6 months in advance to ensure organizers have sufficient time to prepare permit requirements such a use fees, insurance and related submittals.
Use this form to apply, or go www.austintexas.gov/parkevents.
Local Boating Laws
Know Before You Go Austin Police Department Video about boating.
In addition to the Texas Water Safety Act, the City of Austin has established several ordinances for Lake Austin, Lady Bird Lake and Lake Walter E. Long. The purposes of these ordinances are to protect the health and safety of the public using the area lakes.
It shall be unlawful for any person to swim, bathe, wade or go into the waters of Lake Walter E. Long, designated as no swimming areas.
Swim at your own risk.
No person on any watercraft on Lake Austin, Lake Walter E. Long, or Lady Bird Lake shall possess, use or operate, or assist in the use or other similar device capable of propelling or launching fluid filled balloons or other projectiles.
No person within 150 yards of the shoreline of Lake Austin, Lake Walter E. Long, or Lady Bird Lake shall use or operate, or assist in the use or other similar device to propel or launch fluid filled balloons or other projectiles towards the waters of said lakes.