LaunchPAD, an initiative of Austin's Art in Public Places Program, will offer professional development opportunities for local artists interested in a career in public art. By pairing established public artists with those emerging in the field, the program will enable local visual artists to gain technical and administrative expertise while providing services benefitting a public art project for the City.  AIPP hopes to bolster Austin's public art collection, and to position the city as a nexus for highly skilled public artists.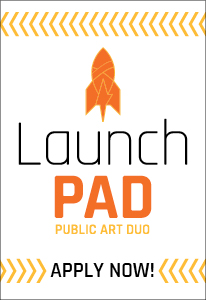 LaunchPAD artist opportunities will arise from City of Austin public art projects with a budget over $200,000, as appropriate to the specifics of each project. When a new eligible artwork opportunity is opened, a selection panel will review the current pool of applicants to determine the best fitting artist for the project.
LaunchPAD artists will assist the commissioned artists by providing practical and project management-related services such as materials research, attendance at meetings, review of applicable local codes/permit requirements, support during design, fabrication and/or installation of the artwork. There is no expectation that an artwork will be created by the LaunchPAD artist through this program. The length of the LaunchPAD artist contract will mirror the length of the commissioned artist's total project duration. LaunchPAD artists will be paid a flat fee of $15,000 for their work on the project.
LaunchPAD applications are reviewed as opportunities become available.  Applications are accepted consitnuously.
To view the Request for Proposals, click here.
To apply, visit http://www.publicartist.org/austinaipp/.
LaunchPAD Updates
2017 LaunchPAD artist selections
Artwork Commission: Green Water Treatment Plant Project
Commissioned Artist: New American Public Art (NAPA), Boston, MA
LaunchPAD Artist: Christine Angelone
Project Status: Design is complete; project is in fabrication. Christine has worked with the artist team through the design process and is supporting them during fabrication. She will travel to the Boston area in December to participate in NAPA's residency at Autodesk, where the artists are working on the fabrication of their sculpture.
Artwork Commission: Austin Energy District Cooling Plant #3 Project
Commissioned Artist: Beili Liu, Austin, TX
LaunchPAD Artist: Teruko Nimura
Project Status: Beili is working on finalizing her design and the engineering of her sculpture.  Teruko is supporting her through the review process including RAS and Conservation reviews.  Beili hopes to have final designs ready early 2018. 
Artwork Commission: Austin-Bergstrom International Airport Parking Garage and Administration Building Project
Commissioned Artist: Marc Fornes/THEVERYMANY, Brooklyn, NY
LaunchPAD Artist: Lisa Woods
Project Status: This project recently kicked off and the artist team is working through their design concept. Lisa was selected and is orienting herself with the artist and project. The sponsor project is currently under construction, so the artist team is working quickly.  We expect to see their mid-design presentation to the AIPP Panel in March.