From 1999 to June 2014, Watershed Protection concentrated on buying flood-prone houses within the Corps Project Area. In 2014, the Onion Creek buyout project was expanded to include hundreds more homes at risk near William Cannon Drive and South Pleasant Valley Road.
Offers are based on the current fair market value, but there are also relocation and moving benefits. Most people who have been through the buyout process have given us positive feedback.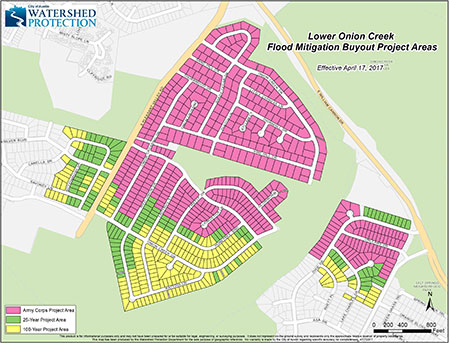 The yellow and green reflect the 100-year and 25-year project areas.
Note: In March 2017, 32 properties were removed from the 100 and 25-year project areas due to reduced flood risk revealed by updates to the floodplain maps. The map and numbers on this page have been altered to reflect this change.
100-Year Project Area
In March 2015, the Austin City Council authorized us to begin voluntary buyouts for the 100-year project area. There are 203 houses in this area. As of June 2018, 195 of these houses have been purchased.
25-Year Project Area
In 2014, the Watershed Protection Department began the process of buying out 137 homes in the 25-year floodplain outside the Corps project area. As of June 2018, 134 of these houses have been purchased.
Buyout Video
Documents
More Information
City staff and HDR Engineering are working together on the real estate transactions for the buyouts.
Main Phone Number, 512-531-5900
HDR's office for the buyouts is located at 7745 Chevy Chase Dr, Building 5, Suite 220, Austin, TX  78752.
For maintenance questions, please call 3-1-1.
Report suspicious activity to 911. For non-emergency security concerns, call Leticia Campa, APD District Representative, at 512-974-5490.
You can also reach out to the following individuals as well.
This is a child page of::