Sipping From Springs Can Make You Sick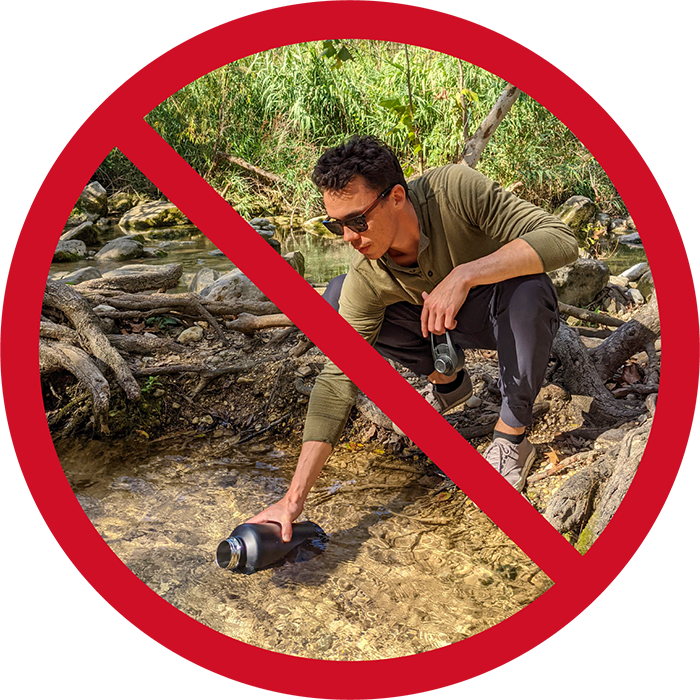 Have you heard that drinking untreated (or "raw") water from Austin's springs is good for your health? Unfortunately, it's not! Drinking water from springs, especially in urban areas, can make you sick.
The water in underground aquifers refills from rain and irrigation water that first flowed over the land. In urban areas, this water may flow over roads, parking lots, lawns, dog parks, or other contaminating surfaces.  As a result, this water typically contains bacteria, viruses, parasites, lawn chemicals, leaked gasoline, or other potentially harmful pollutants.
Many people believe that the water flowing from our springs is filtered while underground and safe for drinking. However, this water is either not filtered at all in areas where it flows through large cracks and holes, or it's not sufficiently filtered to be safe for human consumption. Water from most urban springs would not pass drinking water safety standards, especially after storms.
Despite the risks related to drinking spring water, Austin's springs remain special places and valuable ecological resources. We hope you will visit and enjoy Austin's beautiful springs. Protect springs by helping keep our land clean! Pick up pet waste, follow Grow Green gardening tips, and take other earth-friendly actions. And please don't drink directly from Austin springs!