While visiting Barton Springs Pool -
Visit SPLASH! - The Beverly S. Sheffield Education Center– It's FREE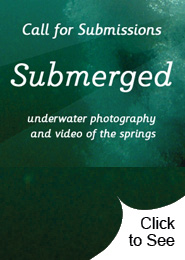 SPLASH! is located in the historic Barton Springs Pool bathhouse (right next to the pool) in the heart of Zilker Park.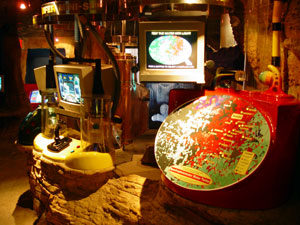 Photo of The SPLASH! interactive Edwards Aquifer exhibit.
Your whole family will enjoy our unique interactive Edwards Aquifer exhibit.
Discover the Hidden world of the Aquifer and its connection to the marvelously unique  Barton Springs Salamander. Learn what this endangered sentinel creature tells us about that state of the Edwards Aquifer and  Barton Springs.
SPLASH! is located at 2201 Barton Springs Road, Austin, Texas 78746, Phone: 512-481-1466
Hours: • Tuesday - Saturday, 10 a.m. - 5 p.m. • Sunday, 12 p.m. - 5 p.m. • Closed Mondays
Watch this Short Video to Learn All About Austin's Beloved Salamander.
What SPLASH! offers our vistors-
The Splash! exhibit offers a fun and exciting learning experience deep inside a simulated limestone cave. Multimedia displays and interactive exhibits demonstrate how the aquifer was formed and how it maintains its average daily flow of 32 million gallons of water at Barton Springs. The endangered Barton Springs salamander and other native aquatic species on display illustrate the diversity of life dependent on the water quality of local springs, creeks and rivers. Visitors can also investigate how their routine activities can impact local water quality while learning about water quality testing.
Here's what one parent has said -
"I brought my 4 yr. old here and not only did he enjoy this simulated limestone cave, I did as well. What a neat idea to show kids the workings[of the Aquifer] and many other hands-on activities as the navigate their way through. And when you exit, there's a table with many booklets/leaflets for your children to bring home and go through for more information on what they saw and other topics of that extension. Don't forget to go outside behind this building to see the Barton Springs (natural bottom) pool.
See a live Barton Springs Salamander and maybe its eggs at the SLASH exhibit!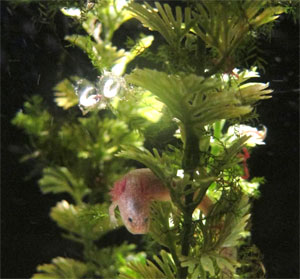 The Barton Springs salamander and one of its eggs, Live in the SPLASH! exhibit area.
More about The Barton Springs salamander
Austin is home to three species of aquatic salamander that occur no-where else in the world except in and around this city.  They include: The Barton Springs salamander, the Austin Blind salamander and Jollyville Plateau salamander.
Some interesting facts about our Barton Springsb Slalmander:
Was listed as a new species in 1993. It's aquatic for it's entire life. It's found only at 4 hydrologically connected spring sites in Zilker Park (that sure makes it very unique.) The are only  ½ to 3 inches long. Their color ranges are Pink, Cream, Brown, Yellow and Purple. Their diet is made up of small aquatic invertebrates (so you don't have to worry about them biting your toes.)
More about SPLASH!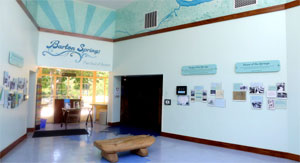 Visit our brand new historical display, 12,000 years of history at  Barton Springs (it's Free also.)
Without Barton Springs There might not even be an Austin
SPLASH!  was renamed after Mr. Beverly S. Sheffield in commemoration of his outstanding contributions to the City of Austin. Mr. Sheffield began as a lifeguard at Barton Springs Pool and became the director of Austin Parks and Recreation Department in 1946 and served through 1973. After his retirement, he remained active in issues relating to the springs.
Come on in to Splash! it's Free!
For information on All our Free Musuems and Nature Centers that are open all weekend:
http://www.austintexas.gov/blog/enjoy-free-visitor-resident-attractions-...